DISTRIBUTING
SHOWA®
Innovative Industrial Work Glove Solutions
Complimenting a diverse portfolio of industrial hand protection products, MDS is proud to announce it's now distributing wholesale work glove solutions from SHOWA® Glove Group.
SHOWA® is a fully industrial hand protection integrated manufacturer that is always innovating and never imitating. For the past 70+ years, they work with the very latest in technological advancements with a renewed focus on creativity that has forever changed the industry, what hands are capable of and the impact made on our environment.
Complimenting a diverse line of industrial work safety gloves, MDS is proud to distribute a full line of SHOWA® glove protection products that includes the first of its kind single-use biodegradable latex-free nitrile gloves in colors green, blue, black and also offer a blue accelerator-free style ideal for those with sensitive or irritated skin.
Introduction
SHOWA® revolutionized personal hand protection equipment with the introduction of the world's first PVC glove back in 1953. They lead the world in innovation with the introduction of industry-firsts such as fully coated, very flexible PVC, flat-dip innovation with natural rubber, cut-resistant gloves with unmatched protection and comfort. Today advancements like DURACoil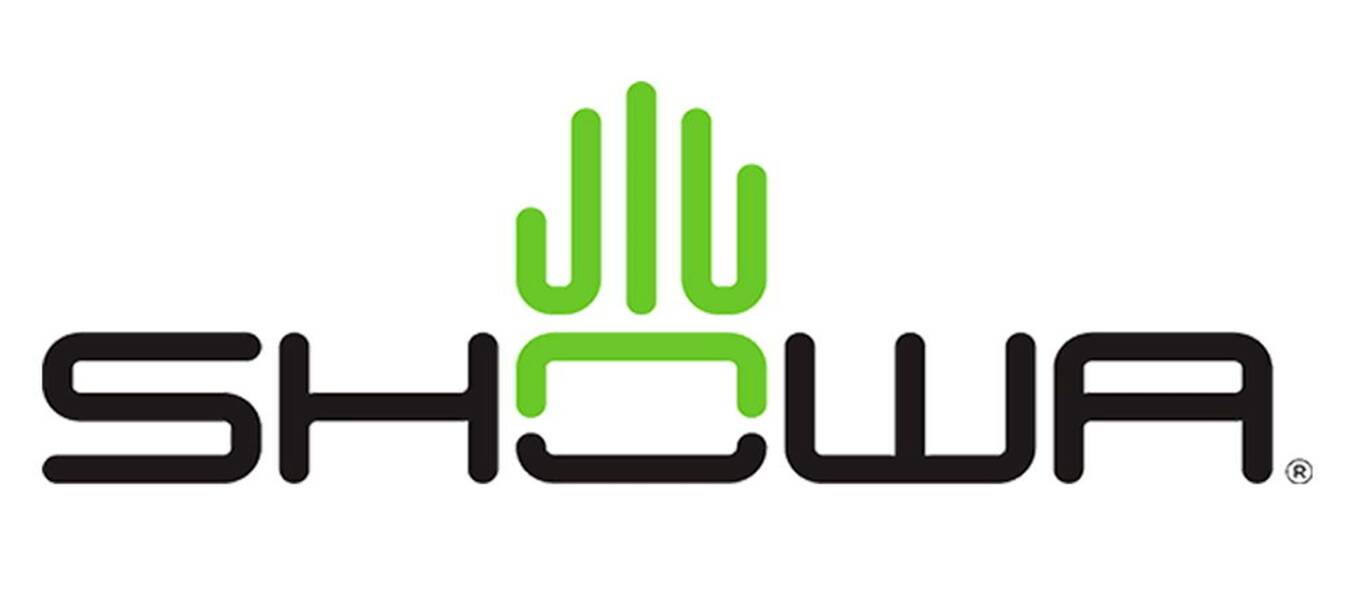 ™ technology, Breathex® foam coating, waterproof Temres® technology and their cut-resistant Hagane Coil® and S-Tex® range are unlike any other industrial work glove on the market.
They operate eight ISO 9001 certified production sites with full control of their industrial ecosystem. By owning their own machinery, yarns, coatings, polymers, designs and hand formers they can control every step of the process, every step of the way – for 100% quality control at every level.
Internal Quality Control
SHOWA® takes tremendous pride in developing high quality medical, cut-resistant, general purpose, chemical-resistant and specialty hand protection for all industries. They perform every possible resistance test in their internal corporate labs to ensure that each glove is fit for work before packaging and delivery.
SHOWA'S MAJOR GLOVE PRODUCT SOLUTION CATEGORIES
Biodegradable Gloves

General Purpose Protection

Anti-Cut Protection

Chemical Protection

Insulated Protection Gloves

Single-Use Gloves

Antistatic Protection Gloves

Impact Protection Gloves
Always Innovating, Never Imitating
In a relentless pursuit of excellence, over 100 researchers, designers and engineers devote their energy to developing new models and identifying the shifts in global demand for new and innovative products. SHOWA® has global technical support with the expertise of chemists, lab technicians, engineers and R&D ownership of 58 patents.
On-Line Chemical Glove Directory
Selecting the right chemical-resistant glove for the job is a whole lot easier with ChemRest.com, the original and best-in-class Chemical Resistant Glove Directory. Aiming to empower customers with knowledge and the tools to make better and more informed choices about their chemical hand protection, the SHOWA® folks have developed on-line tools to help you navigate through the selection process. ChemRest® makes navigating the challenges of chemical-resistant hand protection easier for safety professionals by providing an entire chemical resistance portfolio of products, resources and tools in one platform. (+view YouTube video about ChemRest® here)
MAKING A DIFFERENCE TO THE ENVIRONMENT
SHOWA'S ECO BEST TECHNOLOGY® |

GREENCIRCLE CERTIFIED!
In 1991, SHOWA® developed the world's first disposable nitrile glove and today they offer the industry's first biodegradable product line with their Eco Best Technology® (EBT) across single-use gloves and reusable chemical-resistant product offerings!
EBT offers the solution that makes a difference to the environment, without any compromise on protection and performance for the user. Gloves with EBT offer the same barrier protection, performance and grip as their regular glove counterparts, but are much, much better for the planet!
INNOVATION, PROTECTION & PRESERVATION IN ONE
SHOWA® achieved the GreenCircle® certification for 8 protective gloves that meet all the necessary qualifications to be certified for biodegradable claims. The ASTM D5526 certification demonstrated that SHOWA® EBT gloves achieved 82% biodegradation in landfill in only 386 days, while gloves without EBT achieved only 1.9% biodegradation over the same period of time.
INTRODUCING THE FIRST EVER SINGLE-USE
BIODEGRADABLE

NITRILE GLOVE

MADE 100% IN THE USA!
In 2019, before the COVID-19 pandemic, SHOWA® launched a massive multimillion-dollar expansion project at the company's Fayette plant that is now coming to fruition, Taking the next step in sustainability, SHOWA® has expanded its biodegradable product range of hand protection products featuring Eco Best Technology® and are producing the first U.S. made TAA compliant sustainable single-use nitrile gloves in Alabama, USA!
Prevention is critical to the well-being of your staff so don't wait until an injury happens before you shop for specialized hand protection for your team. If you haven't already tried a SHOWA® industrial safety product, what are you waiting for?
Injury prevention is just a click away - all you need to do is tap the link below to …
Questions
.

Samples

.

Special Requests

.

Volume Discounts

.

Call or Click Today
Toll-Free +800-274-4637 | +716-668-4001 |

[email protected]
Monday - Friday 8:30am - 4:30pm EST
"We Want You to Return Home Every Day™