[TEMRES®
]
Reduce Perspiration with Breathable AND Waterproof Industrial Hand Protection
Gloves are beneficial when it comes to protecting the skin against liquids, chemicals and contamination but impervious hand protection has a drawback. What goes on under the gloves is a completely different matter. Water-proof gloves create an air-tight barrier around the hands which causes the hands to heavily sweat. With nothing to wick perspiration, moisture becomes trapped inside the gloves and hands that are softened from sweat are more prone to infection, irrita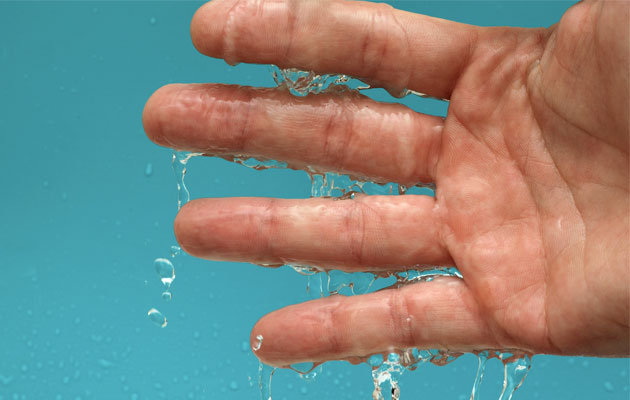 tion, dryness and fatigue. Finding the right pair of waterproof work gloves for your team can be a very challenging process.
As a specialist glove manufacturer SHOWA® took on this challenge, and developed the first TEMRES®. The name TEMRES® comes from a combination of the Japanese words Te, which means "hand", and Murezu meaning "no humidity". The TEMRES® glove was revolutionary at the time of its launch and its uniqueness and benefits have become recognized in the market.
The idea behind TEMRES® came from a challenge faced by workers who wanted to keep their hands free from sweat while working in wet environments. For many workers in the fishing industry for example, it was difficult to keep dry hands while at the same time working in wet and oily conditions. However, it is even much more difficult to achieve good breathability in fully coated gloves while maintaining oil or water resistance.
Perfected in 2005, TEMRES® is hand protection technology recognized for its waterproof property, added anti-slip grip and amazing breathability that ultimately reduces perspiration.
HOW DOES IT WORK?
THE SCIENCE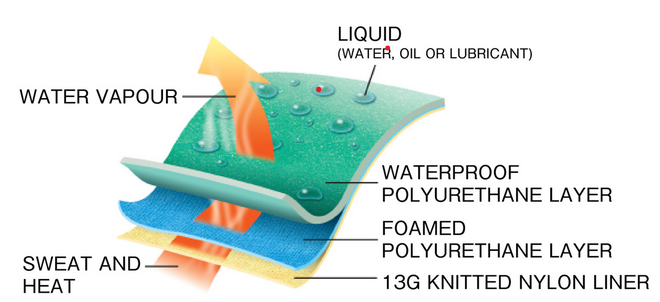 The concept in TEMRES® technology comes from differences in physical properties of liquid water and water vapor.
The SHOWA® glove engineers used this significant size difference to create two main membranes in the glove that enable the TEMRES® effect: one for its breathability and one for water resistance.
Concretely, one membrane is made from porous foamed polyurethane, helping moisture come out easily and allowing the hand to dry promptly. The other one is the outermost barrier layer made from hydrophilic polymer, which is permeable to moisture but not to water. The difference in concentration of water molecules and temperature leads to water vapor transfer from inside the glove to outside. This is the essential mechanism applied to TEMRES® gloves. The breathability allows hands to stay dry. At the same time its waterproof property still protects the hands from water and liquids.
Innovative Combination of Waterproof & Breathability
Waterpoof. breathable membrane fixed between glove coating and glove liner.
Liquid proof protects hand against water and other liquids

Innovative membrane keeps water out of the glove, while allowing warm air and moisture from inside to escape.

Breathable technology keeps your hands dry and cooler.
Excellent Fit & Premium Comfort
Ergonomic design hand mold replicates the natural curvature of the human hand. This creates less stress and strain for better extended wear comfort, increased productvity and better long term hand health.
Micro-Roughened Nitrile Finish. High Grip Performance
Flexibility and tactility due to thin coating technology. Textured fingertip finish increases protection and provides optimal anti-slip grip in wet or dry environments.
Features and Benefits
Membrane keeps water out of the glove, while allowing warm air and moisture from inside to escape

Breathable technology keeps your hands dry

Liquid proof protects hand against water and liquids

Flexibility and tactility due to a thin coating and seamless liner

Ergonomic design reduces hand fatigue

Level 4 abrasion resistance

Minimal allergy risks
Characteristics
Waterproof

Breathable membrane fixed between coating and liner

Full, breathable micro-ventilated polyurethane coating

Micro-roughened nitrile particle finish to fingers and back of hand

Seamless knit

Anatomical shape

Thickness: 0.8mm

Available in an insulated version
Industries
Agriculture & Gardening

Commercial Fishing

Seafood Processing

Meat and poultry processing

Automotive

Transportation

Construction

Marine

Forestry & Fishing Horticulture
TEMRES® contains a unique micro-ventilated waterproof polyurethane coating that protects the hand against water and liquids while keeping it dry, even when worn for long periods of time. The ergonomic seamless liner and breathable technology all combine to give the user enhanced comfort and protection.
---
Orders. Questions. Volume Discounts.
Monday - Friday 8:30am - 4:30pm Eastern Time
+Free Shipping on Orders +$499
+800.274.4637 | +716.668.4001 | [email protected] | Fax +716.668.4496
"We want you to return home safely every day"