Protect Your Hands

with

Chemical-Resistant Gloves
Different chemicals call for different coatings for protection. Superior® Glove has engineered a glove type to protect you from all of them: latex, nitrile, PVC, Neoprene & more. Choosing the correct chemical-resistant glove ens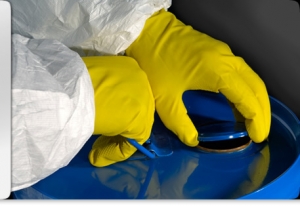 ures workplace compliance and safety and is more than likely to be required in the workplace. Make sure to protect yourself with the right glove!
-Identifying Your Chemicals
Before you decide which glove to buy, you first need to identify which chemicals you will need protection from. Are you working with a specific acid? Are you working with oils? Disinfectants? Are you working with multiple chemicals? The enclosed chart should help get you started with this process:
Once you've identified your chemicals, the chart should also help you decide which material would work best for that specific chemical. For example, if you're working with fertilizers, you can choose from any of the latex, PVC, or nitrile coated gloves. But if you are working with gasoline, your best bet is nitrile, or if it is acetone, you should only be using the latex gloves, and so on and so forth.
Common glove coating materials include:
1. Natural Rubber

2. Synthetic Rubber
- Chloroprene (Neoprene)
- Nitrile rubber
- Butyl and Viton®-butyl

3. Plastics
- Polyurethane
- Polyvinyl chloride
-Material Descriptions
Latex Gloves (Natural Rubber)
Latex is a natural rubber dispersed in water. It has a very high elasticity as compared to other glove materials, which gives it excellent cut and tear resistance as well as temperature resistance. These gloves' outstanding grip withstands water, alcohol, and some ketones, but have poor resistance against most hydrocarbon and organic solvents. It is also worth noting that latex is known to cause allergic reactions in some people. A great option from Superior's® Chemstop® line is the 24" Unlined Heavyweight Latex Chemical-Resistant Glove. This is their heaviest-weight natural rubber glove and offers excellent abrasion resistance. The 43-mil. thick glove is resistant to solvents (methanol) and has some resistance to acids.
Nitrile Gloves (Synthetic Rubber)
Nitrile rubber offers excellent physical-hazard resistance to punctures, cuts, snags and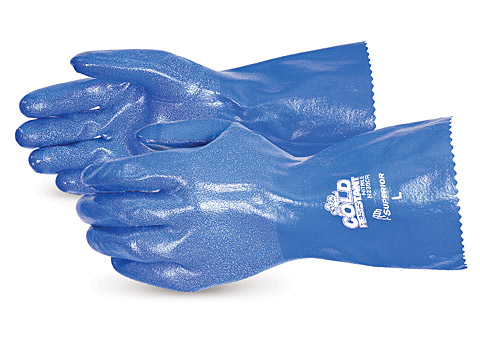 abrasion, with considerable resistance to oils, fuels, and certain organic solvents. It is commonly used as a coating for dipped gloves and also in the construction of laminated, impregnated cut-and-sewn gloves. One of the most popular nitrile gloves that Superior® offers is the North Sea™ Chemical and Cold-Resistant Nitrile Gloves. It is coated with a specially formulated nitrile that provides outstanding performance in extreme cold - it won't become brittle or crack, and the puncture and abrasion protection is not compromised. The glove's cold and wet grip is remarkable and it's sand-patch texture on the palms channel oils and liquids away. They will fit over a liner for increased warmth. Applications for this glove are commercial fishing, petro-chemical, maintenance, or work with oily metal parts. Try the North Sea Winter Gloves with knitted cuffs for amazing flexibility and warmth!
PVC (Polyvinyl Chloride) offers good abrasion resistance, but may be susceptible to punctures, cuts, and snags. While it is flexible, it does not provide the tactile sensitivity associated with most rubber products. It is effective against water and most aqueous solutions, detergents, and diluted bases and acids. It only has limited chemical resistance to organic solvents, but PVC is one of the more common coatings for coated work gloves. The Chemstop™ PVC Coated Kevlar® Glove is made of Kevlar® knit support that is dipped in PVC over an ergonomic hand form for maximum comfort. It offers good resistance to oils, diluted bases and acids (limited resistance to organic solvents).
Superior Glove® also offers Neoprene®, which has good abrasion, cut resistance and resists degradation due to aging, sunlight, ozone, oxidation, and weather. It is flame resistant and demonstrates heat stability up to 93°C (200°F). Butyl / Viton®-Butyl and Polyurethane are also materials that make up some chemical resistant gloves.
Top Picks for Superior Glove's® Chemical Resistant Gloves:
Product Description

TenActiv™ Fully Nitrile-Coated Cut-Resistant Glove w/ Fleece Lining

Material

Latex

Nitrile

PVC

ASTM Rating

N/A

ASTM ANSI Cut Level 3

ASTM ANSI Puncture Resistance Level 2

Resistance To

Solvents (Methanol)

Some Acids

Oils

Fuels

Certain Organic Solvents

Water

Chemicals

Greases & Oils

Acids

Oxidation

Applications

Construction

Fisheries

Cold Storage

Food Processing
Contact MDS for technical questions, gloves not listed or for free samples.
+800.274.4637 | +716.668.4001 | [email protected] | Fax +716.668.4496