SHOWA

®

DURACoil

™

Multipurpose Industrial A3 Cut Glove Series
It isn't a secret that operators don't like to wear PPE, especially work gloves. What many do not realize is that 70 percent of workers who experienced hand injuries were not wearing their work gloves. Heat build-up, flexibility, comfort, tactile sensitivity is often the blame but here's the deal. The cost of one preventable incident far exceeds the cost of an entire hand protection program.
Cut-resistant hand protection incorporates strong specialized fibers designed to prevent lacerations. When cut resistant gloves are worn for extended periods of time, these fibers can poke through the shell and irritate the hands causing operators to remove them while working.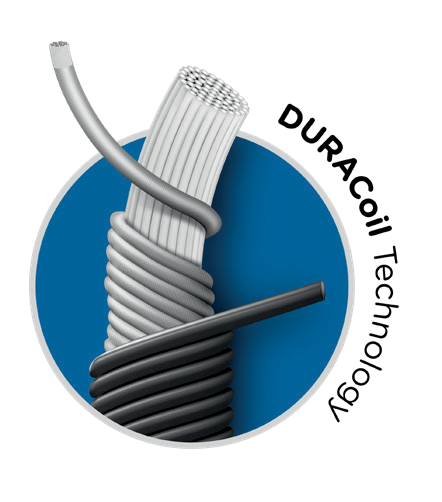 Recognizing this dynamic, the engineers at SHOWA® glove created DURACoil™ - a cut resistant liner that increases the cut protection of multi-puprose gloves without compromising on comfort. DURACoil® is comprised of two words:
DURABLE =

the gloves are designed for maximum comfort, to be worn for extended

periods of time

COIL =

the wrapping technique where fibers are coiled over the others in laye
DURACoil™ is the best of both worlds and is designed for maximum extended wear comfort. The DURACoil™ liner is engineered by tightly wrapping multifilament polyester around a cut-resistant fiber then reinforcing it with High-Performance Polyethylene (HPPE). This technique is very important to user comfort because if it is not done correctly, the fibers will irritate the skin.
DURACoil™ Key Features:
Multifilament polyester wrapping DURACoil liner, reinforced with HPPE

ANSI/ISEA 105-16: A3

100% SHOWA® quality

13-gauge seamless-knit liner

Unique SHOWA® ergonomic hand shape design

Dual protection for multipurpose and cut risks

Washable and re-usable
7 Versatile Work Gloves – 4 Different Coatings
With seven styles on the SHOWA® DURACoil™ lineup, there's a right solution for your requirement!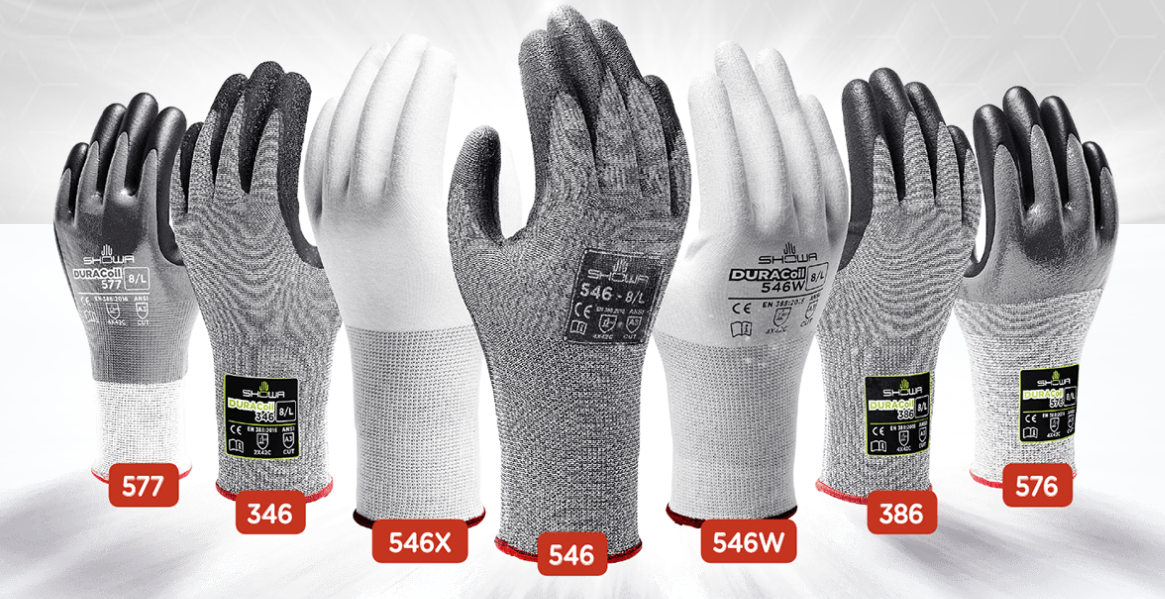 POLYURETHANE (PU) COATING
LATEX COATING
MICROPOROUS NITRILE
FOAM NITRILE COATING
UNCOATED
SHOWA® is synonymous with the highest degree of hand protection and innovation. Each glove is developed by carrying out a detailed study of all quality parameters; design, suitability, ergonomics, suppleness, performance of the materials and manufacturing processes – making it possible to achieve the correct balance between safety, dexterity, performance and price.
Upgrade your mechanical risk protection with cut level A3 DURACoil™ liner and perform a wide variety of tasks in dry, greasy, oily and wet environments. Consolidate your glove inventory with a versatile range of hand protection and increase PPE user acceptance with these ultra-comfortable work gloves. Whether performing tasks in dry, greasy, oily, or wet environments, there are no more excuses to not wear glove...
Orders. Questions. Samples. Volume Discounts.
Click or Call Today
Monday - Friday 8:30am - 4:30pm EST
Toll-Free +800-274-4637 | +716-668-4001 | [email protected]
"We Want You To Return Home Safely Every Day™"