Industrial Hand Safety
One-of-Kind, Multi-Dimensional Work Safety Glove Solutions
There are so many different work glove styles offered in so many configurations and materials, one would believe there are protective gloves designed for every job application imaginable. Unfortunately for many businesses, this isn't the case and there are circumstances where it seems there are no work safety gloves available for the task, or rather that the task requires separate styles of gloves.
Virtually all industrial work gloves are manufactured for a cross section of jobs, but as many of us know, not every job is the same and there are many instances where there is a void in hand protection options. While the search for that perfect glove may seem like a lost cause, we are here to tell you that we have hand protection options for you!
Multi-Functional Hand Protection
Maximize productivity and most importantly, keep your employees safe and comfortable. The engineers over at Superior Glove® take industrial hand protection seriously and provide innovative, one-of-a-kind hand protection solutions that streamline inventory, reduce costs, increase compliance and productivity.
Industrial Work Glove Solutions That Fill the Glove Void
What makes Superior Glove® work glove products unique is that you can purchase one glove that offers multiple levels of ANSI safety rated protection and performance. Below are some examples of customers with unique work applications who searched long and hard for that perfect glove. As it turned out Superior Glove® had a remedy in-stock to fill that glove void.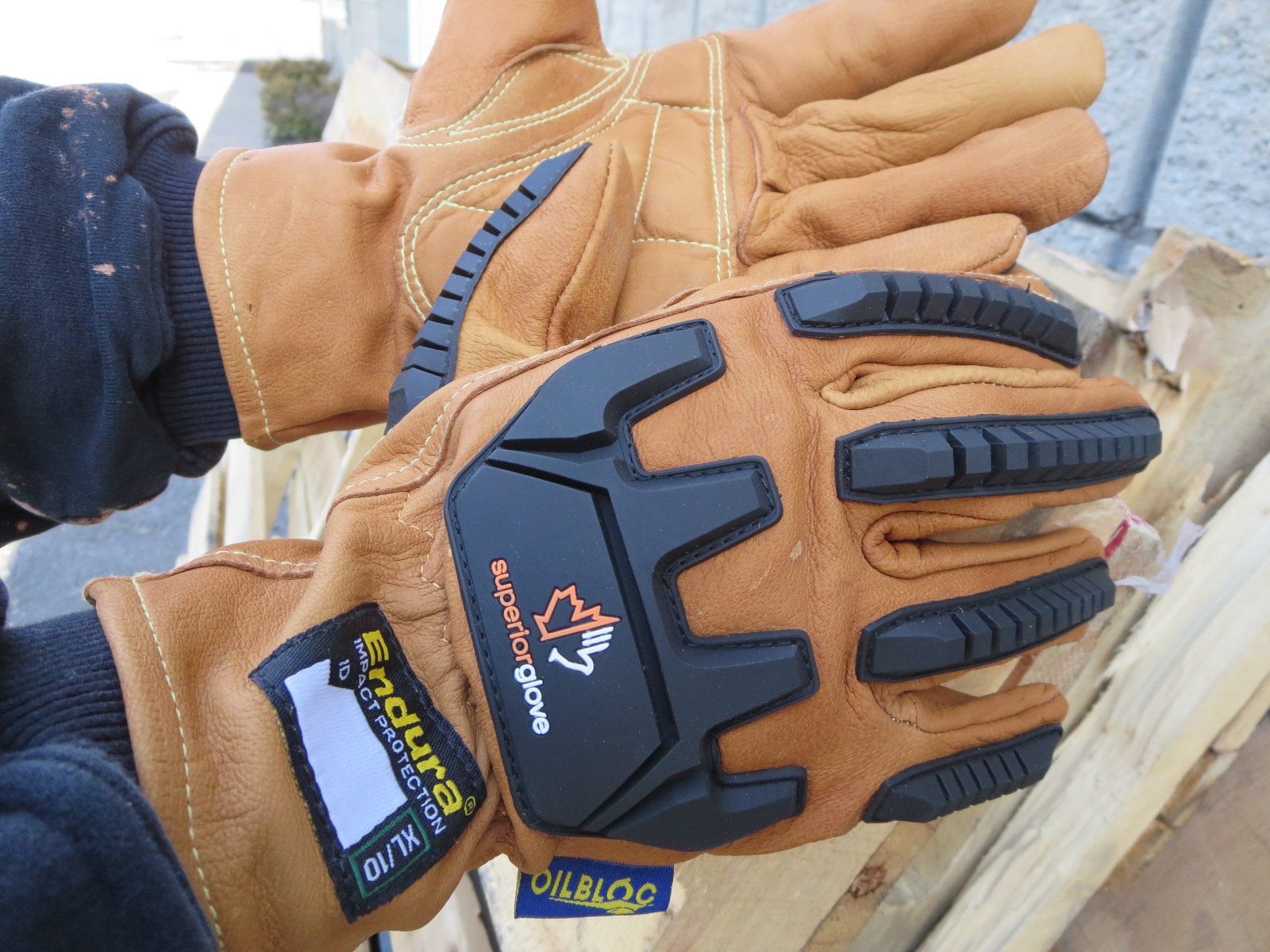 Example 1. Crushed Fingertips
The problem: Employees who handle heavy objects like concrete blocks, landscape rocks, steel cording, heavy tools, pipes, cable, beams, or use a hammer for a living, their fingertips are at constant risk to be severly pinched, cut or crushed. Crush and pinch injuries can impact more than your ability to work and aren't something anyone need to accept as "part of the job" – there is a new, innovative safety feature available in hand protection.
The solution: PinchGuard technology is the first protection in North America designed specifically for fingertips and it's built right into your safety gloves. Crush-resistant finger caps are a comfortable protective shield that wraps around your fingertips to absorb the force from impacts, crushes and pinch hazards. It's like steel-toed boots for your fingers! The 378GOBBFC Endura® Oilbloc™ Impact Driver Gloves with Finger Caps are for those needing that extra impact-resistance for the entire hand region. These ANSI/ISEA 138 Impact Level 2 rated gloves provide ba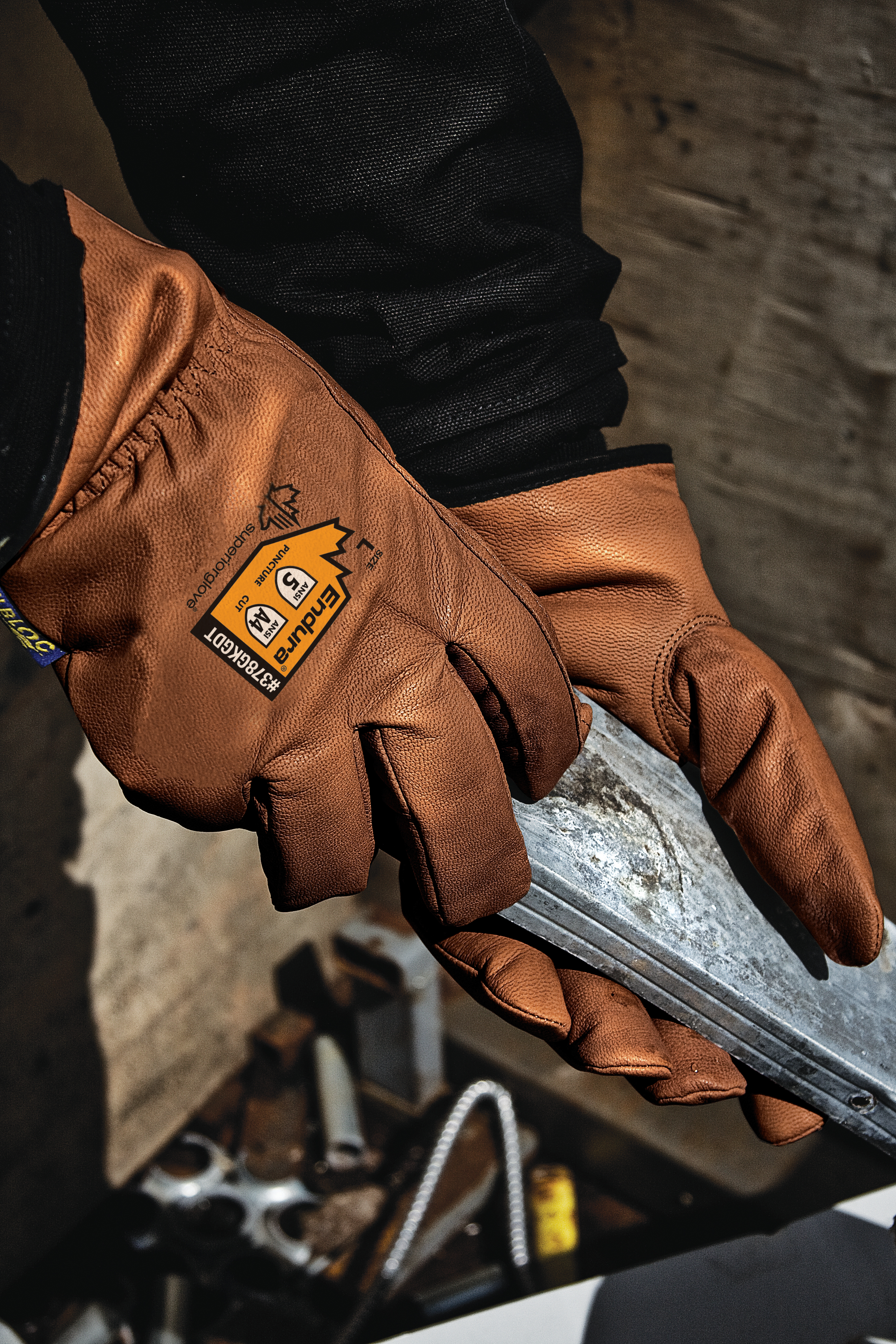 ck-of-hand protection as well as ANSI Level A4 cut resistance and ANSI Level 3 puncture resistance. As an added bonus, these gloves also feature padded palm inserts for minor vibration dampening when working with power tools.
Example 2. Oily Leather Gloves
The problem: We took a call from a customer who's main operation revolved around the handling of semi-sharp and heavily oiled products. To protect the hands from injury, they opted for leather work gloves but unfortunately these became saturated in oil very quickly and caused operators to don fresh gloves frequently-translating to several hundred pairs a week. Replacing genuine leather work gloves weekly quickly became an outrageous expense and to offset the high costs of replacements, this company began sending these oily gloves out to be dry-cleaned on a weekly basis.
The solution: The 378GOB Endura® Goat-Grain Leather Driver Gloves with Oilbloc™ . Treated on the durable and super supple goat grain leather is Oilbloc™ - a leather treatment applied during the tanning process for exceptional water and oil repellency. Fluids will bead off glove for no soak-through or staining. These highly affordable and durable Endura® Brand leather driver gloves are serious work gloves with great attention to quality, and afforably priced!
Example 3. Submersed Hands in Frigid Conditions
The problem: For those professionals who work in the frigid outdoor conditions, it's just another day at the office but the cold and wet weather can be brutally harsh on the hands, especially if moisture penetrates through gloves or when metals are involved. Fit and form is essential to finding a work glove that will keep the hands warm without sacrificing dexterity. Gloves that are too big or become stiff in the e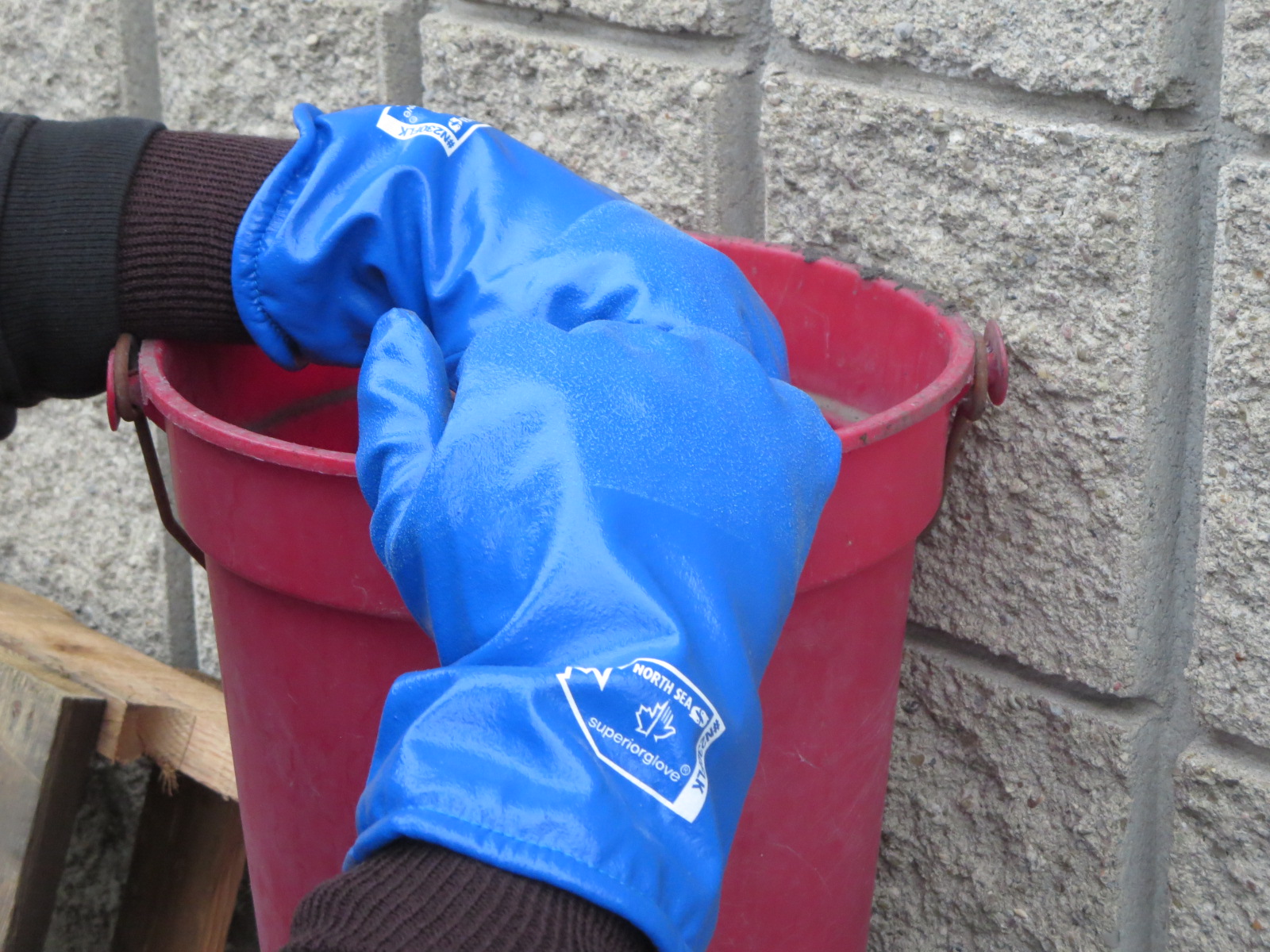 xtreme cold can restrict movements plus it allows body heat to escape. Some type of insulating lining is also needed.
The solution: The N230FLK North Sea™ Fleece-Lined Nitrile Gloves are an 11-inch waterproof and ANSI puncture-resistant rated glove that remains ultra-flexible and soft in extreme cold weather and provides outstanding dexterity. A textured surface provides enhanced gripping power with objects dry or wet. The elastic gathering along with the long, thick snug-fitting knit cuffs keeps the glove in place and the cold elements out (or the heat in). These North Sea™ gloves are used and Discovery's TV Series the Deadliest Catch!
NorthSea™ Water-Proof Insulated Winter Gloves are perfect for:
Commercial Window Washing

Utility Installations

Commercial Fishing

Auto Detailing

Marine

Gutter Cleaning
Example 4. Abrasion-Resistance
The problem: High speed spooling is very abrasive and this particular facility had been using leather gloves for the abrasive qualities, but leather used for work gloves are made from tanning animal rawhide and the skins of many animals. Leather is considered an animal byproduct and for this industrial pharmaceutical facility, consumer products contaminating or coming into contact with animal byproducts is a major concern and unacceptable.
The solution: The S18TAFGNT Zedcoat™ Palm Coated Tenactiv™ Seamless Knit Gloves are highly abrasion-resistant rated and containing no animal product for zero tolerance processes, these knit gloves were the solution. ASTM ANSI Abrasion, Cut AND Puncture Resistant Rated, Zedcoat™ is also compatible for use with all touchscreen devices.
Example 5. High Touch Sensitivity and Cut-Resistance
The problem: Electricians, engineers, machinists, electronic assemblers, circuit board manufacturing, computer repair technicians the operators require something that when worn, is barely noticeable yet protects against light to moderate cut hazards and puncture threats especially when manipulating small sharp parts or in contact with hot metal and shavings.
The solution: From the hot-selling TenActiv™ line-up which features state-of-the-art cut-resistant composite yarns, these ultra light weight, snug-fitting S21TAXFN TenActiv™ 21-gauge seamless knit gloves are the closest you can get to working barehanded without sacrificing cut, puncture and abrasion protection. Palm coated with foam nitrile, these gloves provide a powerful grip making them ideal for wet, oily and dry environments. These touchscreen-compatible work gloves are great for handling sharp sheet metal, blades, tools, and equipment, or for general purpose use and more importantly, prevent operators from removing their work gloves!
Example 6. Industrial Cuts, Punctures, Abrasions, Impacts & Fluids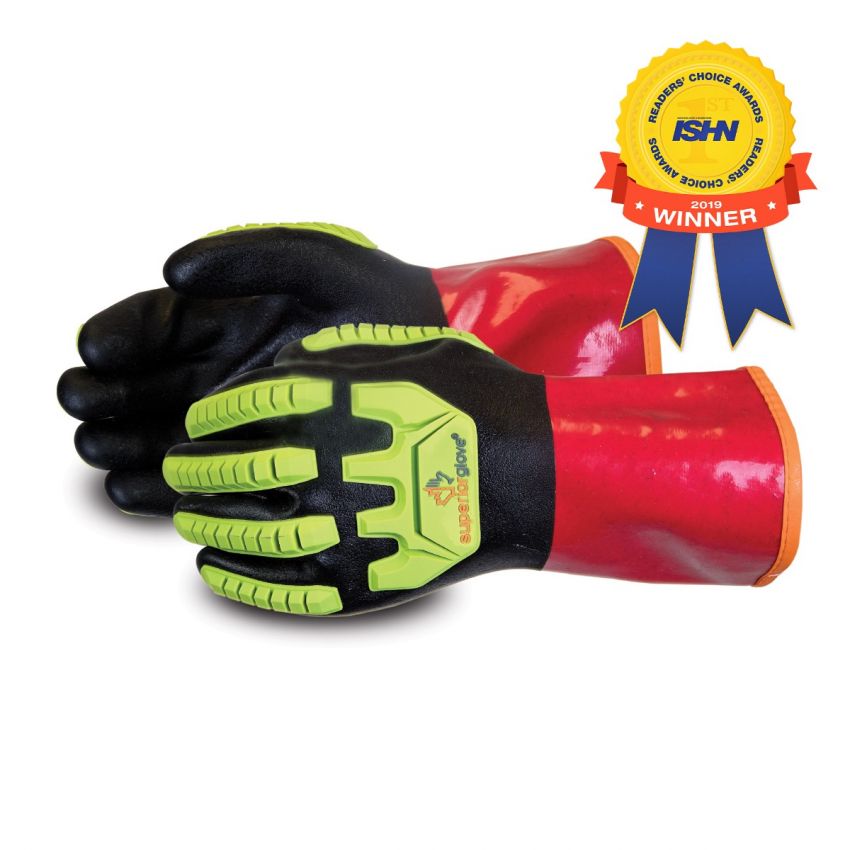 The problem: If you are an industrial operator working in the mining, construction or in the oil and gas industry, you'll agree that there is little room for error. The last thing any worker needs to worry about is whether or not their work gloves will tolerate the working conditions, especially if multiple hazards exist. Many companies require that their workers wear or carry two or three different styles work gloves when on the job. Unpractical and costly, layering these gloves is time consuming, exhausting and requires much inventory management.
The solution: These Award Winning S15KGVNVB ChemStop™ industrial work gloves feature a comfortable Kevlar® Liner and achemical-resistant full nitrile coating with texturized surface that provides excellent grip by displacing oil on slippery surfaces. Impact-resistant thermoplastic rubber (TPR) backing protects hands and fingers from knocks and bumps and meets the new ANSI ISEA 138 Impact Standard. The hi-viz green color increases worker awareness of hand placement reducing the opportunity for injury. These chemical protection gloves resists a wide variety of chemicals and solvents and are ANSI rated against industrial punctures, abrasions, cut hazards and ergonomically-shaped to reduce hand fatigue, the gauntlet cuffs provide added coverage along the wrist and forearm region.
Example 7. Cold, Wet Conditions
The problem: Cold conditions carry the danger of frostbite and permanent damage that is magnified in the presence of water or when handling frigid metal items such as pipes, tools, posts, scaffolding, gutters. Individuals who live, play or work in frigid environments require specialized winter hand protection that keeps the hands both warm and dry.
The solution: This S18WTLFN TenActiv™ winter glove is constructed with 18-gauge seamless knit lint-free composite-knit yarns that are stronger than steel on an equal-weight basis. The high-strength composite filament fiber of this TenActiv™ style glove provides wearers with ANSI safety rated protection against cuts and industrial punctures. A red foam nitrile dipped palm coating provides a powerful grip in dry, wet or oily environments. The comfortable acrylic terry liner is rated to 14°F and features an exclusive waterproof, windproof laminated breathable membrane designed to seal out water and keep the hands both dry and comfortable. Extra-long, knitted turtleneck cuffs trap in hand heat and keep debris out.
Example 8. A Multiple Tasking Glove for Emergency Personnel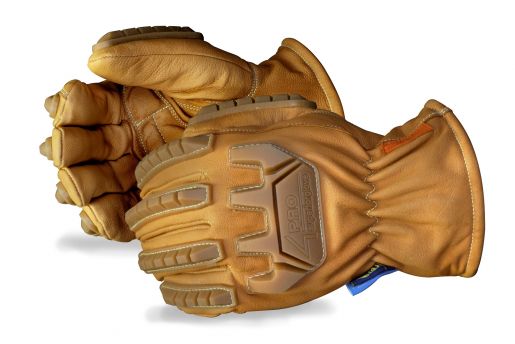 The problem: Firemen play a very important role in our communities. They help people and animals in emergencies, put out fires so our homes, buildings, and lands don't burn down. Part of their job requires the use of powerful hydraulic cutters, spreaders and other firefighting tools such as, drip torches, spanner wrenches, fire axes, hoes, shovels fire hoses and more. Subjected to sharp metal, glass, heat and caustic fluids, Firefighters also perform many tasks and so should their industrial work safety gloves.
The solution: These innovative Endura® 378KMT 4PRO™ Insulated Driver Gloves capture many hand safety protocols and are the perfect all-in-one work glove for fire and rescue personnel. Endura® 4PRO goat-grain leather driver gloves are supple and feature a waterproof breathable membrane that keeps water out, the heat in and allows the hands to breath. The Thinsulate™ lining provides exceptional warmth while maintaining mobility in the palm region to -13°F, and additional insulation in the fingertips is rated to -22°F; constructed as such to prevent heat loss when handling cold parts or tools. Fully lined with a blend of Kevlar® and composite filament fiber, these multi-functional industrial work gloves provide ASTM cut-level A6 protection. The leather is treated with oil and water resistant Oilbloc™ during t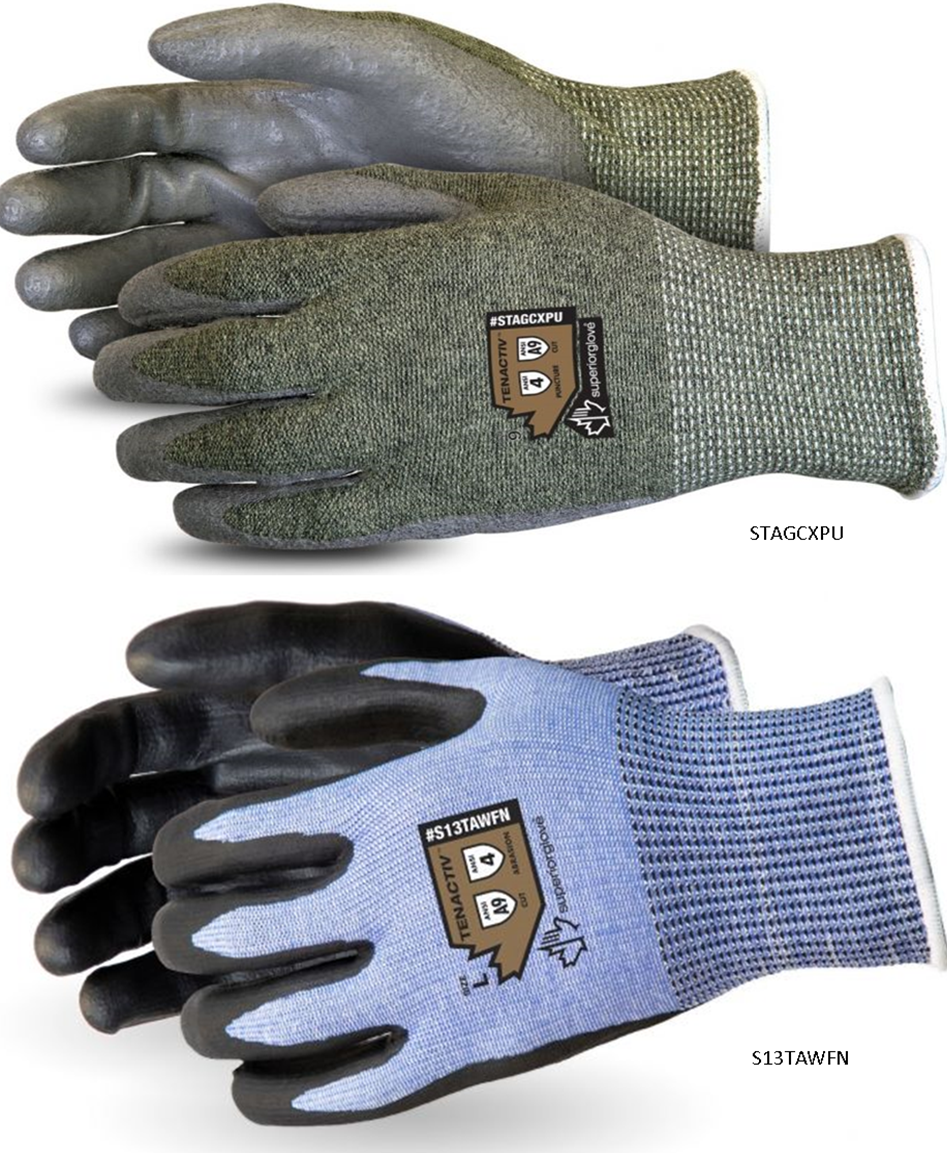 he tanning process ensuring treatment that lasts for the longevity of the glove. The back of the glove feature anti-impact protectors designed to deflect impact energy and meet ANSI ISEA 138 Level 3 Impact Standards. These strategically placed knuckle guards are comfortably flexible, supremely durable and will not stiffen or crack in frigid temperatures. Lastly, the palms feature a layer of padding for minor vibration dampening making these ideal for use with power tools and hydraulic equipment.
Example 9 & 10. Severe Hand Lacerations/Slash Injuries
The problem: work-related injury to the hands are from lacerations which accounts for roughly 63% of workplace hand injuries, Typically used to grip or steady structures, the non-dominant hand easily crosses into the danger zones putting the hands and fingers at risk to injury. Lacerations can range in severity from a small cut to the amputation of fingers or the entire hand. These can occur anywhere, anytime and with any number of pieces of equipment. If work gloves are too bulky, hot or cumbersome, they are typically removed or never worn. It's also imperative that the proper glove is correctly matched to the task.
The solutions:
ANSI Puncture Level 4

ANSI Cut Level A9
The

#S13TAWFN TenActiv™ Extreme-Cut Glove+

features ergonomic styling, color-coded sizes, a black spongey foam nitrile palm coating that absorbs liquids to provide excellent grip in wet or light oil applications. It is constructed with high performance fibers and a 13-gauge seamless knit construction. It has two ANSI rated safety features:
ANSI Puncture Level 4

ANSI Cut Level A9
Shop wholesale priced industrial work safety gloves you just can't find anywhere else. Superior Glove® provides a wide variety of innovative, one-of-a-kind, multi-functional ANSI safety rated hand protection solutions that really deliver! They boast over 12+ award winning work gloves and are the most flexible and vertically integrated North American glove manufacture! But don't our word for it, tap the link and ....
Monday – Friday 8:30am – 4:30pm EST
Samples. Non-Published Volume Discounts. Questions.
Toll-Free +800-274-4637 | +716-668-4001 |

[email protected]
"We Want You To Return Home Safely...Every Day!™