Can Your

Work Gloves Swipe

and

Scroll ?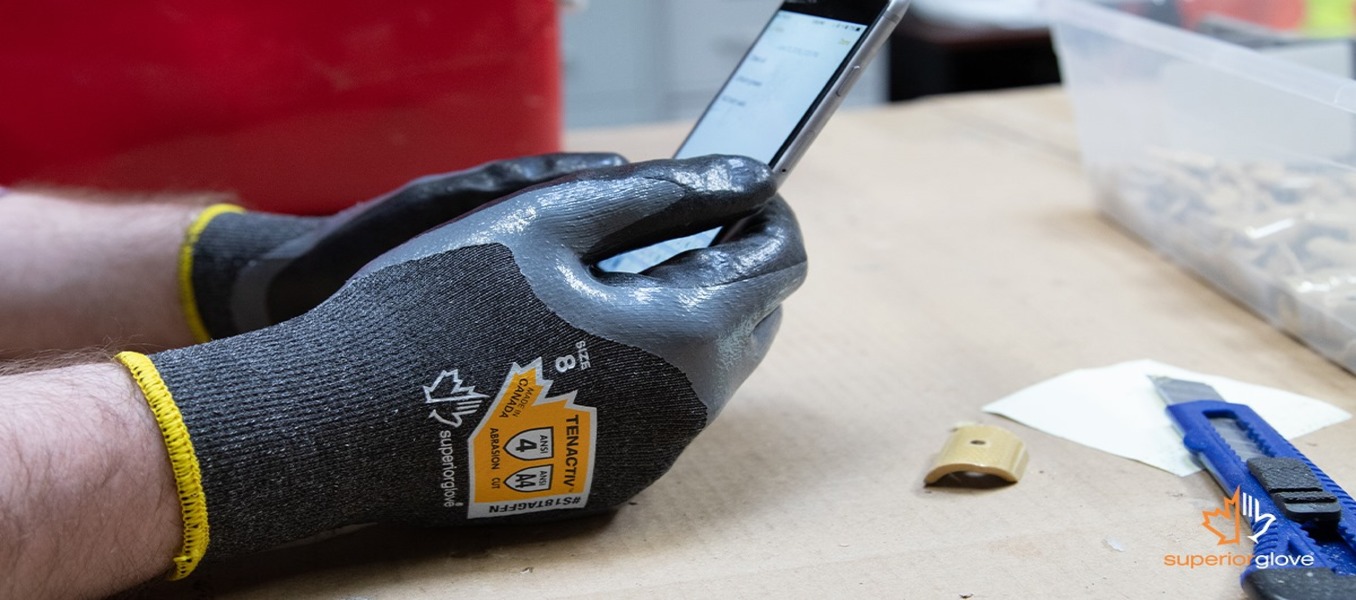 ANSI Rated Work Safety Gloves with Touchscreen Smart Technology Fingertips
We use our hands more than we realize during the workday from emailing and texting to handling tools and delicate materials. Hands are working instruments that complete tasks and no job is successful without them.
If you're on a jobsite, taking off your work gloves to allow your hands a moment to breathe can be problematic and put you at risk to injury. When your hands aren't protected, you can be at much higher risk for an accident.
ACCIDENTS HAPPEN QUICKLY
Almost 70% of all hand injuries occur when workers aren't wearing their gloves. If you do some research into those injury reports, you will learn that these accidents are occurring during brief moments when work gloves are removed for precision with a specific task, updating data on a tablet or to allow the hands a moment to breathe. It can be that easy for an injury or accident to happen.
The use of touchscreen devices in the industrial workplace continues to grow. Touchscreen compatible work gloves give operators the ability to work quickly with electronics. They also let workers easily and quickly look up information from touch enabled devices without having to remove their safety gloves, putting their bare hands at risk to injury. Thanks to technological advancements, touchscreen capabilities are now being incorporated into a lot of different styles of industrial work safety gloves.
The engineers over at Superior Glove® recognize the need for high-performing safety gloves that didn't need to be removed to operate touchscreen devices. As leaders in safety through innovation, they've engineered several styles of touchscreen compatible ANSI safety rated work gloves for demanding industries that incorporate on-the-job swipe compatible technologies.
Regardless of the industry, having sizable control over your dexterity and specific movement can be equally as important as staying protected. When you're in need of a more exact touch, the right touchscreen glove can protect against workplace hazards without sacrificing needed functionality. These popular work gloves below will keep you covered.
FABRICATION
In the fabrication industry, being able to balance dexterity with cut resistance is crucial. Designed for those working with glass or sheet metal handling, the SKWCP Emerald CX® Knit Gloves allows the wearer to complete hands-on tasks, such as digitally recording the day's material usage, without taking their gloves off.
AUTOMOTIVE
The automotive industry is becoming increasingly digitized and workers are increasingly required to incorporate digital reporting into their work. With protection from both abrasions and cuts, this S18TGFN TenActiv™ coated seamless knit glove is designed to keep you safe, alongside a foam nitrile coating that can withstand solvents and enhance grip. These gloves are a perfect fit for automotive workers dividing their time between assembly line and computer screen.
CONSTRUCTION
Wouldn't it be convenient to have just one pair of gloves that can handle all the various tasks and hazards that accompany the construction industry? The S18TAGOFN TenActiv™ coated seamless knit glove is abrasion, cut and puncture resistant, allowing wearers to confront numerous potential workplace challenges with ease. The high-visibility orange shell adds an additional safety component, while the high-visibility foam nitrile palm improves your grip in wet or oily environments.
CLEANROOM
Removing your gloves in a cleanroom can lead to a potential contamination hazard, even if you're only performing data entry. With touchscreen compatibility, you'll be able to keep working without creating a hazard or interrupting workflow. The S13TAPUCF TenActiv™ coated seamless knit glove is abrasion, cut and puncture resistant, has terrific grip thanks to its palm coating and is designed for use in sterile environments where residual damage must be kept to a minimum.
ELECTRONICS
While having full-hand safety can be critical, your job might require a more tactical, barehanded feel without eliminating necessary safety features. When you're working with small parts (such as electronics) dexterity and comfort are incredibly beneficial. If you need to work on touchscreens, cell phones, tablets or computer monitors, not having to constantly remove your gloves means you won't have to sacrifice working rhythm for productivity. The S13PNT3OF Dexterity® coated seamless knit semi-fingerless gloves come with an open thumb, index and middle digits. It allows for a finer, more precise touch, grip, feel and swipe functionality. It also boasts abrasion and puncture resistance. The nitrile coating helps to prevent oils and foreign liquids from soaking through to the palm.
To be successful, whatever industry you're working in, you need to have the right tools in place. If a pair of touchscreen gloves can allow you to attend to your more precise job needs without safety becoming a concern, they might be the correct choice for you and the most effective fit for your hands and job requirements. But don't take our word for it, just tap the button and...
Questions. Samples. Special Requests.
Monday - Friday 8:30am - 4:30pm EST
+Free Shipping on Orders +$499
Toll-Free +800-274-4637 | +716-668-4001 | [email protected]
"We Want You To Return Home Safely...Everday!™
We're Working As Fast As We Can to Protect You