PREVENT HAND TRAUMA ON THE JOB
ENGINEERED WORK GLOVES FROM TRUSTED GLOVE SUPPLIERS
MDS Provides The Best Selection of Specialized Wholesale Priced Industrial Work Gloves Anywhere on the Internet. Shop For Engineered Hand Protection From Best-In-Class Glove Designers!
No matter the task, ensuring that you're equipped with the proper personal protection can help you get the job done both efficiently and most importantly, safely. Some of the most important (but sometimes overlooked) protective items you can have with you at your work station or job site are the proper work gloves. but if they aren't being worn, what good are they?
It is a mistake to think that for a glove to be good, it just needs to meet current standards and prevent whatever hazard the wearer is encountering. The reality is much more complicated than it appears.
Whatever the industry, working conditions or application, a work glove needs to be as comfortable as possible. Comfort is paramount. Without this essential quality, the worker's safety would be considerably reduced. Historically, a lot of workers opt not wear gloves because it limits their dexterity and prevents them from doing their jobs correctly or quickly. Despite the risks, they find it more practical to work without protective gloves. Faced with this situation, manufacturers of personal protective equipment, continue to develope hand protection solutions that enable operators to benefit from increased comfort and exemplary protection.
EXCELLENCE IN HAND PROTECTION
As hand protection specialists, MDS distributes an amazing line up of ultra-competitively priced industrial work safety gloves from trusted glove manufacturers who specialize in industrial hand protection designed to reduce workplace hand trauma. From mechanics to ANSI/ISEA 138 Level 3 impact resistant gloves, from ANSI cut level A9 palm coated seamless knits to leather drivers, arc-rated to heat and chemical resistant work gloves - we have the deepest and most innovative selection of multi-dimensional industrial hand protection on the internet.
NOT ALL GLOVES ARE CREATED EQUAL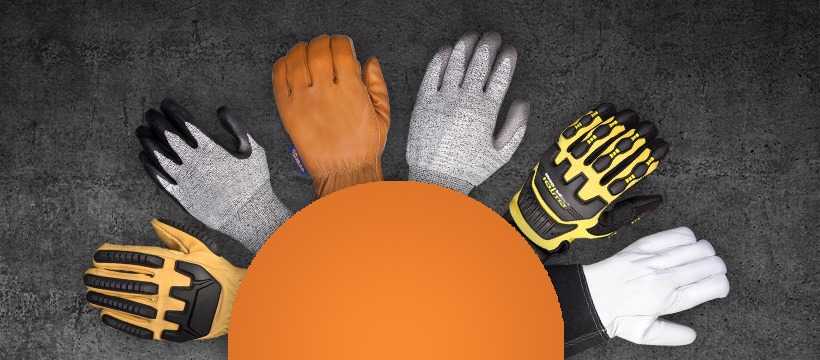 SHOP FOR A WORK GLOVE THAT FITS YOUR JOB (AND HAND) PERFECTLY!
Workers shouldn't have to choose between comfort and safety. Passionate about safety, the following hand safety specialists develop and engineer cutting-edge industrial work safety glove products for the roughest conditions that your team will actually want to wear!
SUPERIOR GLOVE®
Superior Glove® is a leading innovator in the design and manufacture of safety gloves and protective sleeves. Since 1910, they have been protecting workers across the globe with specialized hand and arm protection for every major industry. Superior Glove® products are engineered at their headquarters in Ontario, Canada. But their team and production facilities span across Canada, the United States, Mexico, and Central America. +You can view Superior Glove® hand protection products here
MAJESTIC® GLOVE
Majestic® Glove is celebrating over 40 years of innovative safety through the skillful combination of traditional craftsmanship combined with the latest technological and material advancements to create safety equipment and apparel that exceeds performance expectations. With steadfast commitment, Majestic® will continue to intensify safety standards by providing reliable and quali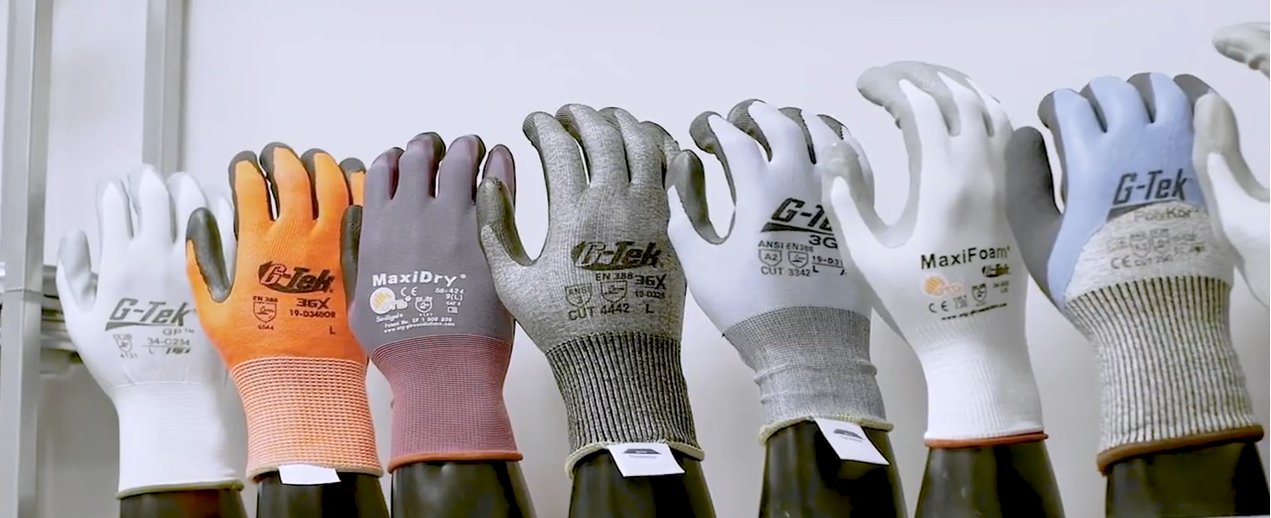 ty personal protective equipment for the roughest work conditions. Majestic® is committed to reliable, innovative and durable safety gear. +You can view Majestic® Glove hand protection products here
PROTECTIVE INDUSTRIAL PRODUCTS
For over 35 years, Protective Industrial Products (PIP®) has been a leading supplier of hand protection and personal protective equipment to wholesalers and distributors worldwide. With locations throughout North and South America, Europe and Asia, PIP's mission of "Bringing the Best of the World to You®" is fulfilled everyday by providing best-in-class safety products worldwide. +You can view PIP® hand protection products here
IMPACTO® PROTECTIVE PRODUCTS
Impacto® Protective Products Inc. is a privately owned, Canadian company that serves the exclusive needs for worker safety. Since 1988 they've been manufacturing cutting-edge hand protection products designed to lower Worker Compensation claims by minimizing the risk of injury to the musculoskeletal system from long-term exposure to industrial impact, vibration and repetitive motion in the workplace. These ergonomic safety products can help prevent cumulative trauma and repetitive strain injuries such as Hand-arm vibration (HVAS), tendonitis or carpal tunnel syndrome. +You can view Impacto® hand protection products here
SHOWA®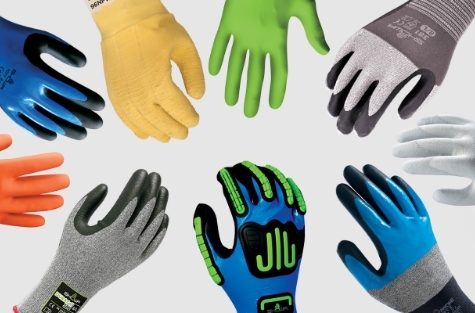 SHOWA® is a fully industrial hand protection integrated manufacturer that is always innovating and never imitating. With full control of their industrial ecosystem it has enabled them to maintain constant quality and perfection at every level for the past 70+ years. Over 100 researchers, designers and engineers devote their energy to developing new glove models. SHOWA® has technical support (globally) with the expertise of chemists, lab technicians, and R&D ownership of 58 patents that has forever changed the industry and the impact made on the environment. Most notably, SHOWA® has developed the world's first disposable GreenCircle Certified nitrile glove and the industry's first biodegradable product line with their Eco Best Technology® (EBT) in the glove industry across single-use and reusable product offerings. +You can view SHOWA® hand protection products here
TURTLESKIN®
TurtleSkin® Safety Gloves and Law Enforcement Gloves feature protective materials that provide the highest level of puncture, stab, and needle protection in a lightweight, high performing and patented flexible fabric engineered for personal and occupational safety and performance. Founded in 1870 by Warwick Mills, the TurtleSkin® glove lineup offers protection from hypodermic needles, nails, wire, glass fragments, metal shards, wood splinters and cuts. +You can view Turtleskin® hand protection products here
PORTWEST®
Established in 1904, Portwest is a global manufacturer and distributor of workwear, safetywear and PPE. Portwest is a family owned business and continues to be managed by the 3rd generation of the Hughes Family. Innovative production and design by an in-house team of experts lies at the heart of the Portwest advantage. Market leaders in safety, Portwest's award winning team is constantly researching the latest trends and innovations which meet and exceed customer's needs. +You can view Portwest® products here
WELLS LAMONT INDUSTRIAL
Established in 1907, Wells Lamont's comprehensive glove line includes leather, cut-resistant, MechPro ®, critical cleanroom environment, heat resistant, palm dipped seamless knit, liquid/chemical resistant and general purpose hand protection that is supported by numerous patents and proprietary manufacturing processes. Their organization is dedicated to providing superior quality, innovative engineering, and responsive service to customers. They are the only glove manufacturer in the US to upwind their own yarns and knit them into cut-resistant gloves. +You can view Well Lamont products here
Many of the work gloves we distribute have multiple safety features designed to protect operators against one or more industrial hazards such as punctures, heat, impacts, cold conditions, crushed fingertips, lacerations, excessive vibrations, heavy abrasions and snagging/tearing. Many gloves are available with high visibility accents, swipe or touchscreen compatibility and with winter or thermal insulations.
If you're a safety director, foreman, production supervisor or a safety professional searching for industrial work safety gloves to minimize injuries on the job site or production lines, MDS sells an amazing portfolio of high performing ASTM ANSI/ISEA safety rated hand protection for virtually every task. All you need to do is tap the link and …
Free Shipping on Orders Over $499
Monday - Friday 8:30am - 4:30pm EST
Click or Call Today
●

Orders.

●

Volume Discounts.

●

Questions.

●

Samples.

●

Special Requests.
Toll-Free +800-274-4637 | +716-668-4001 | [email protected]
"We Want You To Return Home Safely...Every Day!™