WELLS LAMONT INDUSTRIAL
SAFETY SUPPLY DISTRIBUTOR
INDUSTRIAL & CRITICAL ENVIRONMENT PERSONAL SAFETY PPE FOR THE HANDS & ARMS SINCE 1907
MDS Associates is proud to add Wells Lamont personal safety PPE to its diverse line up of industrial work safety gloves, critical environment gloves and protective sleeves. Their comprehensive glove line includes leather, cut-resistant, MechPro ®, critical cleanroom environment, heat resistant, palm dipped seamless knit, liquid/chemical resistant and general purpose hand protection that is supported by numerous patents and proprietary manufacturing processes
Wells Lamont began manufacturing leather gloves in 1907 and continues to be a leader in today's protective glove industry. Their organization is dedicated to providing superior quality, innovative engineering, and responsive service to customers.
Wells Lamont places an emphasis on the "value added benefits" of their products. The value added benefit of purchasing Wells Lamont Industrial gloves include: control of quality, design technology, customer service and support. They are the only glove manufacturer in the US to upwind their own yarns and knit them into cut-resistant gloves.
Wells Lamont | Glove Portfolio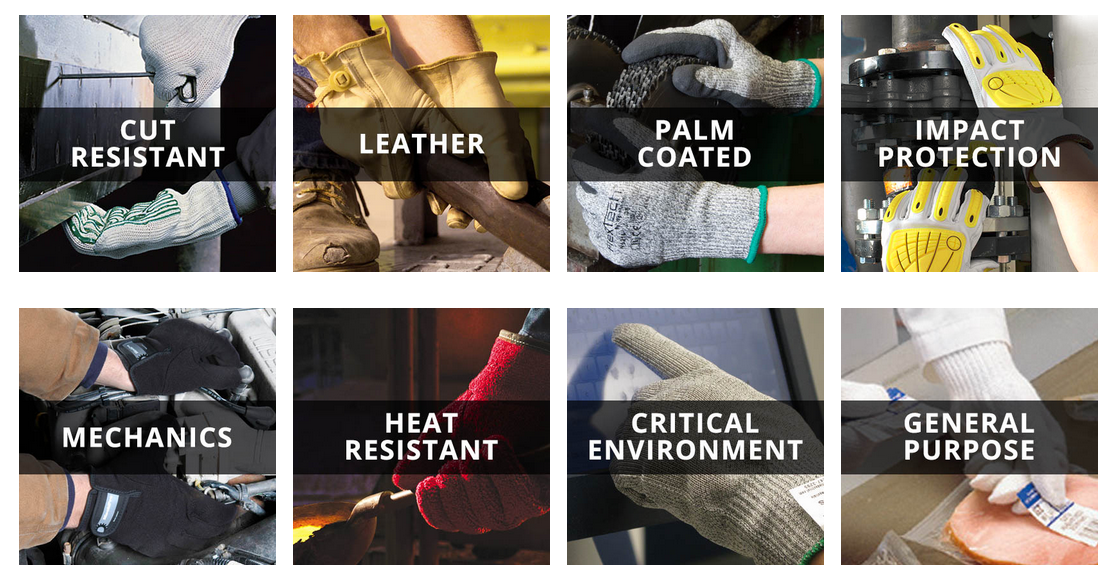 WHIZARD® TECHNOLOGY
Wells Lamont utilize patented Whizard® Cut Resistant technology in cut resistant gloves that includes over 15 products in over 50 styles with many being constructed in the USA. Whizard® is renowned for its technically superior patented cut resistant fiber capabilities and is considered the number one cut resistant product on the market.
MECHPRO® TECHNOLOGY
The MechPro® Series offers exceptional dexterity and general hand protection. Specially designed and created speciÄcally for the trades: fleet mechanics, maintenance mechanics, pipe fitters, electricians, millwrights and other professions requiring protection from nicks and abrasions. The MechPro® Series also provides superior grip and excellent dexterity for handling tools and parts. With added features such as stretch panels on backs and finger gussets, pinched fingertips that improve comfort and tactility, and patented finger pulls for easy on and off access, MechPro® gloves are designed for performance without being overpriced.
LEATHER
Wells Lamont Industrial produces drivers, leather palm, innovated cut-resistant leather gloves, insulated gloves, welders, and mining gloves, using a variety of leather gloves to address specific job needs in cowhide, pigskin, deerskin or goatskin to provide the best quality, protection and comfort to customers.
IMPACT PROTECTION
Wells Lamont Industrial has created a line of products that best meet hand protection requirements for workers in environments where injuries to the back of hands and fingers must be prevented. Impact Resistant gloves deliver an extra level of protection against blows to the back of the hands and fingers. Superior impact protection, comfort, and dexterity are achieved with the use of soft and flexible thermoplastic TPR pads. Impact Resistant Gloves are offered in leather and knitted glove materials with styles available with an ANSI/ISEA 138 Impact Rating. Palm coated Impact Resistant gloves provide increased grip, while various cut levels ensure suitability in a wide range of applications.
HEAT RESISTANCE
Wells Lamont Industrial heat resistant and flame retardant product line includes the wide array of gloves, mitts, hot mills, sleeves and oven pads to best serve the needs of customers. Their heat resistant gloves are available by type, weight, and temperature resistance for high heat and extreme heat protection up to 700°F. Jomac® Terry Cloth is naturally cut resitant, offering effective protection as sharp edges roll over the high loops in the material, protecting the hand and the fabric below.
Superior cut and abrasion protection plus heat resistance

An insulating layer of air forms beneath each loop, allowing the glove to dissipate heat quickly

Absorbs oils for better grip

Absorbs perspiration for comfort

Remains soft and flexible; outwears leather 2:1

Ideal for handling sheet metal

Stands up to repeated laundering with minimal shrinkage
PALM DIPS/COATINGS
Wells Lamont Industrial works with the best engineered glove technologies available on today's market to create their palm dip product line. Their company uses several different types of coatings to address specific work related hand protection issues while allowing the wearer to have greater dexterity, improved gripping capabilities and a heightened level of tactile sensation. The variety of palm coating materials used include: nitrile, latex, polyurethane and foam nitrile. The material content of the glove's shell depends on the style selection that is chosen for industry related use.
CRITICAL ENVIRONMENT (CE)
Wells Lamont Industrial works with the best engineered glove technologies available on today's market to create their critical environment (CE) product line. Critical environment gloves are uniquely designed to provide hand protection, while simultaneously protecting the product you are handling as well. Available are cut-resistant medical liners, nylon liners and sterile/antimicrobial gloves used where prevention of contamination and bacteria is needed.
Wells Lamont's CE gloves also comply with industry regulations concerning gloves that are deemed appropriate for controlled environments. CE gloves and liners are often used to handle delicate parts. Their products are designed to help protect products from human residuals and skin oils and are commonly worn under as a glove liner under or between impermeable gloves for enhance protection. Also available are gloves that are lint-free and low-linting. Many of the products in this section have been manufactured in Philadelphia and Mississippi in accordance with the standard set for ISO 9001:2015.
GENERAL PURPOSE
Wells Lamont Industrial produces a wide variety of general purpose gloves used in today's marketplace. The company caters to the needs of several industries by servicing this market. They use different materials to knit these styles, including: jersey, string knits, and pvc gloves.
Innovative technologies and knowledgeable staff keep the Wells Lamont Industrial name at the helm of today's glove manufacturing industry. Wells Lamont's dedicated staff understands the importance of maintaining a good working relationship with their customers. Not only do they stand behind their products' quality and performance, they offer a series of educational and sales collateral support. Wells Lamont Industrial has an extensive network of sales representatives that span across the U.S., making it easier for trained staff to assess the needs of customers.
Innovation leaders and hand & arm protection experts in the following industries:
Automotive & Transportation

Critical Environment

Oil & Gas

Food

Metal Fabrication

Machinery and Equipment
Wells Lamont | Knit Sleeve Protectors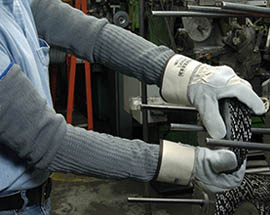 Leaving the arms exposed is just as dangerous as not wearing gloves. Countless burns, scrapes and cuts can occur if arms aren't properly protected, which can lead to serious harm as well as decreased productivity. Protective sleeves keep arms and wrists from these damaging injuries in a variety of industries and elevates safety compliance. Wells Lamont is an industry leader in cut resistant and flame resistant sleeves and armguards that feature composite yarns made with stainless steel, fiberglass, and other high-performance materials.
For superior cut protection, choose from Kevlar®, Metalguard® and Whizard® cut resistant sleeves and armguards. Looking for a sustainable offering? Check out the All Day® sleeves that utilize new bio-based yarn technologies featuring recycled P.E.T. water bottles.
These sleeve protectors offer increased ANSI Cut Level protection, outstanding comfort and wearability, and include options for various sleeve lengths and thumbholes. Whizard® armguards feature an advanced construction of multilayered, high-performance materials, and are available in ANSI cut levels A2 to A8. Consider adding armguard clips to keep your armguards secured to your sleeve and clothing.
The hard-working cut and flame resistant sleeves from Wells Lamont are proving their value in the food processing, metalworking, automotive, construction, and oil and gas industries
---
Wells Lamont Industrial will continue to provide superior quality to customers. The bottom line is Wells Lamont Industrial is dedicated to protecting the hands that greet others. They will continue to expand on the industry precedents set over 100 years ago to bring customers superior quality, innovative engineering and responsive service.
Prevention is just a click away. What are you waiting for? All you need to do is tap the link and ...
Call or Click Today Monday - Friday 8:30am - 4:30pm EST
Free Shipping on Orders Over $499
Questions. Samples. Special Requests. Volume Discounts.
+(800) 274-4637 | +(716) 668-4001 | [email protected]
"We Want You to Return Home Safely … Every Day"