Basic Guide for Selecting Leather Work Gloves
Industrial Leather Work Gloves 101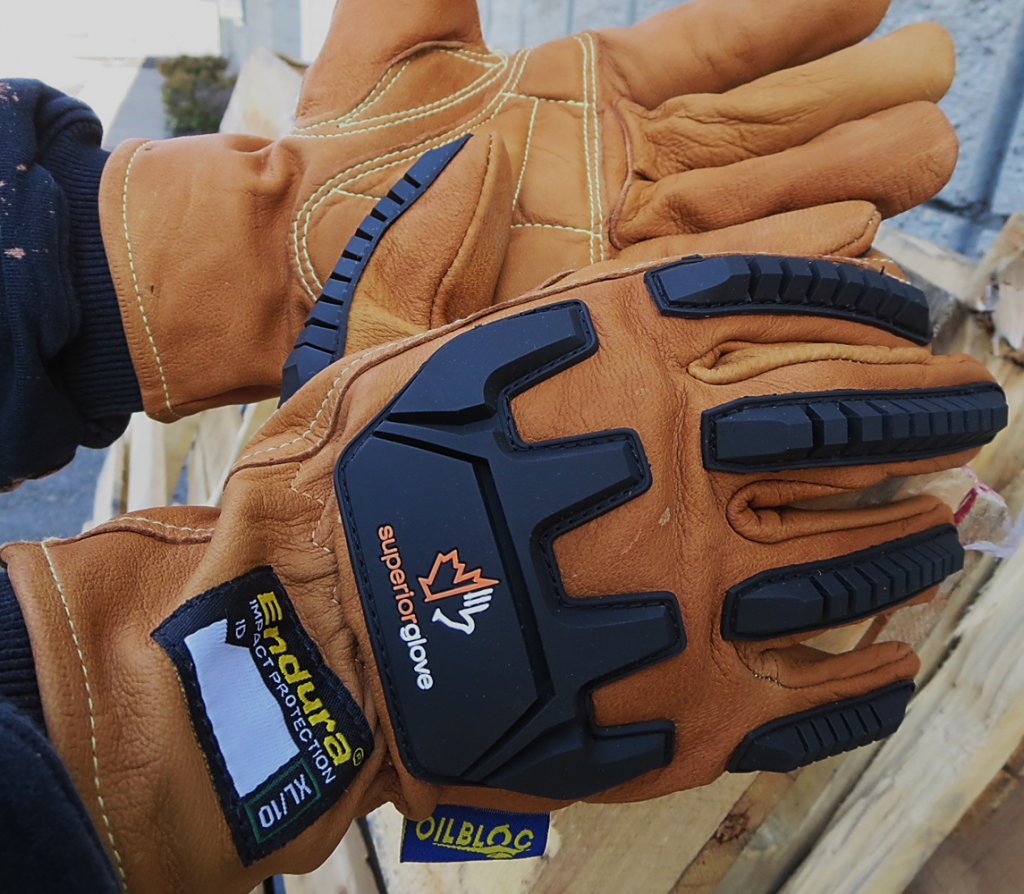 When it comes to flame, fire, friction and abrasion resistance, leather work gloves are a very popular choice among operators but with so many different options and hides, how does one know which leather glove will get the job done?
Not all leather grains are created equal. There are several different types of animals and applications which make the different grains stronger, lighter, more supple or high-end. The process taken for each type of leather depends on the animal hide and each hide will have its' own unique look and feel. Let's start with the basic types of leather to choose from.
SPLIT LEATHER:
Split leather is commonly referred to as suede and most often associated with larger animals. When the leather is removed from the hide of an animal, it's extremely thick and the first thing done with the leather is to split it cross-sectionally, into layers. The bottom layer is made into what we call "split-leather." Split-Leather Work gloves have several different advantages:
-Split-leather is highly abrasion resistant due to its dense fibers and how they interweave together.

-Synthetic products try to mimic its level of abrasion resistance, but can't.

-Split-leather has awesome puncture resistance.

-Split-Leather is remarkable when compared to other types of leather.

-More water resistant than grain leather

-Split-leather is less expensive and good for applications where oil absorption is an advantage such as metal stamping.

- It's less expensive and provides a better grip in oil.
GRAIN LEATHER:
After leather has been split apart, grain leather is the very top layer. Grain leather has a more appealing appearance and is consequently more expensive than split-leather. Because of aesthetic appeal, grain leather is typically used in commercial products like purses, belts and shoes. Grain leather is better for outdoor working conditions and is more durable but in the safety industry, split-leather is more abrasion resistant and more often used when crafting gloves.
The hide can come from several different places, resulting in different qualities and uses. Top grain is the highest quality and lasts the longest, followed by split leather. Split leather (the internal side of the hide) is further broken down into two categories - side and shoulder. Side split is the most durable and best quality but also the most expensive. Shoulder split is also quite durable but slightly more economical. Belly split is the most economical and least durable cut.
What Animal Hides Should You Choose?

Not all leather is created equal and each type has specific strengths and weaknesses. As a rule of thumb: the bigger the animal the thicker the leather. Synthetic or artificial leather is created by using a synthetic polymer base like PVC and is treated to resemble real leather but brands such as Clarino are not comparable to the real thing.Let's break down the various types of animal hides most commonly used in today's leather processing:
Cowhide is heavy and the most commonly used leather. It is easy to care for, dirt and water resistant, a great value for the texture, durable and comfortable.Cowhide is resistant to dirt, water, heat and abrasion. Although it can be somewhat stiff at first, cowhide breaks in easily.
Pigskin is a soft, supple, dense leather that is breathable, abrasion resistant and stays soft after getting wet due to a high lanoline content. It is comfortable, durable and breathable.
Sheepskin is extremely soft and comfortable. It is a more lightweight and delicate leather and ideal for ultra-fine dexterity. It is incredibly versatile, and works for both cool and hotter climates. Sheepskin is also waterproofed for the most part, and it doesn't even have an oily feel to it. Sheep skin leather drapes well.
Goatskin is slightly softer but tougher than cowhide. It is economical, durable, thin yet strong and has a smooth, fine grain. It is also flexible and is water resistant and highly resistant to abrasion. It has a high natural oil content that makes goatskin very soft and pliable. Flexible and water-resistant, goatskin has excellent tear resistance even when very thin. Goat skin is warm, breathable and it's very comfortable to wear.
Deerskin is extremely soft, ultra supple and provides the best dexterity for unmatched fit. Deerskin leather is naturally resistant to the cold and moisture. It is lightweight, water-friendly, stretchy and has a sponge like feel. Deerskin gloves are the best for comfort, but sacrifice durability, abrasion and puncture resistance. Deerskin is more expensive and used to manufacture gloves,
Buffalo hide has superior abrasion resistance making it durable, rugged and strong.Buffalo Leather is thick, extremely durable, rugged and strong. It provides superior abrasion resistance. Buffalo leather is breathable-air passes through the pores to stay cool in the summer and warm in the winter. In addition, the porousness of the leather allows it to conform to your body shape over time.
Horsehide is tough and durable, yet comfortable to wear. It is one of the more expensive leathers to use.Horsehide Leather is non-porous, extremely dense/thick, tough and durable, yet very comfortable. Horsehide will start off relatively stiff but it will break in and soften to your body and your movement over time.
Leather Glove Thumb Options
Keystone thumb is a reinforced inset thumb that is double sewn and features twice the thickness at a critical wear point to improve comfort and durability. It is most frequently seen on full leather glove patterns.
Wing thumb is created with the thumb angled diagonally across the palm to improve comfort. This type of thumb is found in leather palm gloves.
Straight thumb is constructed with the thumb lying parallel with the index finger and is good for gripping dexterity. This thumb is common in fabric and driver's gloves.
What Style Glove AND Cuff Are Right for You?
Clute Cut: A glove sewn with a seamless palm with three seams on the back of the glove at every finger and a straight thumb (which is perpendicular to the wrist).
Gunn Cut/Fitter: This is the pattern used most often for work gloves. It has a seamless back and a gunn seam at the base of the two middle fingers which create a natural crease for comfort. (Stitching only under the two middle fingers, leaving the first and pinky finger seamless at the base)
Reversable Cut: Also known as an ambidextrous cut, this pattern can fit on either hand. The most common uses are for disposable, knit or textile gloves.
Driver Cut: This pattern has stitching around the finger and thumb areas, a seamless palm and keystone thumbs.
Mechanics Cut: This glove varies with palm patches for grip, knuckle pads for abrasion resistance, leather or synthetic fibers and stitching in several areas to improve mobility.
Gauntlet cuff: This cuff comes in a 4 1/2" length and provides extra forearm protection.
Rolled hem or turned cuffs are very narrow and create a clean, sophisticated look.
Hemmed cuffs are rolled back during the sewing process, sewn for the entire circumference of the cuff then stretched back into shape creating a finished look.
Safety Cuff: This cuff comes in a 2 1/2" length and can be removed quickly if needed.
Slip Cuff: This is actually a whole glove with no cuff. The glove extends over the wrist area for faster and easier removing or putting back on.
Knitwrist Cuff: This cuff provides a snug fit to keep out wind and debris.
Added Safety & Performance Features:
Helpful Laundry Hints
Do NOT use soap and water. Soap removes the natural oils in the leather which will make the gloves stiffen up and become brittle, effectively shortening the life, use and comfort of leather gloves. Dry Clean Only. This will help retain the natural oils in the leather, keeping them supple and prolonging the life of your gloves.
Not sure which type of leather is right for you and your work environment and hazards? Contact us today or hit the button to shop for your...
Monday - Friday 8:30am - 4:30pm EST
+800.274.4637 | +716.668.4001 | [email protected]