Endura® Brand Industrial Leather Driver Gloves
The foundation of Superior Glove® was built upon leather work gloves. Sitting next door to Canada's largest leather tannery, Frank Geng the patriarch of Superior Glove® Works, had the vision required to construct the kind of hand-protection Empire that would go on to become the largest in the country.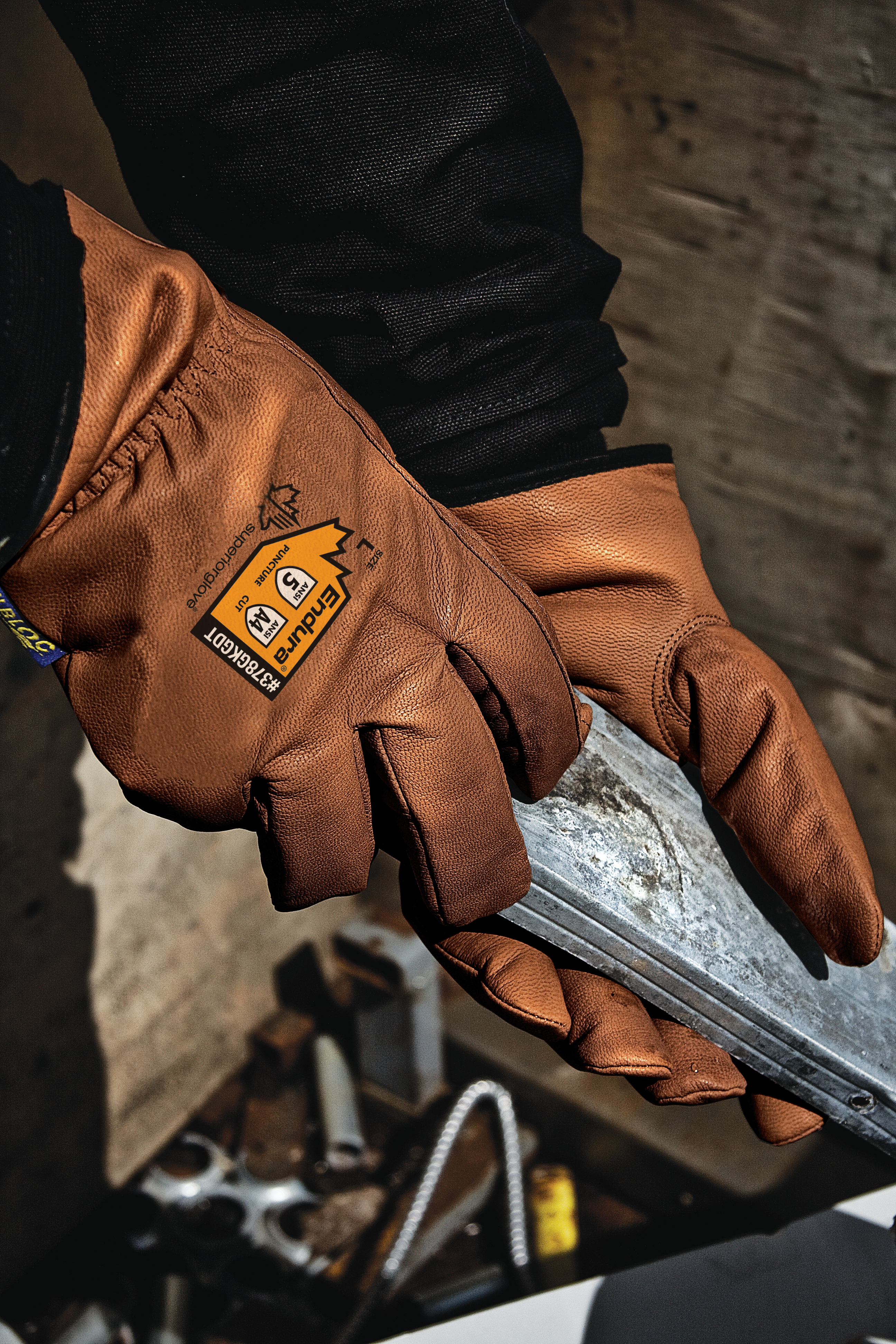 Since those early days, there have been many glove innovations introduced by Superior Glove® and none stand out more than Endura® brand of industrial leather driver work gloves. Dedicated to reliable industrial hand safety & protection, Endura® leather driver gloves are known for durable performance, consistent high-quality craftsmanship and an unwavering dedication to quality. You can be assured that purchasing Endura® brand leather work gloves is money well spent!
To maintain established safety standards and customer satisfaction, Superior Glove® will never purchase lower quality split leathers and grains just to offset price increases or pad the bottom line. When you purchase Endura® brand leather gloves you can be assured that hand safety and quality is forefront.
Endura® Gloves Multi-Dimensional Safety Features:
Superior Glove® offers leather palm work gloves in many configurations including winter versions, and the same applies for leather driver styles. What separates Superior Glove® from the competition is the way they innovate. Their glove engineers build upon a standard design and implement additional safety features making them multi-dimensional. Many Endura® style gloves incorporate many different safety features to protect against a variety of workplace hazards. For example, you can purchase a leather glove that resists fluids, protects against both cuts and punctures while resisting heat! Below are some further examples of the many safety innovations by Superior Glove®.
Safety Feature: Touchscreen Compatibility
Gloves are designed to protect the hands but they need to be worn to effective. Removing a glove when at work puts operators at risk to personal and hand injuries, but touchscreens and touch devices are growing common place in the workplace. Recognizing this, Superior Glove® offers a touchscreen compatible Endura® Goat-Grain Driver Work Glove!
Safety Feature: Oil-Resistance
Leather gloves are prone to staining and should they contact oil, water or grease, they will soak into the hide and through to the hand which leads to stiffening and shrinkage, and consequently ending the life of the glove prematurely. Proprietary OilBloc™ is a long lasting water and oil repelling treatment that makes liquids bead off the glove and it prolongs the longevity and appearance of the glove even when the material starts to abrade! You can view the different style leather gloves with Oilbloc™ here.
Safety Feature: Impact-Resistance
If operators are prone to bumps and scrapes then one needs to check out two Endura® anti-impact leather drivers gloves. The Endura® Oilbloc™ Goatskin Kevlar®-Lined Anti-Impact Driver Gloves features black TPR knuckle protectors and is available in a winter version. For advance impact protection, check out the Endura® Oilbloc™ Goatskin Kevlar®-Lined Driver Gloves with Anti-Impact D3o® Backing. The high-viz orange D3o® protectors absorb and deflect impacts for a 54% increase in protection value!
See how D3o® compares to competition for yourself by following this link to see an amazing video.
Safety Feature: High-Visibility
High visibility fabrication to further increase safety on the job is also apparent with Superior Glove®. The Endura® Deluxe Kevlar®-Lined Lineman Gloves with Reflective Cuffs meet the ANSI/ISEA 107-2015 standard for high visibility accessories while the Endura® Goat-Grain Driver Gloves have 3M Scotchlite® retro-reflective stripes. If high-viz accents are what you seek, then you need to view these Endura® Goatgrain Gloves with Hi-Viz Fingertips.
Safety Feature: Arc-Flash Tested
If sparks, arc-flash or flammability are in the job description, then you should consider the Arc-Flash Rated Endura® Kevlar®-Lined Oilbloc™ Goat-Grain Drivers Gloves or the Endura® Cut-Resistant Goat-Grain Driver Gloves.
Safety Feature: Cold Conditions
For those who work in cold conditions, many Endura® style gloves are also available in a cold weather or winter version. These Endura® Deluxe Thinsulate™ lined Deerskin Leather Gloves are a popular choice among operators who need basic protection but prefer a soft, supple and durable winter style driver glove. If you need protection against cuts, punctures and oil, then these Endura® Kevlar®-Lined Oilbloc™ Goat-Grain Drivers Gloves with 100 gram Thinsulate™ lining should be your choice. If you are looking for serious warmth, then check out these Endura® Deluxe Oilbloc™ Goat-Grain Driver Gloves which have a 200 gram double layer for serious warmth!
Safety Feature:

Anti-Vibration
Jobs involving repetitive impact and vibration can lead to carpal tunnel syndrome and other debilitating injuries such as HAVS (hand arm vibration syndrome). These Endura® Goat-Grain Shipwright Gloves are Flame-Retardant and are ASTM ANSI Rated against heat, cuts and punctures! Treated with oil and water repelling Oilbloc™, they feature 4mm of Flame-Resistant anti-vibration palm padding and an adjustable cuff for a custom fit and support.
Safety Feature:

PinchGuard Finger Caps
Designed specifically for fingertips and built right into your safety gloves, PinchGuard is a comfortable protective shield that wraps around your fingertips to absorb the force from impacts, crushes and pinch hazards. The 378GOBBFC Endura® impact driver glove is loaded with multiple hand safety features! The 378GOBFC Endura® classic-style driver glove is perfect for general use not requiring impact-resistance. These gloves are processed with a special Oilbloc™ treatment for exceptional water and oil repellency properties.
---
Contact us for trial samples, volume discounts or to place an order today!
Monday through Friday 8:30am-4:30pm EST
+800.274.4637 | +716.668.4001 | [email protected] | Fax +716.668.4496 | MDSassociates.com
"We Want You To Return Home Safely Everyday"