THE WHIZARD OF EXTREME CUT PROTECTION
Whizard® Innovative Metal Mesh Hand Protection
Patented glove technology combines high-performance micro plasma welded metal mesh rings with a self-adjusting cuff closure to provide the ultimate protection from lacerations.
---
When butchers, chefs, glass handlers or sheet metal workers brag about their scars and the stories behind them, it is not uncommon to hear about the challenges they faced when cutting textiles, metals, processing large slabs of meat, keeping a slicer clean or battling stubborn oysters. High volume workloads, a hectic pace, sharp cutting devices increase the risk for personal workplace injury, and even the most highly skilled professionals display the scars of a workplace laceration accident.
Metal mesh type gloves can be worn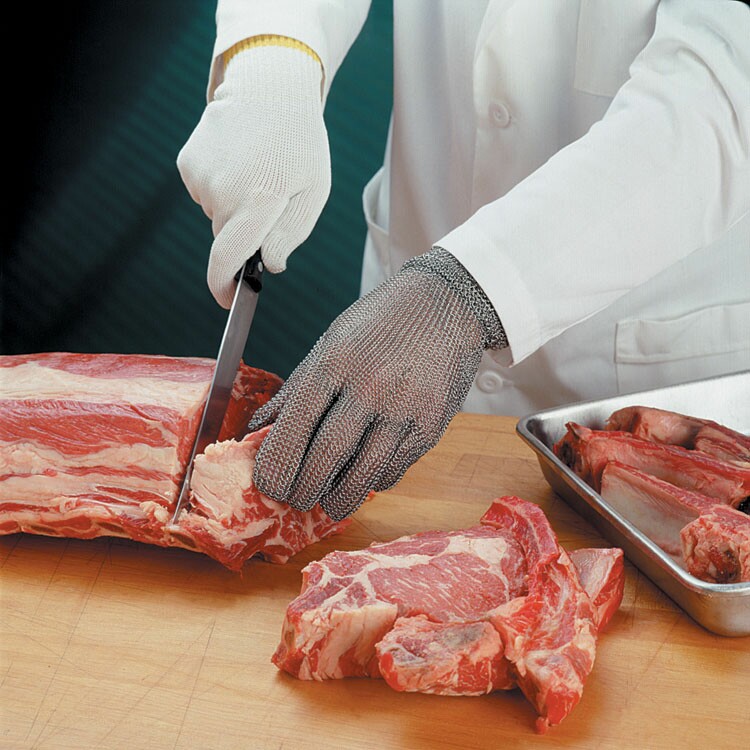 directly over a bare hand or users can implement a glove liner for enhanced warmth or comfort. Stainless steel gloves are a very popular choice for food processing, sheet metal handling, restaurant and food service operations. Anyone who uses a hand knife to cut or slice meat, fish, textiles, cleans or handles a slicer blade should consider a steel-ring glove to protect their hand(s), These extreme cut resistant metal mesh work safety gloves can also be worn when handling or feeding wild animals and when scuba diving for protection from under water predators.
Gloves made of stainless steel mesh resist fats, oils and are non-corrosive. You won't see ANSI scores on metal mesh gloves because mesh gloves can't be tested or ranked in the same way string knitted gloves are.
However, steel mesh gloves will outperform sting knit gloves in cut-resistance and only metal mesh gloves can stop a knife point. A well-designed metal mesh glove provides end-users maximum protection from lacerations leading to possible injuries, but not all metal mesh work gloves are created equal.
The Whizard® Advantage | Micro Plasma Welded Metal Mesh Rings
We've all heard the saying, "only as strong as the weakest link". Well, this certainly can apply to metal mesh gloves. Metal mesh links and resistance welds are used to secure rings used for metal mesh hand protection, and it's one of the most cri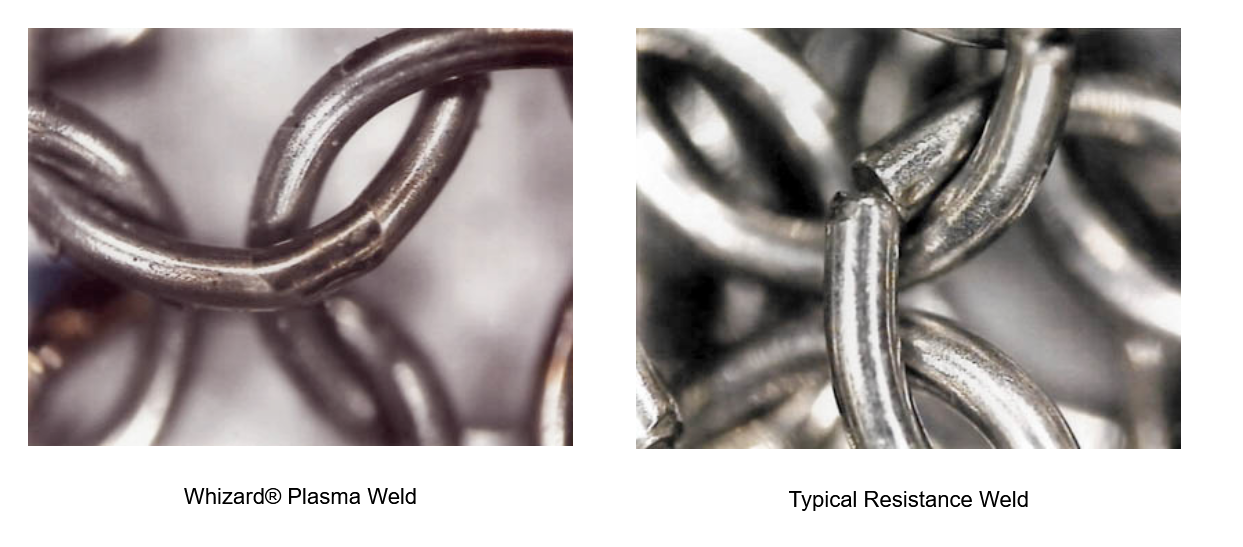 tical components of a metal mesh glove.
What separates Wells Lamont's Whizard® Metal Mesh Gloves from others is their ability to build their steel links stronger using state of the art micro plasma welding technology resulting in stronger, smoother, hermetically sealed ring connections that have no weak spots.
Plasma welds also produce metal interlocked rings or links requiring less maintenance and have proven to last 2x longer than a standard resistant weld before a repair is needed. But most importantly, Whizard® Stainless Steel Mesh Gloves provide end-users with maximum hand protection from a workplace laceration or amputation injury.
NO Gaps
With a double-interlocked 4 mm metal mesh ring using 0.5 mm wire, the micro plasma weld results in stronger link connections and eliminates gapping that traps food debris or harbors bacteria. The plasma weld uses Hydrogen and Argon gases along with a Tungsten electrode to melt both ends of the wire resulting in a stronger heavy-duty bond that requires less maintenance and is much easier to clean.
The Whizard® Advantage | Patented Self-Tension Steel Cuffs (STS)
Metal mesh gloves with fabric strap closures around the wrist are common in the industry. Despite continuous cleaning by hand or with a tumbler washer, conventional fabric straps are a challenge to clean because the fabric cuff can harbor all types of bacteria which could easily cross contaminate the work area or foo

d lines. What separates Whizard® Metal Mesh Gloves from the others is Wells Lamont's use of a Steel Tension Spring-System (STS).
A Steel Tension Spring-System (STS) is an easy, quick self-adjusting wrist cuff fastening system.
The STS system eliminates the need for a fabric strap or buckle. It also provides flexibility, durability and comfort for the user along with easier, faster donning and doffing that reduces the amount of time an employee puts on gloves. The STS cuff closure system also features a metal serial number tag with sizing information printed on it.
When given the choice, Whizard® Metal Mesh gloves by Wells Lamont Industrial offers superior, longer lasting hand protection against industrial laceration injuries, is low maintanence and FDA CFR 21 approved for food contact. But don't take our word for it, click the link below and have a look at three styles of innovative metal mesh work gloves for yourself.
Free Shipping on Orders Over $499
Monday - Friday 8:30am - 4:30pm EST
Click or Call Today
●Orders. ●Volume Discounts. ●Questions. ●Samples. ●Special Requests.
Toll-Free +800-274-4637 | +716-668-4001 | [email protected]
"We Want You To Return Home Safely...Every Day!
__________________________________________________________________________________________________________________
Individual Product Shopping Pages
+Whizard® Metal Mesh Glove with Stainless Steel Cuff
+Whizard® Metal Mesh Glove with 2-inch 100% Stainless Steel Cuff
+Whizard® Metal Mesh Glove with 7 1/2-inch 100% Stainless Steel Extended Cuff