Meet

the

"Safety Geeks"
Now Distributing Majestic® Work Gloves & Safety Supplies

MDS Associates is proud to announce it's now distributing a new line of specialized work gloves and personal safety supplies from Majestic®. Complimenting a full line of industrial work safety products, MDS is excited to offer its customers with cutting edge professional industrial PPE products designed to minimize the risk of injuries when on the job.
The folks at Majestic® consider themselves "Safety Geeks." They love technology that allows them to go beyond the normal expectations of a regular safety company. They're not just a manufacturer or importer; they believe in what they do and want you to believe in them. Majestic® continues to reinvest in testing equipment that lets them know what will keep you safe.
CELEBRATING 40 YEARS
Majestic® is celebrating 40 years of innovative safety through the skillful combination of traditional craftsmanship combined with the latest technological and material advancements to create safety equipment and apparel that exceeds performance expectations. With steadfast commitment, Majestic® will continue to intensify safety standards by providing reliable and quality personal protective equipment for the roughest work conditions.
PRODUCTS
From durable safety gloves to high visibility and fire resistant clothing, or protective eyewear to respiratory safety and foot protection, Majestic® is committed to reliable, innovative and durable safety gear. The Majestic® product line encompasses eight distinct categories, each with multiple product features:
Hand Protection

Protective Clothing

Eye Protection

Foot Protection

Arm Protection

Respiratory Safety

Head Protection

Accessories
As a member of the International Safety Equipment Association (ISEA), the leading association for personal protective equipment and technologies that enable people to work in hazardous environments, and an ANSI accredited standards developing organization, Majestic® strengthens its commitment to 'Reliability in Safety' by working directly with industry leaders in Hand Protection and High Visibility standards. Their ultimate goal is to keep integrity in the industry. As such, Majestic® embodies six values:
Reliable: You can depend on Majestic®. Like the people who make them, their products are trustworthy and keep their promises.
Intentional: Majestic® gear is designed to exceed industry standards in quality and ergonomics for optimal comfort.
Quality: Majestic® products are crisp and clean in engineering and safety. There is beauty in the precision of the process of protection.
Valuable: Majestic® combines the quality of traditional craftsmanship with the latest technological and material advancements to create safety apparel and equipment that exceeds performance expectations.
Preferred: A leading supplier of personal safety gear, Majestic® is known for offering preferred products with proven durability and excellent performance-to-cost value.
Innovative: Majestic® is fully committed to ongoing innovation which allows them to improve product availability and satisfy changing workplace conditions and demands.
GLOVE TECHNOLOGIES
Striving to raise the safety bar, Majestic® incorporates innovative glove technologies designed for enhance compliance, performance and comfort so operators can work with full confidence and with greater focus! As a result, Majestic® boasts several award winning work glove products for the roughest work conditions.
ALYCORE™ PUNCTURE-RESISTANT THREADS
Available in mechanics or palm coated seamless knit styles, puncture-resistant work gloves with ALYCORE™ are just the answer for workers exposed to hypodermic needles, splinters, nails, cable/wire, barb wire, wood/lumber, metals, metal shards, cardboard, automotive, recycling/refuse and glass hazards. Industrial work gloves made with patented Alycore™ offers high cut, puncture and needle resistance like no other product has before. Composed mostly of super-thin threads of iron and carbon, Alycore™ is lightweight, flexible, breathable, recyclable, washable and featured on the PowerCut® line of work gloves. To ensure hand safety, Majestic® intensifies the safety standard and measures a glove puncture resistance according to the ASTM F2878 Standard by forcing a 25 gauge syringe needle through the material at a fixed speed!
KORPLEX® CUT-RESISTANT YARN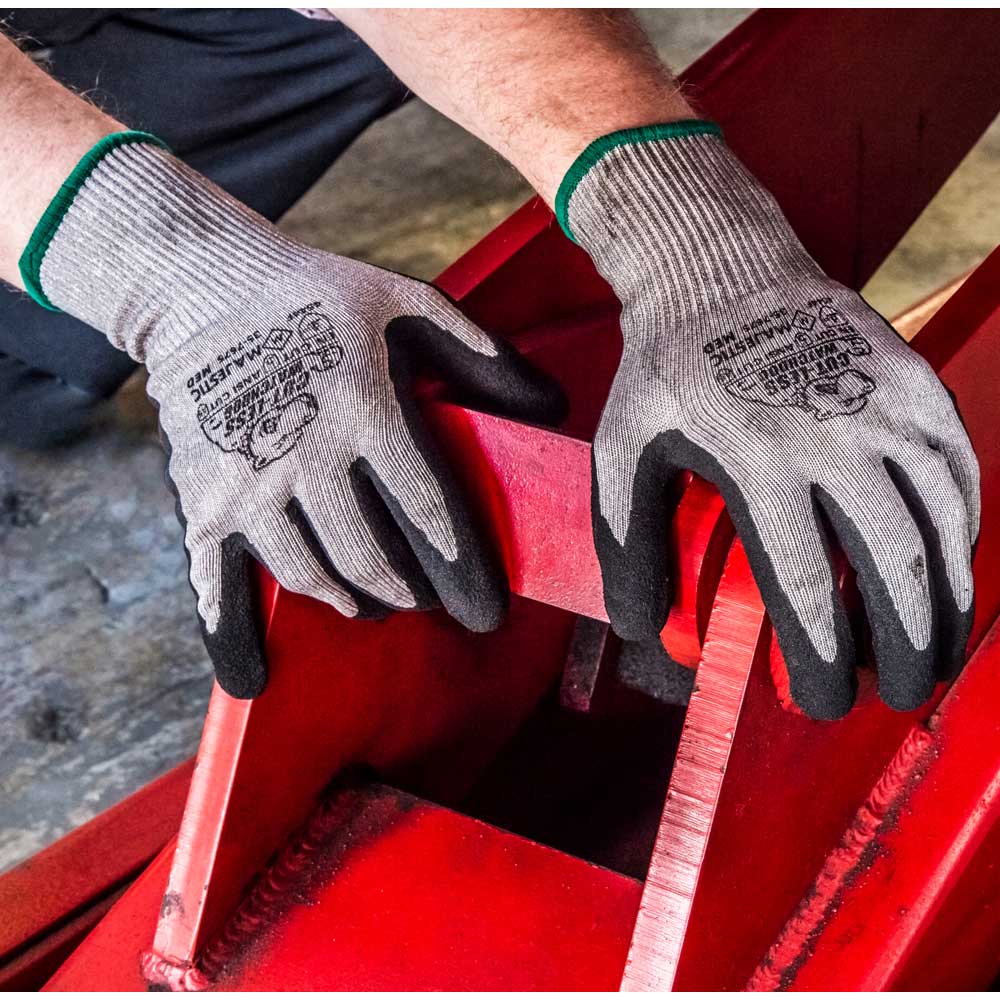 KORPLEX® Technology is an engineered yarn that blends some of the strongest fibers to produce seamless knitted palm coated gloves and knitted sleeve protectors that provide the ultimate in cut resistance. Its properties offer tactility and flexibility while maintaining exceptional cut-resistance and extreme comfort.
ARMOR SKIN™
ARMOR SKIN™ is more wear and abrasion resistant than leather and pound-for-pound the toughest synthetic glove material available. Developed to keep the hands comfortable and safe, ARMOR SKIN™ prolongs longevity and provides the perfect combination of abrasion resistance with fit and feel.
D3o HAND IMPACT PROTECTION
Industrial work gloves made D3o® Elastomer is so advanced that when compared to the competition, it offers an amazing 54% improvement in Protection Value at 10 Joules impact resulting in less trauma on the 27 bones throughout the hands. On impact, soft, free flowing molecules lock together to absorb impact energy and reduce the force transmitted. These molecules are strain rate sensitive meaning the stronger the impact, the more the molecules react, and the better the protection. D3o® has been used by Spyder Ski and in Usain Bolt's insoles at the Olympics, used by Military Defense such as the Navy Seals, used in consumer electronics as protectors for portable electronic devices, mountain bike and motorcycle competition, professional industrial and athletic helmet liners and in body protection. +watch a video on D3o here
ANTIMICROBIAL TREATED HAND PROTECTION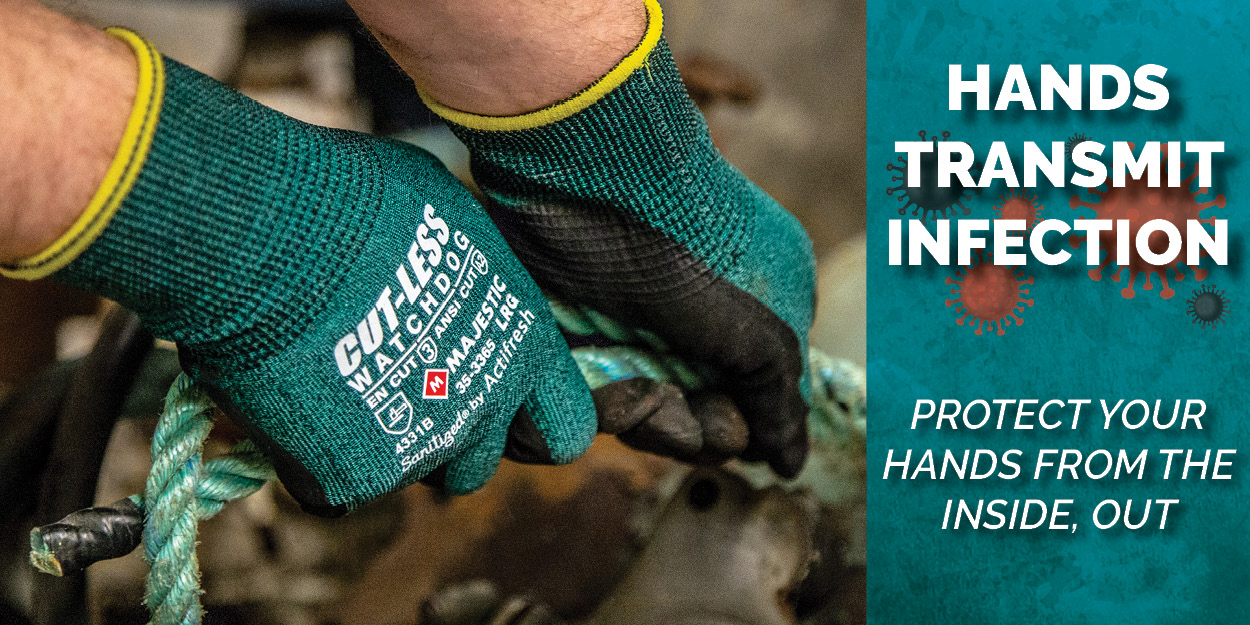 Prevent and reduce the colonization and multiplication of bacteria, mold, and mildew, algae or dust mites that can spread infection. Certain protective gloves by Majestic® are treated with sanitizing and antimicrobial biocidal active substances that are highly effective and widely used for disinfection purposes in a multitude of industries and for personal hygiene. The treatment can contribute significantly to improving the safe use of gloves in an infectious outbreak because it has a permanent effect in maintaining the safety and hygiene of gloves by eliminating or reducing the presence and growth of microbes or other vectors that spread infection.
BLAZETEX™ FLAME RETARDANT CLOTHING
BlazeTEX™ garments represent the best value in flame retardant protection in the industry and are designed to exceed the needs of workers in the oil and gas, utility, electrical, and petrochemical industries. BlazeTEX™ fabrics and full range of insulated and non-insulated garments for year-round weather conditions are manufactured to rigid specifications, achieving an unsurpassed quality. Their twill finish combined with expert tailoring offers the customer a fine garment built to their exact requirements. Products such as coveralls, bibs, pants, shirts, jeans, parkas and jackets undergo continuous testing at both the factory and at independent labs. Every fabric run is tested to meet industry standards garments and are tailored and manufactured at dedicated factories under the supervision of experienced quality control professionals.
We believe everyone should have access to the most safe and healthy environment and personal protective equipment possible and Majestic provides this. Please note that customers can incorporate personalization services on many products with company identification and logos.
As we continue to build out the Majestic® line-up of products, please contact MDS for Majestic items not listed or you can tap the link and….
+shop for

Majestic® Safety Products

here now
Monday - Friday 8:30am - 4:30pm EST
Questions. Samples. Special Requests.
Toll-Free +800-274-4637 | +716-668-4001 |

[email protected]
"We Want You To Return Home Safely...Every Day!™
+view an introductory video on Majestic
+select the right Majestic glove for the job video