Stay Safe & Seen

with

High-Visibility

Work Apparel
High-visibility safety apparel standards have undergone a multitude of changes as of late. Before the US developed a national standard, there were very few guidelines for determining the best design, performance specifications and use of high-visibility apparel for industrial work sites. Avoidable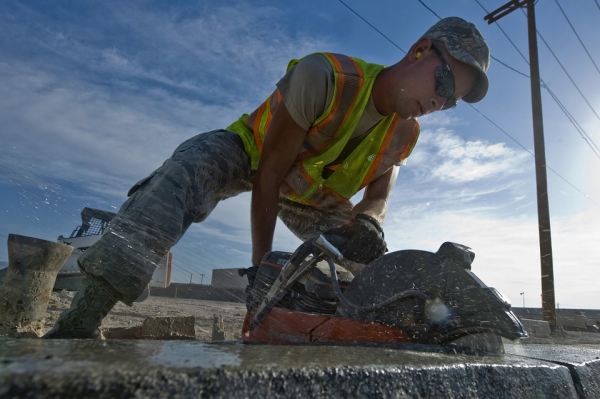 injuries and fatalities on the job were continuing to be a problem, and it needed to be addressed. Luckily it was, and US workers are now properly protected under the American National Standard for High-Visibility Apparel.
The standard provides guidelines not only for road construction employees, but also railway and utility workers, law enforcement and emergency response personnel, survey and airport ground crews, and others routinely exposed to low visibility hazards. Three fluorescent colors (yellow-green, orange-red and red) for background material are designed to provide contrast with prevailing ambient backgrounds found in daytime urban and rural situations. For example, yellow-green might not be appropriate in a wooded area, nor should orange-red be worn in a work zone with orange or red equipment or barrels. These colors are proven to be visible and allow drivers the reaction time needed to avoid workers if necessary.
High-Visibility Class Standards
Because of the varying degrees of required visibility, safety apparel is separated into three classes. After a hazard assessment of your work site, you should be able to determine which class is needed in your particular environment:
Class 1 High Visibility Safety Apparel
These are garments for those workers who are mostly separated from traffic that does not exceed 25 mph, and where the background is not complex enough for them to blend in with the surroundings. Situations include parking service attendants, workers in warehouses with equipment traffic, and shopping cart retrievers.
Class 2 High Visibility Safety Apparel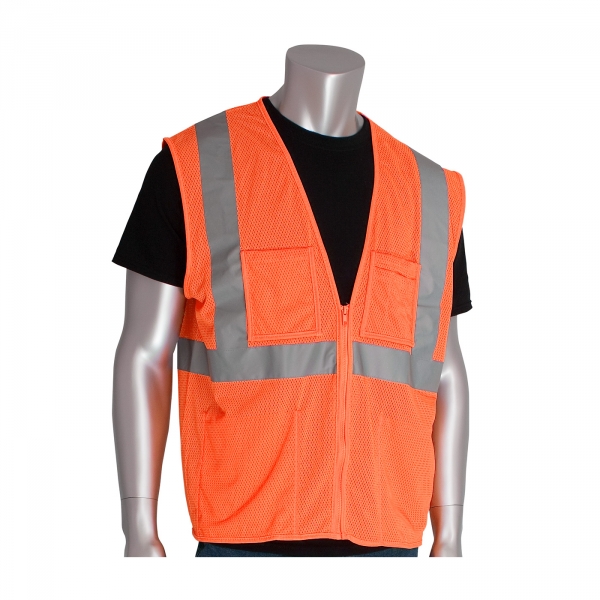 Class 2 apparel, made with more retroflective material than Class 1, is designed for workers who are near roadways where traffic speeds exceed 25 mph, or that may be working in inclement weather conditions. Those in this classification include railway workers, school crossing guards, parking and toll gate personnel, airport ground crews and law enforcement personnel directing traffic. PIP® offers a low-cost option in this Class 2 Value Mesh Vest. Safety vests are made of a breathable polyester mesh fabric and use a 2" silver reflective tape along with a zipper closure for ease of use. All sizes are available in hi-vis lime yellow and hi-vis orange colors.
Class 3 High Visibility Safety Apparel
This class provides the highest visibility protection for situations in which traffic exceeds 50 mph. These garments are required for workers such as roadway construction personnel and vehicle operators, utility workers and emergency responders, and include striping on the torso, arms and legs for ultimate safety protection. PIP's Class 3 Bomber Jacket features durable waterproof 300 D polyester shell with taped seams and built-in quilted high loft polyfil insulation.
Other Factors to Consider
Of course, not every work-site is the same, and many factors go into determining which class garment the workers should be wearing. For example, roadway workers who have ample space or barriers between them and traffic, even exceeding 50 mph, will probably be well-protected wearing Class 2 versus needing a Class 3. It is also important to keep in mind that workers can be injured by their own equipment, such as cranes or trucks, and not just oncoming traffic.
To combat this, place reflective striping on all equipment, including hard hats and the cranes or trucks themselves, as well as by maintaining communication between workers on the ground and drivers. Also, if possible, have police presence on the work site to direct and control the speed of traffic to prevent accidents.
Lastly, Hi-viz work gloves compliment hi-viz summer safety apparel and assists operators when hand signaling or directing traffic/vehicels or communicating with co-wokers such as police, EMS, highway construction workers, demolition, forestry etc. You can view our wide varierty of hi-viz hand protection here.
---
Call for products not listed, volume discounts, samples or to place an order!
+800-274-4637 | +716-668-4001 | [email protected]