Germophobics Will Love These
MaxiDex

® ViroSan™
Anti-Virus Work Gloves
A Revolutionary Protective Glove That Knockouts Viruses Upon Contact, Time After Time Again!
---
The pandemic has brought a new reality that's driving safety professionals across every industry to rethink how they define safety and hygiene. As a first line defense, gloves are critical to preventing the spread of microorganisms and the cross transmission of germs within the workplace. But in order for these to be effective, they need to be changed between tasks, settings, patients or specimens as ordinary gloves can pick up germs and viruses and transfer them just by coming into contact with an infected surface or object.
From the PIP® family of products, MaxiDex® was created in response to the pandemic and it is the world's first hybrid glove that's packed with innovative technologies. The MaxiDex® 19-007 Fully Coated Hybrid ViroSan™ Anti-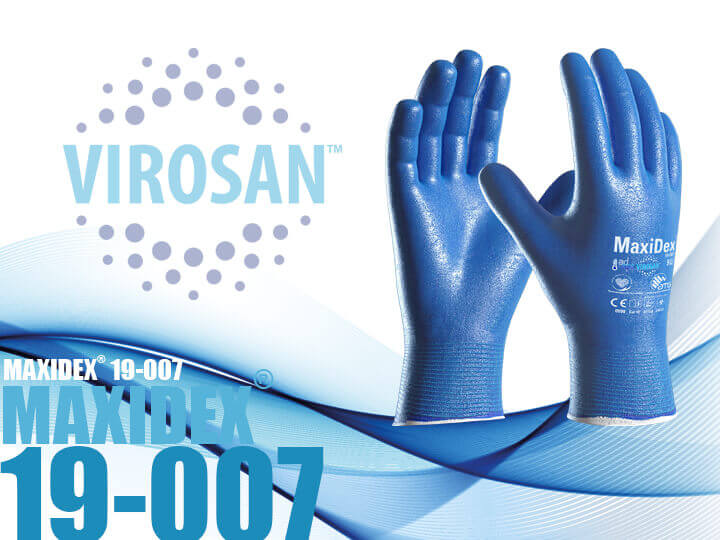 Virus Gloves provide excellent protection against mechanical and biological risks, including abrasions, chemicals and viruses. Highly efficient and long-lasting for disposable gloves, they can be used in multiple industries for precision based tasks and handling without cross contaminating microorganisisms.
VIROSAN™ ANTI-VIRAL BARRIER PROTECTION
Arguably one of the most influential tools in the new Germophobic World will be cleanliness. ViroSan™ is a virucide incorporated into the nitrile coating that prevents the cross-contamination and the spread of viruses, fungi and bacteria via the glove's surface by neutralizing bacteria and viruses on a molecular level.
MaxiDex® is engineered to be liquid proof, resistant to viruses and has successfully passed ISO 20743:2013 test method and EN374-5 which determines and measures antiviral activity on plastics and other non-porous surfaces including NL63, a human strain of covid. As the coating is used, there is always a fresh layer of ViroSan™ on the coating surface of MaxiDex® ready to kill on contact.
GLOVE CONSTRUCTION
An ultra lightweight, breathable 15-gauge seamless knit nylon liner is fully dipped in a thin, conforming layer of blue liquid-proof nitrile designed to mimic the natural contours of the hand delivering outstanding flexibility, dexterity and tactile sensitivity that elevates productivity. Snug-fitting knitted wrists keep the gloves secured in place and helps prevent dirt and debris from entering the glove.
HAND HYGIENE BACKED BY SCIENCE & RESEARCH
MaxiDex® is also dermatologically accredited by the Skin Health Alliance ensuring professional glove users they're "dermatologically safe". They're also pre-washed prior to packaging carrying a "Fresh out of the pack" guarantee using water that is rain-harvested, treated and continually recycled from owned water treatment centers.
COMFORT TECHNOLOGY
Thanks to active cooling by means of exclusive ATG® AD-APT® technology, these MaxiDex® gloves can be worn comfortably over a longer period of time without causing your hands to sweat. This results in hands that are drier, fresher, cleaner and more productive. The AD-APT® is activated by the movement of the hands and the rising temperature within the glove with no thermoregulation (no impact on the natural ability of the body to control temperature).
TOUCHSCREEN FUNCTIONALITY
Bare hands can easily cross contaminate and are subject to potential injury. Conducting daily tasks and operating a touchscreen phone or device is also possible without any problems with MaxiDex®, so that your hands remain permanently protected from workplace hazards.
TESTING CERTIFICATION
These MaxiDex® gloves are certified per ASTM D6978-05 (2019) ensuring EMT's, law enforcement and lab technicians with greater confidence when handling overdose victims or narcotics laced with illicitly manufactured toxic synthetic opioids.
MaxiDex® can be laundered up to three times at 104°F/40°C, providing a longer usable life of the glove which in turn, reduces waste and saves money. The gloves are suitable for multiple applications and can be purposed for a variety of functions including assembly works, athletics, laboratories, janitorial, hospitality, food packaging, mechanical works, warehousing, horticulture, pharma, life sciences and aged care.
With this self-sterilizing, germ-killing hygiene product, MaxiDex® has you covered. What are you waiting for? Prevention is just a click away. All you need to do is tap the link and ...
Orders. Questions. Volume Discounts.
Click or Call Today
Monday - Friday 8:30am - 4:30pm EST
+800.274.4637 | +716.668.4001 |

[email protected]

| Fax +716.668.4496
"We want you to return home safely every day"
---
SKU Color/Size UPS UPC INNER UPC CASE
19-007/XS Blue XS 616314448799 10616314448796 20616314448793
19-007/S Blue S 616314448959 10616314448956 20616314448953
19-007/M Blue M 616314448836 10616314448833 20616314448830
19-007/L Blue L 616314448911 10616314448918 20616314448915
19-007/XL Blue XL 616314448997 10616314448994 20616314448991
19-007/XXL Blue 2XL 616314448874 10616314448871 2061631444887