If You Need Puncture-Resistant Hand Protection, All You Need Is Alycore™
Elevate Compliance with These Industrial Work Safety Gloves Designed to Reduce Fine and Blunt Puncture Hazards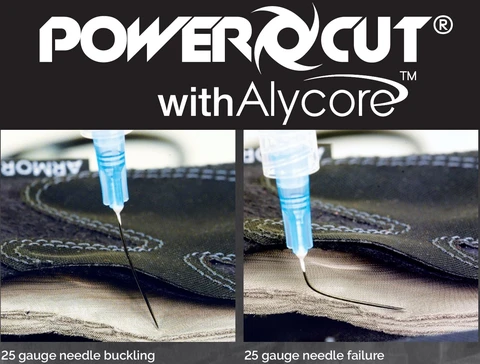 If you work with glass, glass fragments, nails, metal shards, hypodermic needles, wire/steel cable, barbed wire or thorny type plants, you understand how crucial it is to have the proper hand protection on the job.
The right gear can mean the difference between returning home safely or a trip to the emergency room. Work gloves made with Alycore™ thread are designed to protect a worker's most valuable tools-the hands!
WHAT'S THE THREAT?
There are two types of popular puncture injuries: blunt and needle punctures. Needle punctures result from working with fine objects, such as staples. Blunt injuries, on the other hand, result from working with larger objects, such as nails and general debris. Providing your employees with puncture-resistant gloves can protect them from these workplace hand injuries.
According to the Assistant Secretary for Legislation's "Statement for the Record on Needle stick Injuries", needle stick injuries make up a significant portion of health care worker injuries. This organization estimates that 600,000 to 800,000 of these injuries occur in the United States every year, with approximately 50% of these workers choosing not to report these incidences.
MENTAL STRESS
Worrying about punctures is often extremely damaging and stressful to affected workers especially if you've had a splinter lodged in your skin or been accidentally been pricked by a dirty needle. When a worker is unsure about the severity of the hazard, waiting to find out if it will have dangerous consequences is extremely upsetting, which can affect the family and friends of the distressed worker as well. Stressing over a puncture injury to the hands can cause productivity to spiral downward and an injury can be costly to the company. Selecting work gloves that prevent both blunt and fine point puncture hazards is critical to the safety of the operator and the wellness of the company.
While there is no such thing as a puncture-proof glove, wearing puncture-resistant gloves and/or protective sleeves whenever necessary, even if the risk is only minimal, prevents unnecessary stress and fear while providing the wearer with a better chance of impeding or reducing an injury.
SPECIALIZED INDUSTRIAL HAND SAFETY GLOVE PRODUCTS

Available in mechanics or palm coated seamless knit styles, puncture-resistant work gloves with Alycore™ are just the answer for workers exposed to hypodermic needles, splinters, nails, cable/wire, barbed wire, wood/lumber, metals, metal shards, staples, recycling/refuse and glass hazards.
ALYCORE™ PATENTED THREAD
Industrial work gloves made with patented Alycore™ offers cut, puncture and needle resistance like no other product has before. Composed mostly of super-thin threads of iron and carbon, Alycore™ is lightweight, flexible, breathable, recyclable, washable and featured on the PowerCut® line of work gloves from Majestic®.
RAISING THE STANDARD
Operators can work with full confidence and with greater focus! To ensure hand safety, Majestic® intensifies the safety standard and measures a glove puncture resistance according to the ASTM F2878 Standard by forcing a 25 gauge syringe needle through the material at a fixed speed!
Majestic® is one of the nation's leading suppliers of superior-quality PPE. and use the latest technology and material advancements to provide maximum protection and comfort to your employees. Elevate your hand safety program today with Safety Gloves featuring Alycore™. Available in extreme cut levels with high ANSI Hypodermic Needle Puncture coverage for the palms, fingers and back of hand region. But first, you need tap the link and …
Monday - Friday 8:30am - 4:30pm EST
Volume Discounts. Questions. Samples. Special Requests.
Toll-Free +800-274-4637 | +716-668-4001 |

[email protected]
"We Want You To Return Home Safely...Every Day!™