Patented Turtleskin® Glove Safety Products
Life Safety Products - Needlestick Prevention
For operators who work with hypodermic needles, nails, cables, wires, glass fragments, metal shards and wood splinters, protection against cuts and punctures is crucial to personal hand safety.
Turtleskin® Safety Gloves provide the highest level of puncture, stab, and needle protection in a lightweight, ultra flexible fabric less than the thickness of three sheets of paper engineered for personal and occupational safety and performance. A Warwick Mills creation, TurtleSkin® brand is a family of patented materials woven in the USA with high-strength fibers engineered to be very thin yet very protective.
Using aramid materials, Turtleskin® holds the patent for the tightest weave ever achieved resulting in superior protection without sacrificing dexterity and comfort. TurtleSkin's patented weave interlocks aramid fibers so tightly they won't shift or leave gaps for needles and fine penetrators to slide past and has many varied uses, from puncture-resistant SnakeArmor® hunting clothing and DogArmor® safety vests to WaterArmor® PPE for UHP Waterjet Operators.
Turtleskin® Safety Gloves are available in different fabrics, styles and are commonly used in:
Police/Law Enforcement/Military/Security
Clinical Waste/Hospital Laundry
Recycling/Waste Management
General Janitorial
Animal/Reptile Handling
Bottling
Property Maintenance
Timer/Lumber Industries
Utilities
Transport Companies
TurtleSkin® Puncture Tests
The extra large puncture probe used for CE certification (European mechanical test EN388) relates to larger threats (nails, barbed wire) but is not effective in determining high-risk threats like glass slivers, metal shards, or needlesticks. Hypodermic needles bend easily and are difficult to test. As a result, no standardized needle puncture tests exist. To demonstrate the needlestick protection of TurtleSkin Safety Gloves, Warwick Mills modified EN388 by using a 0.05 inch (1.27 mm) hardened steel probe that offers consistent, repeatable results, while also providing a fine tip similar to those found on many sharp objects.
Laboratory Tested and Certified
To ensure high levels of performance and consistency, Warwick MIlls is ISO-9001:2008 certified and performs extensive lab testing on its products on their on-site lab which supports both product development and production certification. They also participate in independent testing, such as Europe's CE Marking and US NIJ specifications for law enforcement and corrections applications.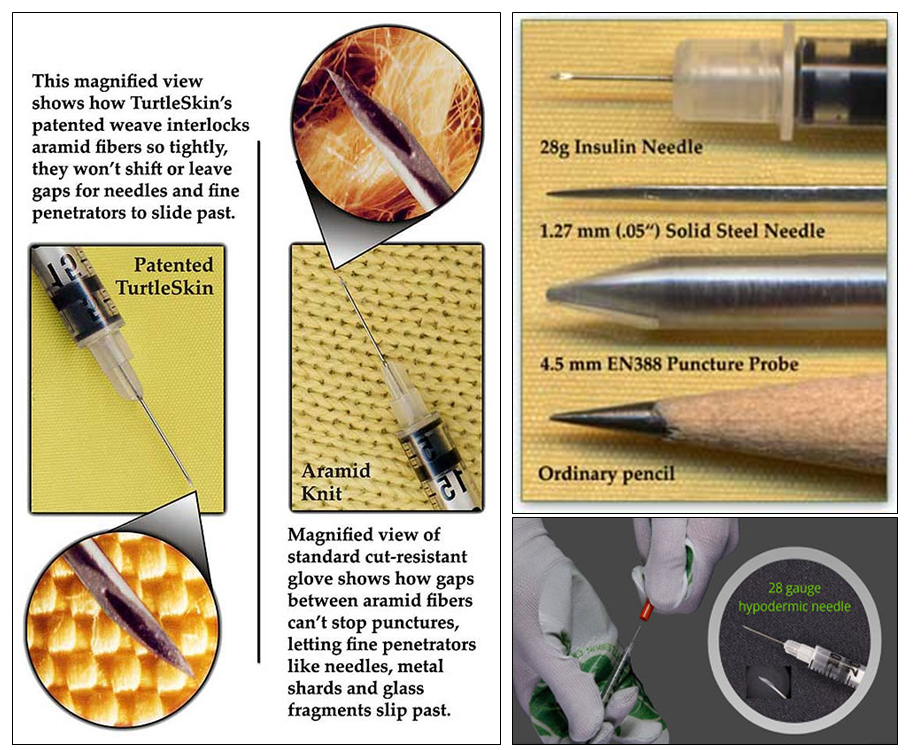 Protection Level 1:
10-35 ounce force
TurtleSkin Insider
TurtleSkin FullCoverage Natural
TurtleSkin FullCoverage Natural Plus
TurtleSkin Aramid
TurtleSkin Cotton
TurtleSkin SafeHandler
Protection Level 2:
35-70 ounce force
TurtleSkin Insider Plus
TurtleSkin FullCoverage 100% Aramid
TurtleSkin FullCoverage 100% Aramid Plus
TurtleSkin Aramid Plus
TurtleSkin Cotton Plus
TurtleSkin SafeHandler Plus
Protection Level 3:
70-100 ounce force
TurtleSkin WorkWear
TurtleSkin WorkWear Plus
TurtleSkin Utility
TurtleSkin SevereGear
Protection Level 4:
100+ ounce force
TurtleSkin Sleeve
TurtleSkin Sleeve Plus
Shop Now. As an authorized wholesale distributor, MDS is proud to sell the following popular TurtleSkin® Glove Safety Products.
TurtleSkin® CP Neon Insider Gloves
Available in different levels, the CP Neon Insider Gloves are a feather light, flexible glove that provides great levels of puncture protection from sharp metal, glass while maintaining dexterity to perform tasks. Perfect for small parts handling, CP Insider gloves are also thin enough to be worn as a liner under traditional or disposable gloves to protect the hands from unexpected threats. Made out of bonded, patent-pending TurtleSkin® fabric, these CP Neon gloves also protect your hand from cuts, tears and abrasions. CP Neon is a comprehensive general safety glove line that offers different levels of puncture and cut protection. Choose between CP Neon 300, 400 or 500 - comes in a variety of comtemporary neon colors: volcanic orange, electric blue, radiant green, violet, sunny yellow and many more.
TurtleSkin® Utility Gloves
Durable sport style leather-backed Utility Gloves provide combine excellent protection with superior dexterity. PalmMaster™ material provides the highest levels of protection in high-risk areas such as the fingertips and palms. Features a mesh liner and an adjustable Velcro closure on back of wrist for a secure fit. Turtleskin® Utility Gloves will soften with wear but will not fail to provide cut and puncture protection and are well suited for protection from needles and other fine penetrators. Withstands 28g needle at 4.9 Newtons (1.1 lbf). Suggested applications include sharps disposal, law enforcement, custodial, prison service, wire and cable handling, utility workers and janitorial.
TurtleSkin® WorkWear Gloves
WorkWear Gloves are specially designed for tasks that require great grip, dexterity, tactile sensitivity, and superb cut and puncture resistance. These WorkWear leather gloves have a stretch-knit backing, a Velcro closure at the wrist for an ultra-comfortable and secure fit and a palm lined aramid lining for enhanced cut and puncture protection. Withstands 28g needle at 2.7 Newtons (0.6 lbf). Suggested applications include glass or metal handling, mechanics, laundry services, custodial, janitorial.
TurtleSkin® FullCoverage Aramid Gloves
FullCoverage gloves provide cut and puncture protection with heat resistance for the entire hand. These full sewn gloves are made with 100% Aramid TurtleSkin® material with primer coating and featuring a 4" cuff and elastic wrist band. These FullCoverage gloves can also be used as a liner to boost the protection of an outer glove. Suggested applications include veterinarian/animal handling, sharps disposal, lab research, lumber/veneer manufacturing, first aid, casualty handling, biological and chemical spillage clean up and BioLabs.
TurtleSkin® SafeHandler Gloves
Available in two versions, rugged SafeHandler gloves feature an aramid string knit with dual-side gripper PVC Dots and palm-side TurtleSkin® layer for advanced protection from punctures and cuts. Gloves may be reversed to orient TurtleSkin® on back of hand. Suggested applications include glass handling, sheet metal, light industrial, warehousing, waste management, sharps manufacturing, waste disposal and plastics fabrication.
TurtleSkin® MultiGuard Gloves
The MultiGuard Glove provides maximum cut and puncture protection with four layers of high-strength aramid. Additional layers of patented TurtleSkin® multi-coat PM2 increases protection in high risk areas of palm and fingertips, as well as the side and back of hand. Water-resistant neoprene outer shell protects from abrasion to extend glove life. Suggested applications include waste handling, sharps disposal, wastewater cleanup and biomedical work.
TurtleSkin® SevereGear Gloves
The SevereGear Gloves prove that a safety glove can provide outstanding protection without the stiff, bulky seams often found in other brands of protective gloves. Lightweight, dexterous, flexible and comfortable, this 100% aramid glove provides excellent cut protection for the entire hand. Exclusive TurtleSkin® PalmMaster adds puncture protection to the palm side of hand and fingers. Features a 3-in cuff and an elastic wrist band. Suggested applications include industrial waste handling, medical waste handling, glass handling, metal handling and recycling.
TurtleSkin® CP Secure Gloves
These CP Secure Gloves are available in different versions and offer patented protection to the entire hand including the sides of the hand from hypodermic needles, splinters, sharp wire, and so much more and perform great for medical waste handling, lumber handling, poultry inoculations, and applications for handling small animals. Constructed of leather, they feature TurtleSkin's CP material and a gauntlet cuff for enhanced wrist protection. Available in three level of protection, these gloves are ideal for work requiring extended coverage, high protection levels and durability.
---
TurtleSkin® protective materials provide high performance and patented protection in specialty fabrics engineered for personal and occupational safety resulting in superior protection from cuts and hypodermic needles. Contact MDS for TurtleSkin® Gloves not listed, to place an order or for non-published volume discounts today or visit MDSassociates.com and
+800.274.4637 | +716.668.4001 | inf[email protected] | Fax +716.668.4496