TurtleSkin® Hydroblasting WaterArmor PPE
Hydroblasting, also known as high-pressure water washing, jetting, blasting, cutting and polishing is a dangerous process whereby a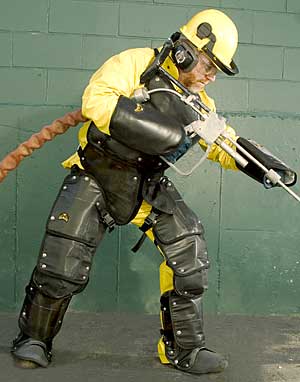 stream of highly pressurized water is aimed at undesirable materials adhering to a substrate.
Hydroblasting is by far the most common industrial cleaning application and it can be applied to efficiently cut through grime, deposits, paint, scales, sludge and remove foulants and other built-up materials on rail cars, evaporators, heat exchangers, boilers/chimneys, storage tanks, vessels, reactors, drainage lines, sewers, pipe, concrete, steel and fiberglass. The water stream is set at the minimum pressure to remove the unwanted material while at the same time prohibit damage to the substrate material.
Hydroblasting | Hydrodemolition Safety
While most people think of water blasting as the home version of the pressure washer, where pressures can reach 1,500 psi, industrial versions of high-pressure water jets operate at pressures between 10,000 and 20,000 or even up to 40,000 psi.
High-pressure water washing is normally performed using jet streams that can have a velocity greater than that of a .45-caliber bullet, and can do as much damage! The pressures arising from this equipment are powerful enough to cut through steel, so one can imagine what the stream could do to unprotected human flesh.
Extreme caution, strict procedure compliance and the proper water safety PPE must be implemented to prevent the jet stream from striking the operator, other employees or delicate equipment. No portion of the body must ever be placed in front of the water jet. These jets of water can easily puncture and shred the skin or worse, penetrate deeper causing potential infection or serious damage. Accidents of this nature could result in a visit from OSHA.
---
Hydroblasting Personal Protective Equipment (PPE)
TurtleSkin® Water Armor
A hydroblaster's occupation is not only hazardous, they become irreplaceable once they receive proper training and experience. Protect them with proven and reliable water safety PPE from Warwick Mills creator of TurtleSkin® Brand SnakeArmor® and DogArmor® products!
+Water Armor COVERALL Water-Proof Suit
Turtleskin® WaterArmor CoverAll Suit is a two piece, fully water-proof reflective suit made from super rugged coated 500 denier coated cordura nylon with full frontal protection for hydroblasting operators up to 40,000 psi (2700bar). The WaterArmor CoverAll product consists of 3 parts, the Bunker Pants (bib trousers), the Jacket and the Neck Guard Attachment and is built in a rain-suit format so it is fast to gear-on and gear-off while on the job.
The armor panels are built just like military and law enforcement body armor. Removable armor panels allow the water-proof outer shell to be worn without the panels. It also allows the garment to be serviced separately from the armor panels when it becomes contaminated or damaged. For this reason, Turtleskin suggests keeping two CoverAll barrier suits for each armor panel set.
Available WaterArmor Coverall modules include a complete jacket (with neck and arms), jacket (without neck or arms), neck attachment, arm inserts, complete bunker pants, replacement outer jacket shell, an a replacement outer pant shell.
*The standard suit color is royal blue and is available in fluorescent orange or yellow for special order. For Oil and Gas operations, the CoverAll suit can be special ordered in a flame retardant nylon shell.* Available in sizes small through 3XL.
+Water Armor COOLGEAR Modular Design
Turtleskin® Patented WaterArmor CoolGear Suit provides hydroblasting operators with increased water jet safety protection at all jet pressures up to 40,000 psi in warm weather and climates and withstands chemicals. The high-tech, one size fits all modular design allows the suit to be customized to fit the individual operator and should damage occur, it also allows for easy replacement of the individual panels.The open back is cooler for operators to wear when working in hot, humid conditions and can be worn over work shirts, pants and over a rain gear.
Available WaterArmor modules include CoolGear Chaps, Gaiters,Gauntlets and Torso. Replacement kits available. Click for PDF
+MFA WaterArmor Modular Design | Elevated Swipe Protection
TurtleSkin patented MFA WaterArmor Suits looks like CoolGear suits, but it is max protection that when worn, lowers insurance rates! Engineered from a lightweight composite, it provides a higher level of swipe protection against UHP water jets that cause injury by accidental swipes from straight or rotary nozzles. It is designed for maximum levels of protection in situations where operators may be exposed to high risk conditions. Examples include the use of short lances, manual stinger cleaning of tubes, very high pressure single nozzle hydrodemolition processes. The high-tech, one size fits all modular design allows the suit to be customized to fit the individual operator and should damage occur, it also allows for easy replacement of the individual panels.
WaterArmor MFA open back design is designed to keep operators cooler in warm climates and can be worn over work shirts, pants and rain gear. The hinged panel system flexes with the body allowing for comfort and ease of use that reduces fatigue and increases productivity.
The protective armor panels in MFA Max are made of a highly flexible stainless steel mosaic bonded to fabric. The unique steel mosaic can handle water blasting jets for longer than any other armor and it can handle higher flows and higher pressures that any other armor. This material was originally developed for stab protection for law enforcement and has been proven to be flexible and durable for long term use.
Available WaterArmor modules include MFA Chaps, Gaiters, Gauntlets and Torso Vest. Replacement Kits available. Click for PDF
---
WaterArmor Safety Certifications
CE Certified PPE- WaterArmor PPE has been CE type approved by Centexbel, Montoyerstraat 24, B-1000 Brussels, Belgium (notified body 0493) according to the directive 89/686/EEC. Certificate number: 00101317.
WaterArmor Coverall and CoolGear are tested with straight single nozzles which are extremely more dangerous than dual nozzle rotating units AND is also tested with 20,000psi (1400bar) high flow hydrodemolition nozzles to ensure safety.
WFA is CE certified with a straight nozzle up to 40,000psi (2800bar) with a 1.5ft/sec flow rate. Certification #00109407.
---
Protect your valuable operators with the best blasting PPE Safety Apparel Available! We Will beat Your Best Price!
Contact MDS or volume discounts, price matching or technical questions. Contact us for water safety helmets, storage gear bags, safety gloves or boots too!
+800.274.4637/+716.668.4001 | [email protected] | MDS Associates
**Please Allow Extra Time When Ordering TurtleSkin WaterArmor & Snake Armor Products. They Are Made Fresh to Order. Thank You.**