Touchscreen Compatible Work Gloves
Smart Technology Finger Tips
If you've ever had to use your cell phone, a touchscreen computer, panel or other electronic touch device while on the assembly line, on the construction site or while gardening, you know that touchscreens and gloves do not co-exist. You'll spend frustrating minutes trying to get the screen to work or wasting precious time taking regular gloves off and putting them back on time and time again. The time spent taking off and putting work gloves back on takes away from productivity, which could ultimately lead to lost profit. Not to mention the high risk of contamination or personal injury accidents when gloves are no longer protecting the workers and the environment.
Automation in the workplace has been dramatically rising and it is fueling a massive increase in electronic devices to measure, monitor and control industrial processes.
Touch or swipe technology is becoming the natural choice for interfacing with industrial machines and portable electronic devices.
Protective work gloves with built-in touchscreen compatibility give operators the ability to work quickly with electronics in fast paced professions, where speed and operator input is necessary. Touchscreen work gloves also let workers easily and quickly look up information from touch enabled devices without having to remove their safety gloves, putting their bare hands at risk to injury!
Protects & Swipes | Touchscreens, Panels, Tablets, Machinery, Cell Phones & ATM's!
MDS Associates offers the best quality and widest selection of touchscreen compatible work gloves on the market! They are available in a variety of materials like string knit, carbon filament, leather, Kevlar®, and with grip coatings like polyurethane, PVC or foamed nitrile for clean room, ESD, cold weather/winter or industrial applications. Many of our gloves are multi-purpose...meaning they not only swipe, but also protect against cold, contamination and even cuts! Now available are ANSI rated cut-resistant touchscreen compatible gloves that lower on-the-job hand related cut injuries!
Gloves with touchscreen technology meet the safety standards of the industries where they are used. These gloves can be used in multiple industries including construction, clean rooms, sanitation, law enforcement, fire, bottle/glass, metal fabrication, HVAC, food prep/processing, aerospace, automotive, utilities, material handling, transportation, electronic & computer assembly, paint lines, landscaping, forestry, pulp/paper, construction, photography, gardening, hunting, quality control, research, inspection and general assembly or around the home.
-Cleanroom/ Critical Environment Touchscreen Compatible Gloves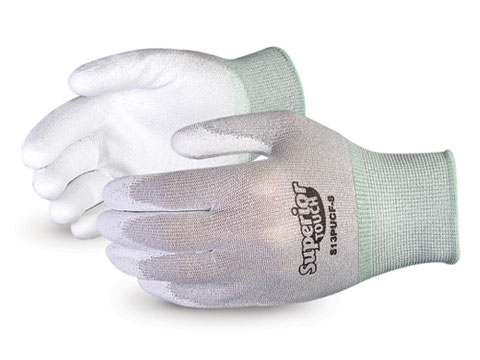 If there is one industry where contamination control is key, it is cleanroom. All work done in a cleanroom must be hygienic and pristine, making cleanroom gloves one of the most important decisions. If the worker is required to remove their gloves to perform job duties on a computer screen or automated machine, they then risk exposure to themselves as well as the risk of contaminating the area with dust or particles. In a world where we have seen a massive increase in electronic devices to measure, monitor and control industrial processes, Touchscreen work gloves provide a safe alternative and aid workers in completing tasks in a timely fashion.
Two great cleanroom options come from Superio Glover's® TenActiv™ & Superior Touch® glove lines:
-Cut-Resistant Touchscreen Compatible Work Gloves
Superior® Glove is a cut-resistant glove specialist, and their lines with touchscreen compatibility are no different. They offer a variety of materials including string knit, Kevlar®, nitrile or PU palms, Dyneema® or fiber blend and provide top of the line hand protection and dexterity. In industries such as glass handling, metal fabrication or even assembly lines where hand protection is critical, manufacturing managers must consider the benefits of using Touchscreen work gloves. The likelihood of a worker removing safety gloves to use a touch screen machine or portable electronic device nowadays is almost unavoidable. Without glove protection, this worker is now at serious risk of injury or a recordable incident in the workplace. Being able to eliminate this with a glove that can remain on the hand and still be functional is a win-win scenario.
Some of Superior Glove® most popular cut-resistant gloves include:
---
Swipe Work Gloves are Also Perfect for a Variety of Other Uses:
Oil & Gas / Utilities - Workers in these fields, such as meter readers or oil riggers, will highly benefit from a glove such as the Dexterity® Flame-Resistant Arc Flash Gloves. This glove has a scientifically engineered body that blends a variety of inherently flame-resistant materials to maintain the integrity of the glove properties. Its great design makes the gloves perfect for these industries where protection from arch flash fire is at the top of the list, all the while allowing workers to use touchscreens.

Food Handling - Workers who deal with food and beverage or meat processing will enjoy this Sure Knit™ 13-Gauge Composite Knit Gloves with Dyneema® that offers ASTM level-4 cut protection. The touch screen compatibility gives workers the ability to handle food or sharp materials as well as operate touch screen machinery.

Construction / Agriculture - Workers in these industries know that their jobs don't stop for weather. Finding a glove that is functional and comfortable can be tough, but Superior's® Emerald CX® Cut-Resistant Kevlar®/Steel Winter Glove with PVC Palms steps up to the plate. These gloves are warm, cut-resistant, as well as flexible, and of course allow the wearer to easily switch between field work to handling portable touchscreen devices.
---
Like what you see?
Call MDS for volume discounts or to place an order!
+800.274.4637 | +716.668.4001 | [email protected] | Fax +716.668.4496
View Superior® Glove Sizing Chart
View Superior Glove Touchscreen Work Gloves