Which Palm Coating is Appropriate

for

Your Superior Glove®?
Palm Coatings 101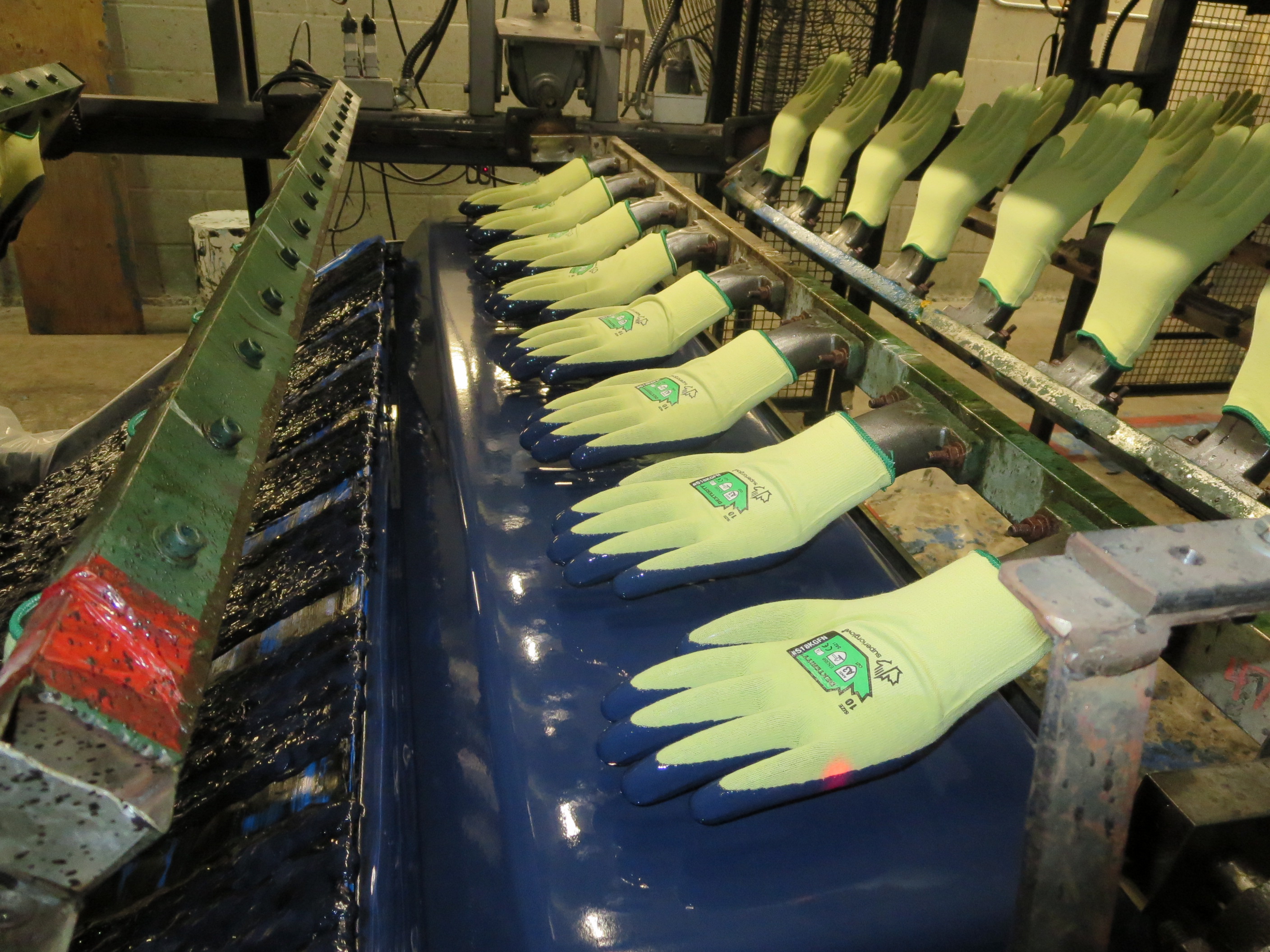 When it comes to protecting the hands, coated seamless string knit work gloves have grown in popularity. At affordable pricing, they add a layer of protection to traditional knit gloves and can noticeably improve your grip in slippery conditions. Made of nylon, cotton, polyester or with engineered yarns such as Kevlar® or Dyneema® they are versatile and a great alternative to costly leather type work gloves.
Palm coated industrial work gloves, or grip gloves, are suited for handling small parts, the automotive industry, metal stamping, construction and general purpose by offering better grip, dexterity, cut-resistance, increased durability, puncture resistance and abrasion resistance.
The coatings are dipped onto the knitted glove shells and depending on the application are available in:
Full Dip -covers the entire hand up to the lower wrist
¾ Dip - covers the entire palm, fingers and knuckles
Palm Dip -covers the entire palm and tips of fingers (pictured right)
Glove coatings are available with different colors including hi-viz and various grips such as flat, crinkle or rough textured finishes. Palm coated gloves provide the same comfort as knits, but the introduction of palm coatings have made industrial work gloves more versatile. You can learn more about palm coatings by +watching this brief video.
What's Your Grip?
The following tough coatings have made knitted gloves ideal for handling small parts, automotive work and construction by providing better grip and dexterity while also increasing durability, puncture-resistance, abrasion-resistance, cut protection and chemical resistance. There are several common types of coatings or dips used on seamless knit gloves:
Latex

Nitrile

Foam Nitrile

Micropore Nitrile

Polyurethane (PU)

PVC

Neoprene

Zedcoat™
Latex Coated Gloves are soft and flexible in all temperatures and provide outstanding grip in dry and wet conditions. It is the most durable coating but has poor oil resistance and low abrasion resistance. Latex resists alcohols, and some ketones, but performs poorly around most hydrocarbon and organic solvents. Latex coated gloves are ideal for masonry, landscaping and construction. Here is a popular style to consider: #S13CXLX Superior Glove® Emerald CX® Latex Coated Gloves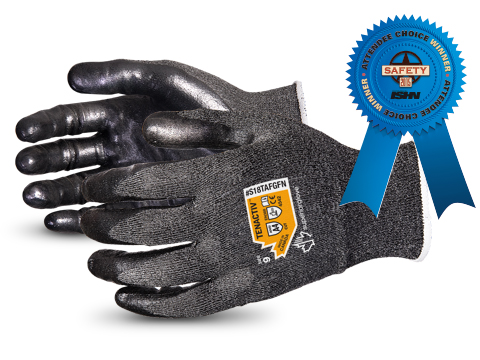 Foam Nitrile Coated Gloves are awesome for handling oily or wet conditions and are often selected for handling oily metals. This coating performs like a sponge to keep the glove's surface dry for enhanced gripping power making it ideal for automotive, construction and small parts handling. Unfortunately foam nitrile is not great with adhesives and liquids will penetrate through the coating as designed. We suggest this TenActiv™ Glove - an award winner! #S18TAFGFN Superior Glove® TenActiv™ Foam Nitrile Coated Gloves
Nitrile Coated Gloves are popular and durable making them ideal for general purpose work in industries such as assembly, automotive and metal fabrication. Nitrile resists abrasion, cuts, tears and performs well in temperatures between -25◦F and 300◦F. Although highly tactile and dexterous, nitrile doesn't have a strong grip in oily and wet conditions when compared to foam or micropore nitrile. Check out this glove: #S13KFNT Superior Glove® Dexterity® Kevlar®/Composite Nitrile Coated Gloves
Micropore Nitrile Coated Gloves provide better longevity and outstanding oily grip. The finish is infused with millions of tiny suction cups that displace fluids from the glove's surface to provide the wearer with an amazing grip. This coating performs poorly with adhesives but is highly abrasion-resistant and has a lower soak through rate than foam nitrile. Here is a glove to view: #S13PNT Superior Glove® Dexterity® Micropore Nylon Gloves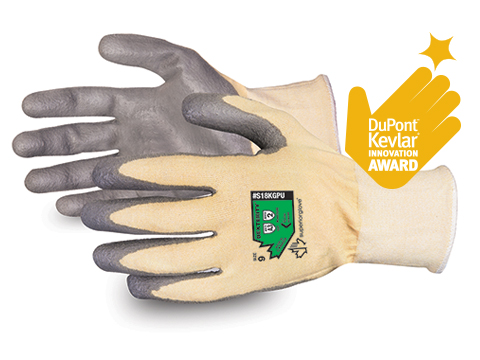 Polyurethane (PU) Coated Gloves are outstanding for applications requiring a delicate touch. With its great stretch, strength, and low particulate shed, this thin coating provides the best dexterity and flexibility of all the palm coatings offered today and is low in cost. Chemically, polyurethane has excellent resistance to oils, solvents, fats, greases, gasoline, oxidation and ozone but has poor resistance to hot water, has a low tear resistance, poor durability, poor wet/oily grip and is not recommended for use above 79°C (175°F). Select polyurethane coated gloves for aerospace, cleanroom, fine part handling, electronic assembly, detailed assembly and inspection. We suggest this award winner. #S18KGPU Superior Glove® Dexterity® Kevlar® Blend PU Coated Gloves
PVC (Polyvinyl Chloride) Coated Gloves are great for use with adhesives and resisting abrasion. Many adhesives will not stick to the glove's surface making them ideal for use for furniture manufacturing, automotive assembly, trim applications or for applying sealants. PVC also performs well in cold working conditions and offers good abrasion resistance, though it may be susceptible to punctures, cuts, and snags. And while it is flexible, it does not provide the tactile sensitivity associated with most rubber products. Here is a glove to view: #S13SXPVC Superior Touch® PVC Coated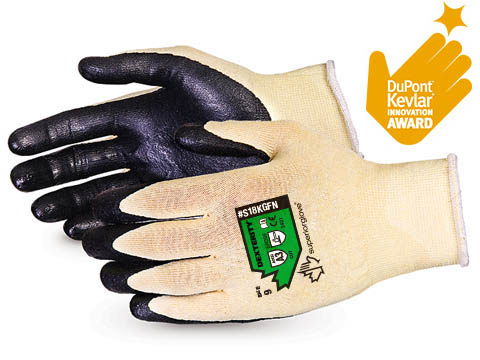 Dyneema® Gloves
Zedcoat™ Coating, nicknamed the Green Monster of abrasion resistance, is a flat nitrile coating designed to resist oils, solvents, water, abrasive hazards and punctures. Offered exclusively by Superior Glove®, The material used in Zedcoat™ provides improved grip in wet and oily applications and prevents soak-through. Zedcoat™ doesn't perform well with adhesives but offers 46% better abrasion resistance than the top rated glove on the market. Great for automotive, aerospace and glass industries. Don't just take our word for it, check this glove out. #S13TANT Superior Glove® TenActiv™ ZedCoat™ Gloves
Neoprene Coating is a synthetic rubber with good chemical stability and good heat-resistant properties. This coating is generally used on gloves for chemical-resistant and fire-retardant applications. With excellent dry, wet and oily grip, it resists oil but also has low resistance to abrasion. Check out this award winning glove! #S18KGNE Superior Glove® Dexterity® FR Arc-Flash Neoprene Coated Gloves
The additional protection offered by these palm coatings provide the wearer with excellent puncture and abrasion resistance. No matter which coating you select, they are some of the most comfortable gloves to wear. This is important as it reduces the chances of a worker removing their gloves to complete a task which increases the likelihood of personal injury. Quality made palm coated gloves can withstand laundry cycles thus saving money.
Ready to shop? Tap the button below to browse our wide selection of quality made work gloves with your preferred palm coating ...
Monday - Friday 8:30am - 4:30pm EST
Toll-Free +800-274-4637 | +716-668-4001 | [email protected]