Safety Rated Heat-Resistant Gloves - What You Need

to

Know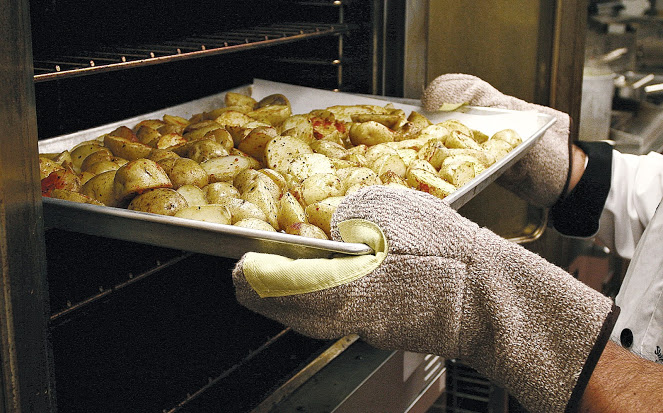 In order for a work glove to be considered heat resistant, it must be within a standard scale that specifies thermal performance for protective gloves against heat and/or fire. The glove's rating is determined by the highest contact temperature where time to second degree burn is over 15 seconds and time to pain is over 4 seconds. The performance level will fall between 1 (under 176°) and 5* (608°F) and has many variables to determine that level. Thermal hazard gloves have a fire symbol on them so it is recognizable what they are intended for.
The Factors that Determine a Good Heat Resistant Glove are as Follows:
Resistance to Flames : This factor is based on the amount of time it takes for the material to fully extinguish after the source of flame has been removed. After 15 seconds of burn time, the seams of the garment should not come apart.
Thermal Contact Resistance : This factor is based on a temperature range between 212-932 degrees Fahrenheit where the worker should not feel any pain from heat transfer for at least 15 seconds.
Convective Heat Transfer : This factor is based on the amount of time the material is able to postpone the transfer of heat from a flame.
Radiant Heat Resistance : This factor is based on the amount of time the material is able to postpone the transfer of heat when it is exposed to radiant heat waves.
Molten Metal Resistance : This factor is based on the number of splashed molten metal drops it takes to heat the material to a regulated temperature level. This is the tolerance time measured in seconds.
Molten Metal Resistance in Large Quantity : This factor is based on the weight of molten metal that it takes to cause pin holes or smoothing of simulated skin placed directly behind the material during heat testing. The test will fail if metal drops stay stuck to the material or if it ignites.
Conductive Heat Resistance Classification (C.H.A.R) Chart : Below is a list of approximate C.H.A.R. temperatures as adapted from the ANSI Standards Guide for common glove materials. Refer to this chart to see if the material being used is appropriate for the temperature required to perform the task at hand. This chart is measured in both Celsius and Fahrenheit so your company can get an accurate measurement of heat that will be tolerated for each material listed.
There are a few factors you should think about in order to ensure that you choose the heat-resistant glove that's best for you. Consider the following:
When it comes to choosing the best style of heat-resistant gloves for the job, these factors are important. For example, the temperature of the object will determine what type of fiber is required. And, if having a full range of movement in your hands is crucial for getting the job done, you won't want to be wearing a glove that provides excellent heat protection but is extremely bulky and hard to maneuver. For this reason, it's crucial that when choosing your next pair of heat-resistant gloves, you keep your work conditions and job requirements top of mind. Another factor to consider is the degradation or melting temperature of the glove materials. Below is a rough guideline of the degradation/melting temperature of various heat-resistant material:
Optimal material for low heat resistance
Optimal material for high heat resistance
Work in Complete Confidence!
You can follow this link to watch a brief you tube video explaining heat resistant gloves in more detail. Superior Glove® measures their heat gloves to North American Standard (ASTM F1060) and provides a vast line of ASTM ANSI Rated industrial work gloves, mitts, sleeves and pads. Below are a few of their most popular hand protection styles.
Popular Gloves that meet safety standards:
---
Shopping for your next pair of heat-resistant work gloves? Why not...
Monday - Friday 8:30am - 4:30pm EST
+800.274.4637 | +716.668.4001 | [email protected]
+View Heat Resistant Infographic Guide
*You might notice that heat level 5 gloves are only rated to 608°F, but that's only because the testing standard used to rate heat-resistant gloves tops out at that temperature.