Swipe & Protect

with

Touchscreen Compatible Work Gloves
If you've ever had to use your cell phone, a touchscreen computer, panel or other electronic touch device while on the assembly line, on the construction site or while gardening, you know that touchscreens and gloves do not mix well. You'll spend frustrating minutes trying to get the screen to work or wasting precious time taking regular gloves off and putting them back on time and time again. Touchscreen or swipe technology is becoming the natural choice for interfacing with industrial machines and portable electronic devices. Protective work gloves with built-in touchscreen compatibility are the answer to your all safety needs.
Automation in the workplace has been dramatically rising and it is fueling a massive increase in electronic devices to measure, monitor and control industrial processes.Touchscreen work gloves give operators the ability to work quickly with electronics in fast paced professions, where speed and operator input is necessary. Touchscreen work gloves also let wo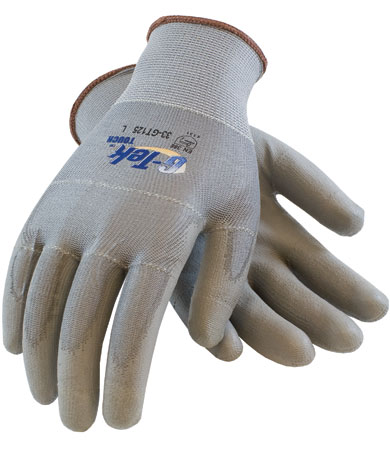 rkers easily and quickly look up information from touch enabled devices without having to remove their safety gloves, putting their bare hands at risk to injury!
MDS Associates offers the best quality and widest selection of touchscreen compatible work gloves on the market! They are available in a variety of materials like string knit, carbon filament, leather, Kevlar®, and with grip coatings like polyurethane, PVC or foamed nitrile for clean room, ESD, cold weather/winter or industrial applications. Many of our gloves are multi-purpose...meaning they not only swipe, but also protect against cold, contamination and even cuts! Now available are ANSI rated cut-resistant touchscreen compatible gloves that lower on-the-job hand related cut injuries!
Protective Gloves for Touch Screens, Panels, Tablets, Mobile Phones & ATM's!
Gloves with touchscreen technology meet the safety standards of the industries where they are used. These gloves can be used in multiple industries including con
struction, clean rooms, sanitation, law enforcement, fire, bottle/glass, metal fabrication, HVAC, food prep/processing, aerospace, automotive, utilities, material handling, transportation, electronic & computer assembly, paint lines, landscaping, forestry, pulp/paper, construction, photography, gardening, hunting, quality control, research, inspection and general assembly or around the home.
Touchscreen work gloves are the perfect marriage between safety and advances in electronics.
---
Call MDS for samples, volume discounts or to place an order!
+800.274.4637 | +716.668.4001 | [email protected] | Fax +716.668.4496 | MDSassociates.com