Reduce Contaminates with Cleanroom Gloves
A cleanroom is a controlled environment where concentration of particulates is controlled to specified limits. They are kept clean and their standard maintained by controlling and eliminating possible sources of contaminants generated by people, processes and equipment. To monitor the concentration of particles or particulates to specified limits, environments are controlled by set protocols and standards to personnel and products entering the cleanroom. To maintain cleanliness, sources of contamination need to be identified and the product specifications must meet the cleanroom class requirements (class 10, class 100, class 10,000 etc.)
Contamination causes materials and surfaces to become soiled and this can affect or destroy product quality. Identifying and controlling the sources of contamination is important and generally can be traced to individuals (operators, technicians, visitors). The human body is one of the worst generators of contaminates. Skin oils, skin flakes, body hair, body fluids, cosmetics and dirt can cause serious contamination issues. Cleanroom gloves serve a critical function because they make direct contact with both the product and the process.
Cleanroom Glove Products
Cleanroom gloves are used for contamination control in regulated industries or critical manufacturing environments during applications where it is critical to minimize particulates such as laboratories, automotive paint lines, cryogenic, pharmaceutical, biotech research facilities, aerospace, electronics and semiconductors, circuit board, healthcare (USP 797), and biomedical device manufacturing operations.
+Single-Use Cleanroom Gloves
Single-use cleanroom gloves, unlike examination gloves, do not contain fillers (chemicals that cause outgassing) or polymer coatings that stain products. Commonly used disposable gloves in cleanroom include Latex gloves, Nitrile gloves and Co-Polymer Vinyl gloves. Certified single-use cleanroom gloves are typically packaged in heat sealed poly bags within poly-lined master cartons.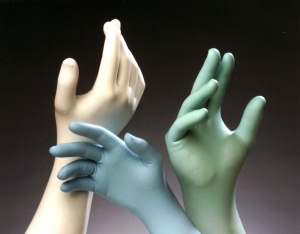 Cleanroom Nitrile Gloves and Cleanroom Latex Gloves can be chlorinated and washed with de-ionized water (DIW) to remove surface particles, powder-residues and metallic contents to very low levels and are suitable to very stringent cleanroom uses. Both nitrile and latex gloves are available with textured surfaces in different lengths and mil-thicknesses.
Single-Use Cleanroom Latex Gloves provide a good snug fit, tactility and elasticity, but have a strong latex smell and may be unsuitable to individuals or products with latex protein sensitivities.
Single-Use Cleanroom Nitrile Gloves provide a fairly good fit and elasticity and do not cause latex allergies. They have some static dissipative properties that are critical for ESD sensitive products. Nitrile gloves also tend to have better chemical resistant properties than Latex gloves. MDS sells sterilized and multi-colored single-use cleanroom nitrile gloves and nitrile gloves packed in non-shedding PVC dispenser boxes and clamshell totes. PVC type boxes reduce cardboard fibers and make dispensing easier.
Single-Use Cleanroom Co-Polymer Vinyl Gloves can be fairly clean if manufactured in a clean environment. They do not offer a very good fit or elasticity compared to Latex or Nitrile gloves but offers cost effectiveness. Vinyl gloves offer decent chemical resistance and anti-static properties.
+Knit/Woven Fabric Gloves for Critical Environments
Knitted Cleanroom Gloves are usually used for packaging, inspection or assembling work in Class 10, 000 or more cleanrooms. These gloves include low-shedding knit yarns and fabrics such as polyester gloves, nylon gloves, nylon/carbon or copper fiber gloves, 40 Denier Tricot and cotton gloves. Some of these gloves have special coatings such as Polyurethane (PU) coated, nitrile coated, PVC dot coated etc. to provide extra grip, abrasion or puncture resistant properties. A special seamless construction results in a low-shedding, no-run, non-ravel glove that is comfortable to wear. Half-finger knitted gloves are typically worn under outer gloves to wick perspiration and increase comfort. In most cases the cuff hems are color-coded for easy size identification.
Popular Seamless Knitted Glove Styles
+Specialty Cleanroom Gloves
Specialty gloves are customized for a particular function within the cleanroom. Examples of such gloves are cleanroom chemical-resistant gloves, cryogenic gloves, cut-resistant cleanroom gloves, touchscreen compatible gloves, cleanroom thermal gloves.
+ESD Gloves
Electrostatic Dissipative (ESD) Gloves address static contamination in the electronics, aerospace, automotive, paint lines, munitions and semiconductor industries. Working in electronics involves the handling of delicate, sensitive parts such as films, electronic instruments, circuit boards and components. Very often static can result in attracting dust onto the part or it can generate damaging static electricity. Electrostatic Dissipative (ESD) fiber yarns blend with low lint nylon which reduces static build-up on the glove surface for improved performance.
Popular Cleanroom Gloves for ESD Protection
---
Orders. Questions. Volume Discounts.
Click or Call
Monday - Friday 8:30am - 4:30pm EST
www.MDSassociates.com | +800.274.4637 | +716.668.4001 |

[email protected]

| Fax +716.668.4496
"We want you to return home safely every day"