Flexible, Dexterous
Waterproof Winter Work Gloves
Every autumn, good old Mother Nature puts on a brilliant show of color in many parts of the United States, and as the foliage
transforms the landscape, it serves as a signal that the cold wet weather will soon be here. For those professionals who work in outdoor conditions, it's just another day at the office but the cold and wet weather can be brutally harsh on the hands, especially if moisture penetrates through gloves.
Working in cold industrial environments with wet hands can lower the core body temperature and can lead to frostbite or hypothermia. These conditions decrease productivity and can lead to on the job accidents, but workers have no choice but to work through the bone-chilling numbness and complete the task at hand, after all their paycheck depends on it.
Waterproof Materials Are Essential for Outdoor Tasks
Fit and form is essential to finding a work glove that will keep the hands warm without sacrificing dexterity. Gloves that are too big can restrict movements plus it allows body heat to escape while allowing the cold air to enter and cool the hands. Selecting a glove with water-proof materials (not resistant) such as nitrile blocks out the wind and allows the glove to remain flexible even in extreme cold conditions, while PVC coatings will stiffen or even crack allowing moisture to penetrate through.
North Sea™ Fleece-Lined Waterproof Winter Work Gloves
Ideal for: Gutter Cleaning / Window Washing / Automotive Detailing / Snow Removal / Commercial Fishing / Fisheries / Marine / Ultilities / Petro-Chemical Refining / Roofing ...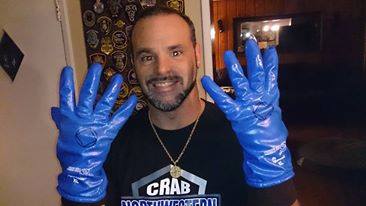 Try a pair of North Sea Winter Gloves for yourself-it's like wearing a coated fleece sock on your hand!
Have you ever watched the Discovery Network's The Deadliest Catch? If so, you know that that the crew works on the Arctic Sea in the most miserable weather conditions imaginable. To say their hands are their tools is an understatement. Matt Bradley searched for a solution to protect his crew and found relief in these North Sea™ work gloves. In fact, he loved them so much, he personally thanked Superior Glove® for keeping his hands dry! If it's good enough for them, it's good enough for you!
North Sea Glove Features:
Ultra Flexible: a soft cotton jersey composition is form-fitting to work with the hands rather than against
Sand Textured Nitrile Surface: channels fluids for a powerful, secure grip in wet and dry conditions
Knit Wrist Cuff: Keeps the heat in and debris and cold out
Full Winter Fleece Lining: provides warmth to 5◦F
11-inch Length: Covers up the forearm-perfect for submersing
ANSI 3 Puncture-Resistant & Abrasion-Resistant Rated
Chemical-Resistant: use with oils, grease, gas, solvents with confidence
---
Shop for these North Sea™ Gloves now or contact MDS for samples, to place an order or volume pricing
+800.274.4637 | +716.668.4001 | [email protected] | Fax +716.668.4496 | MDSassociates.com
---