Waterproof, Windproof ANSI Safety Rated TenActiv™ Winter Work Gloves
Cold conditions carry the danger of frostbite and permanent damage that becomes magnified in the presence of water or when handling frigid metal items such as pipes, tools, posts, scaffolding, gutters. Individuals who live, play or work in frigid environments require specialized winter hand protection that keeps the hands both warm and dry.
If you're seeking a serious winter work glove for harsh, wet conditions, then check out these gloves from the hot selling TenActiv™ series! Dry hands are happy hands, and when it comes to cold weather hand protection, the engineers at Superior Glove® take this seriously.
Superior Glove® is one of North America's leading manufacturers and suppliers of industrial safety work gloves and as a company based out of Canada, they're no stranger to inclement weather. This snug-fitting S18WTLFN TenActiv™ winter glove is one of their latest innovations.
If you're a masonry, window washer, fence installer, towing operator, rescue worker, utility linemen, roofer, commercial fishermen, automotive detailer, work in refrigeration, process meat, fish or poultry and seeking an amazing waterproof, windproof winter grip safety glove, look no further!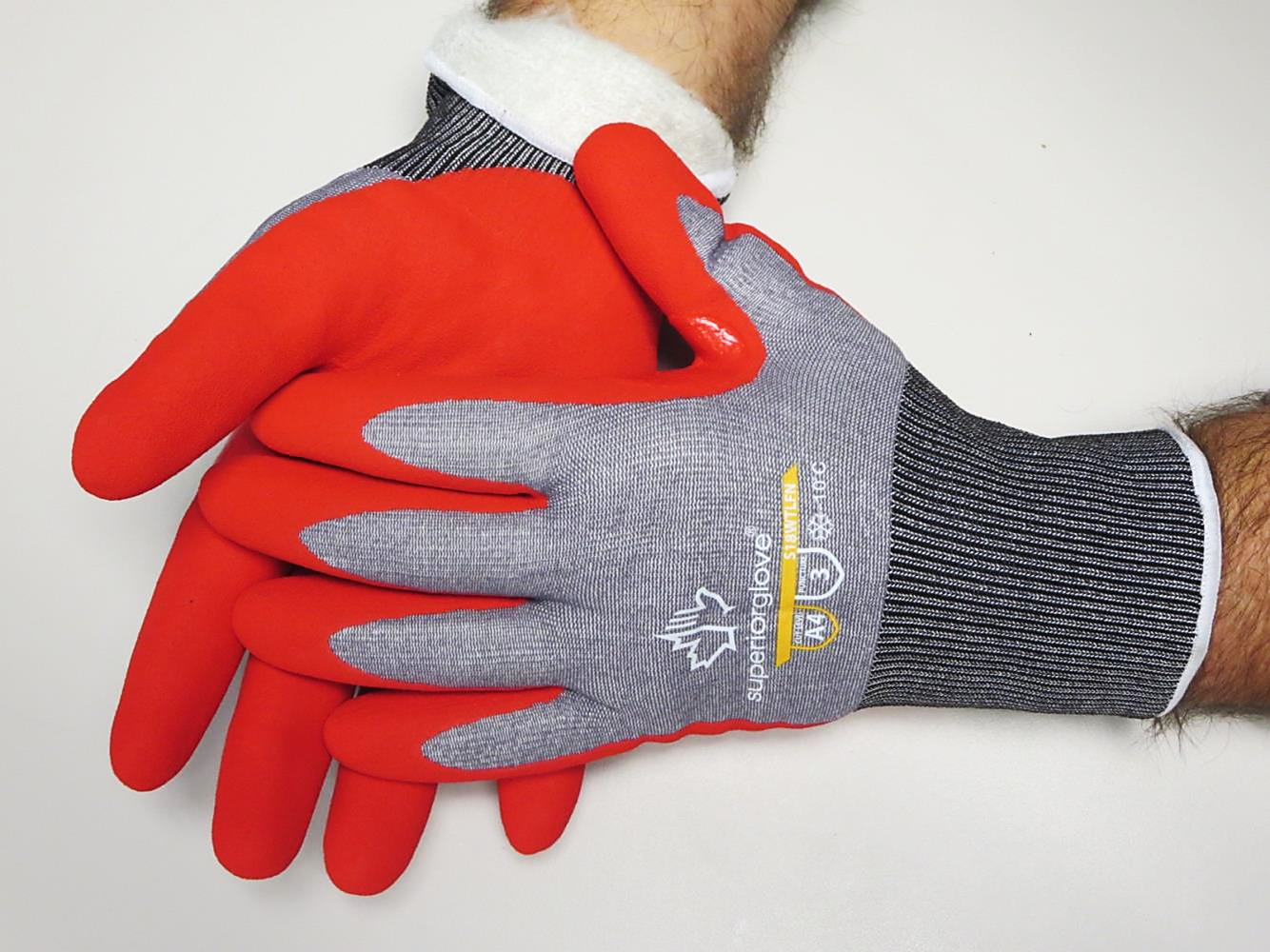 This S18WTLFN TenActiv™ style winter glove is constructed with 18-gauge seamless knit lint-free composite-knit yarns that are stronger than steel on an equal-weight basis. The high-strength composite filament fiber provides wearers with ANSI safety rated protection against cuts and industrial punctures. A red foam nitrile dipped palm coating provides a powerful grip in dry, wet or oily environments.
The comfortable acrylic terry liner is rated to 14°F and features an exclusive waterproof, windproof laminated breathable membrane designed to seal out water and keep the hands both dry and comfortable. Extra-long, knitted turtleneck cuffs trap in hand heat and keep debris out.
Ideal for:
Construction

Mining

Utilities

Fisheries

Oil & Gas

Forklift/Truck Drivers

Vaccination handling

Railroads
ASTM ANSI SAFETY RATINGS
ASTM ANSI Cut Level A4

ASTM ANSI Puncture Resistance Level 4

ASTM ANSI Abrasion Resistance Level 3
Unfortunately operators can't control the weather and the job must carry on. Keeping the hands dry, warm and comfortable is easy- just tap the link and …
Orders. Questions. Volume Discounts.
+800-274-4637 | +716-668-4001 | Fax +716-668-4496 | [email protected]
"We Want You to Return Home Safely Everyday"