Work Gloves

That

Nip

the

Cold
Cold conditions offer their own challenges when it comes to industrial worker safety, especially when it comes to those employees who work outside in the elements. Prolonged exposure to freezing or cold temperatures can create serious health problems like trench foot, frostbite, hypothermia and, in extreme cases, death.
A first line defense to cold protection should always start with the hands. Hands are working instruments that complete tasks and no job is successful without them. For this reason, selecting the proper winter work glove for the task and condition becomes crucial to personal safety and productivity.
Wide Variety
Not all gloves are created equally and matching tactility, dexterity, adequate warmth with the task or function can prove difficult. MDS Associates has winter work gloves to match virtually any cold weather task. In fact, many of our most popular sought-after styles are available in winter versions.
From waterproof mechanic gloves to traditional wool and nylon blends, to leather drivers and palm coated string knits ... there are lots of options to keep your hands dry and warm, without compromising comfort or dexterity. Our cold condition work gloves are designed for outdoor industrial applications and available in different configurations, styles and with various thermal linings such as 3M Thinsulate™.
Winter Dress Gloves
When image is important, we sell quality crafted line of professional looking winter uniform gloves to compliment business attire or work uniforms. This American made line of winter hand protection provides the perfect balance between warmth and function. Many styles are touchscreen compatible and are ideal for mail carriers, valet providers and parcel delivery personnel.
Check out the new PIONIR work safety gloves from Worldwide® Protective Products, a PIP® family brand. PIONIR ATA work gloves are the first cold weather, cut-resistant knitted work glove made in the U.S.A. that actually warm up without bulky batteries, heat packs or insulation. These innovative gloves use the power of the Sun's rays and convert them to increase the gloves internal temperature by as much as 18° F!
Layering is an effective practice to cold stress management and MDS sells a variety of thermal glove liners, that when worn under the outer gloves, traps in hand heat and wicks moisture. To supplement heat, check out our line of instant hand and body warmers. When exposed to the air, these heat packs really pack a punch. They provide 6+ hours of heat and fit in pockets nicely. The heating technology can be turned off by placing it inside an airtight bag or container.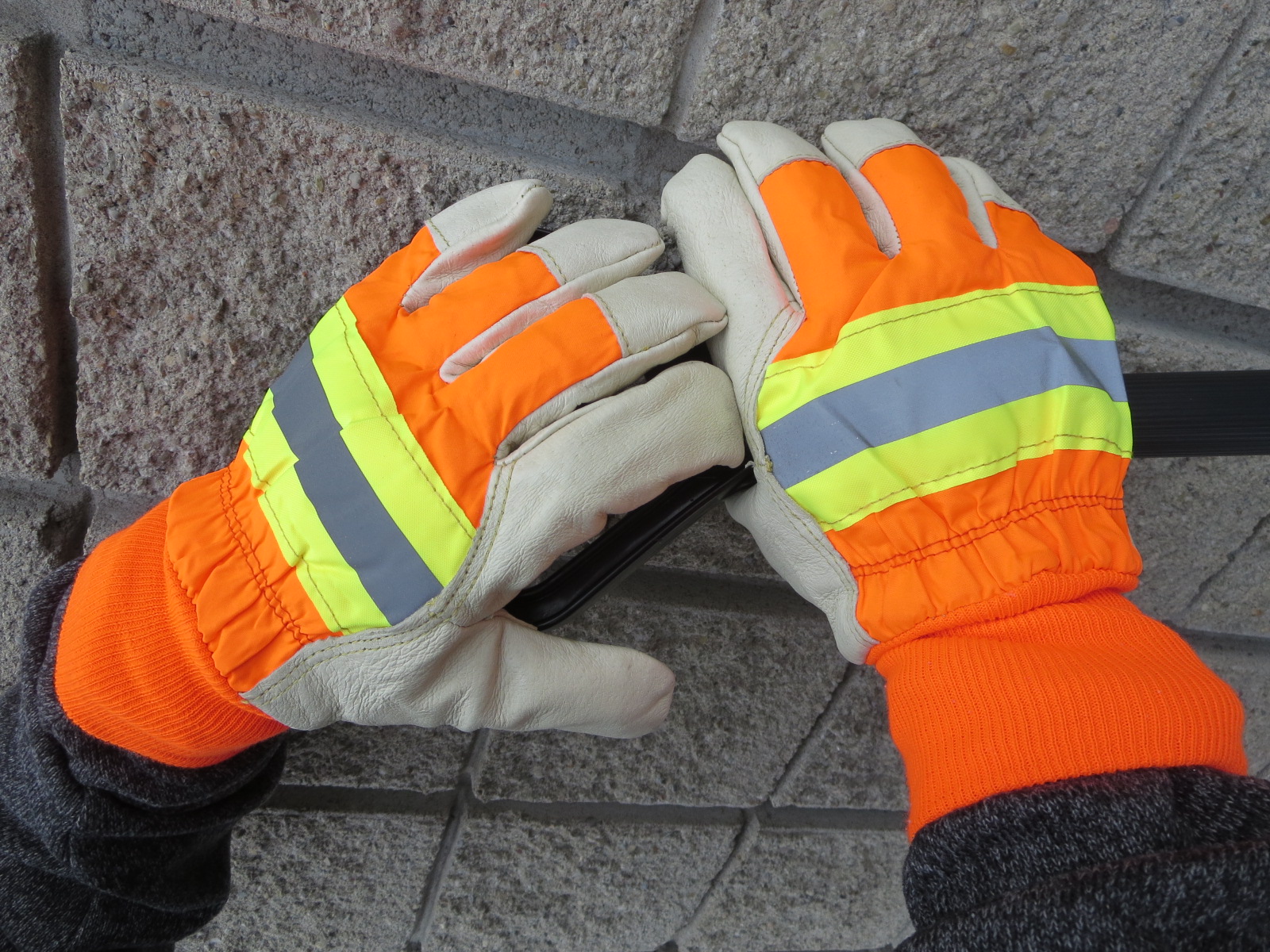 Perfect for home, the lodge or snow removal service, check out the popular Snowforce™ brand of industrial snow gloves and extreme cold mitts from Superior Glove®. Also popular is the 378GKGDT Endura® goatskin driver glove that feature a 100 gram Thinsulate™ for warmth down to -4º F, are treated with Oilbloc™ and carry ANSI safety ratings against industrial cuts and punctures.
If you seek a cold weather work glove that provides waterproof cut-resistance with amazing gripping qualities, then check out the new G-Tek® PolyKor® Gloves with MicroSurface from PIP®. If you are searching for a hi-vis winter work glove for low light or dark working conditions, then check out these Leather Palm Winter Gloves that feature 3M Thinsulate™, retro-reflective Scotchlite™ tape and hi-vis knit cuffs (pictured).
MDS offers the top of the line hand safety options to protect you from the elements, and it all comes at a cost that won't break your wallet. All you need to do is shop now so you can work longer, work faster, and feel better longer.
Orders. Questions. Volume Discounts.
Click or Call Today
+800-274-4637 | +716-668-4001 | Fax +716-668-4496 |

[email protected]
"We Want You to Return Home Safely Every Day"