Turn Up The Heat

with

Air Activated Heat Packs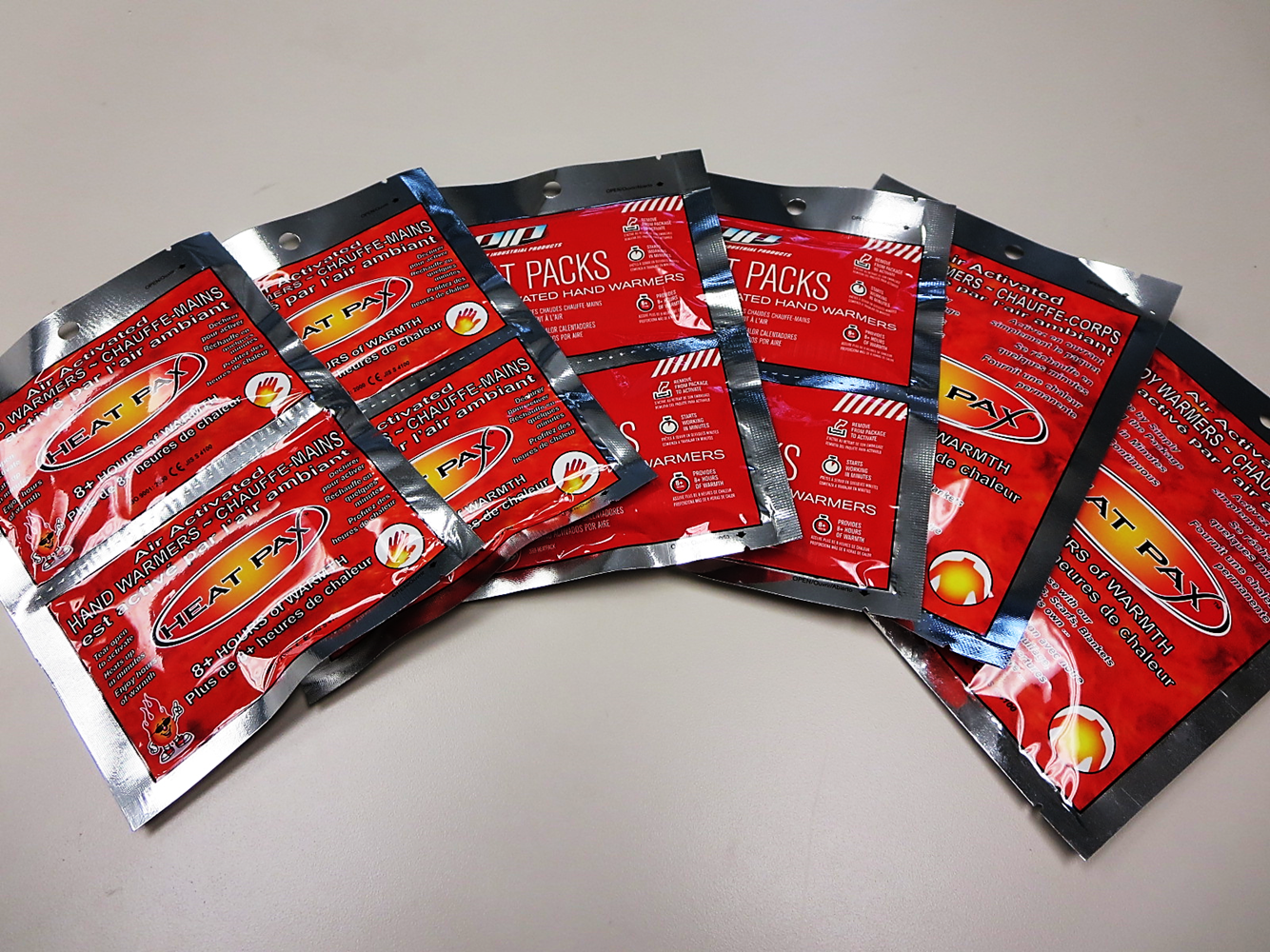 If you live in a cold weather climate, then you most likely suffer through the winter season dealing with cold hands and feet. Seeking relief, many folks will opt for winter gloves and boots but sometimes these aren't enough to prevent the painful numbing and tingling that's associated with cold weather stress. If you work outdoors or attend cold weather sporting events, we have cold weather relief for you.
For winter sports enthusiasts, hand warmers can mean the difference between calling it a day early and enjoying the event for as long as possible. The same applies for outdoor workers attempting to complete the task at hand.
Warmers are single use air-activated heat packs that provide warmth for a given amount of time and are ideal for keeping your body warm during frigid temperatures. Resembling a tea-bag, they're available in several styles designed for hands, feet, body and disposed in the trash after use. They are non-toxic, inexpensive and to most are worth every penny.
These PIP® brand and Techniche HeatPax™ air activated hand warmers are compact, lightweight, portable and fit easily into a pocket, tool box, purse, or glove box. Warmers deliver between six to eight hours of air-activated warmth and relief from cold weather. Once the foil package is opened, an exothermic reaction occurs, providing an effective defense against the winter cold. Heating can be suspended at any time by simply resealing the inserts in an airtight container or plastic bag.
Shop Now
5540 HeatPax™ Body Warmers
5550 HeatPax™ Hand Warmers
5570 HeatPax™ Adhesive Toe Warmers
399-HEATPACK PIP® Hand Warmers
The number one mistake when using these packs is not giving them time to completely react. All too often, one will take the packs out of the packaging, give them a shake, and then immediately toss them into boots or pockets. It is far better to shake them up a little and then leave them out until you're ready to go into the elements. Another tip to staying warm is to keep the keep the packs completely dry and this includes contact with body sweat.
You may have the best extreme-cold-weather gear, but it never hurts to take along a few hand and toe warmers that will bring your extremities back to life once you feel them stiffening up. These powerful little pouches give you a portable, one-time-use way to make sure your fingers and toes are toasty under your winter gear. Make sure you are prepared for the cold, simply tap the button and...
Monday - Friday 8:30am - 4:30pm East Coast Time
Orders. Questions. Samples. Volume Discounts.
+(800) 274-4637 | +(716)668-4001 | [email protected]
"We Want You to Return Home Safely Everyday™"