Pack Some

Heat

with

Air Activated HeatPax

™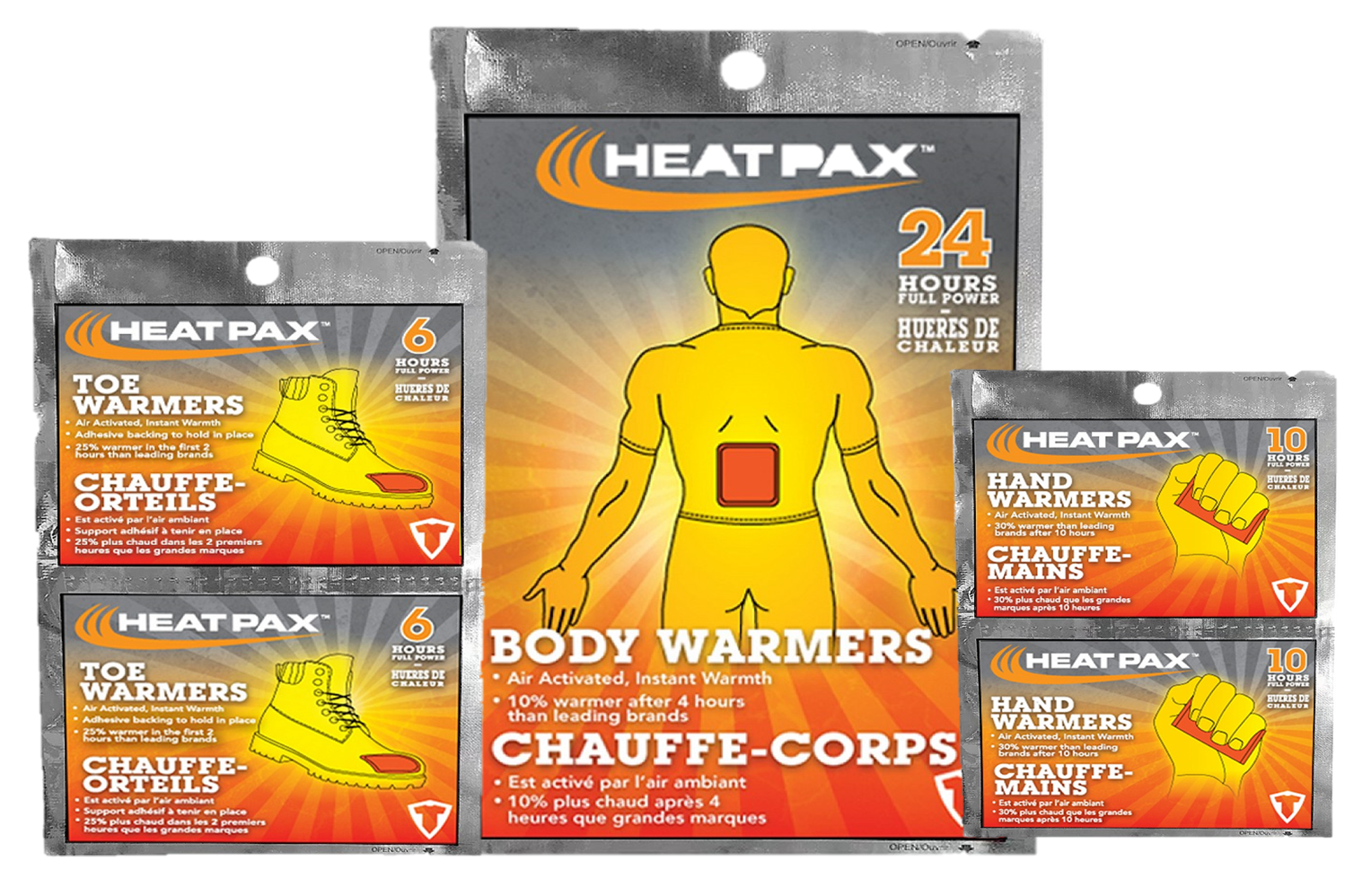 Anyone who's lived or worked in a frigid environment will vouch that tasks become more difficult to accomplish. Between the layers of restrictive clothing and numb fingers, working under extremely cold conditions is not only inconvenient and uncomfortable; if you don't take certain precautions, cold stress can pose threats to one's safety.
Some workers may be required to work outdoors in cold environments for extended periods such as snow cleanup crews, sanitation workers, utility workers, towing operators, emergency response and recovery personnel like firefighters, police officers and emergency medical technicians. Other workers may work every day in sub-zero temperatures such as commercial freezer operators.
When temperatures plummet, cold settings can make it difficult for these workers to perform jobs safely and effectively. As body heat escapes, conditions can go from uncomfortable to unsafe, with frostbite and hypothermia being concerns.
If you're seeking the ultimate warmth in sub-zero temperatures or from wind chills, blizzards, lake-effect snow, sleet and freezing rain then we have something for you!
Introducing HeatPax™
Whether at work, rest or play, you can stay in control of your comfort with HeatPax™ Instant Heat Packs. Designed to keep your extremities warm, HeatPax™ is one of the most advanced air-activated warming products on the market that effortlessly deliver hours of warmth and relief from cold weather. Once the package is opened and the HeatPax™ pouches are exposed to oxygen, an exothermic reaction takes place creating heat.
How Does Air-Activated Warming Work?
HeatPax™ warmers generate heat through a chemical reaction when the ingredients are combined with air. HeatPax™ contains a blend mixture of iron, activated carbon, cellulose, vermiculite, water and salt, These ingredients are wrapped in a foil pouch that keeps any oxygen from interacting with the ingredients inside the warmer.
When the warmer is unwrapped, oxygen is allowed to mingle with the ingredients sealed inside the warmer packet and when oxygen hits the iron in the warmer, it causes the iron to oxidize. The chemical reaction releases energy in the form of heat, the salt acts as a catalyst, the carbon works as a dispersant agent and the vermiculite works to insulate the warmer and prevent the heat from escaping too quickly.
HeatPax™ can be "shut off", or suspended, easily by sealing the warmer in an air-tight bag or container. The HeatPax™ can be re-activated simply by opening the bag and re-exposing the pouch to the air.
Benefits:
Non-Toxic
Simple, easy to use – no shaking, electricity or batteries required
Provides heating up to 24 hours
Provides controlled comfortable 140°F/60°C warmth
Natural heat generating exothermic reaction
Made with natural ingredients stored in soft, flexible pouches
Heating can be suspended by resealing in an airtight container or bag
- 2-in x 3.5-in
- Ideal for headwear, gloves, hand muffs, pockets
- Generates over 10+ hours of warmth
- 3.5-in x 5-in
- Ideal for pockets, hand muffs, seat cushions,
- Generates over 24+ hours of warmth
- 2.75-in x 4-in
- Ideal for footwear
- Generates up to 6+ hours of warmth
HeatPax™ are available in a 40-count display box or 240 bulk cartons and they're a cost-effective way to beat the winter chill from the head to the toes. Combine HeatPax™ warmers with winter apparel or better yet, HeatPax™ winter apparel for maximum warmth and comfort in cold conditions. All you need to do is click the link and …
Free Shipping on Orders Over $498
Call or Click Today Questions. Samples. Special Requests.
Monday - Friday 8:30am - 4:30pm EST
Toll-Free +800-274-4637 | +716-668-4001 |

[email protected]
"We Want You To Return Home Safely...Every Day!