Must Have Industrial Winter PPE Gear

No matter what winter brings, be it blizzard conditions, frigid temperatures, ice storms, heavy winds and rains – this change in working conditions can be challenging on your team. Are you prepared to ensure your staff can tackle the season ahead? Now is the best time to start thinking about winter PPE so you can stay in front of it.
Keeping your team warm, dry and protected against cold conditions is easy! MDS has an extensive line-up of low-priced high-performing industrial cold weather gear designed with personal safety and performance in mind. Here are a few of our top picks.
HEAD PROTECTION
The 364-1195 Exo Dual-Layer 3-in1 Balaclava uses innovative fabric technology that harnesses heat from the sun's powerful solar rays, enhancing the warming effect of the material up to 15° F (10°C). Wear as a ski mask, neck gaiter or a full face mask, it can be worn with the outer layer down exposing the breathable mesh layer when less insulation is required.

TORSO PROTECTION
Turn on and turn up the heat with this revolutionary battery operated remote heated vest. The 300-HV100 Boss® Therm™ Vest is stylish, lightweight breathable and intended to be worn as an inner layer or undergarment. Two-way locking Velcro enables wearers to easily adjust the fit to their own comfort level. Quick to recharge, long lasting performance and three heat settings.
+shop for Boss® Therm™ Vest here
HAND PROTECTION
SNOW388V Snowforce™ Extreme Cold Winter Gloves feature Porelle Ski-Dri²™ waterproof, breathable winter liner designed to lock out water and wind while wicking moisture from hands. These snow gloves feature 150 grams of Thinsulate™, anti-slip PVC patches and gauntlet cuffs with Velcro® tabs. **Rated to -20°F.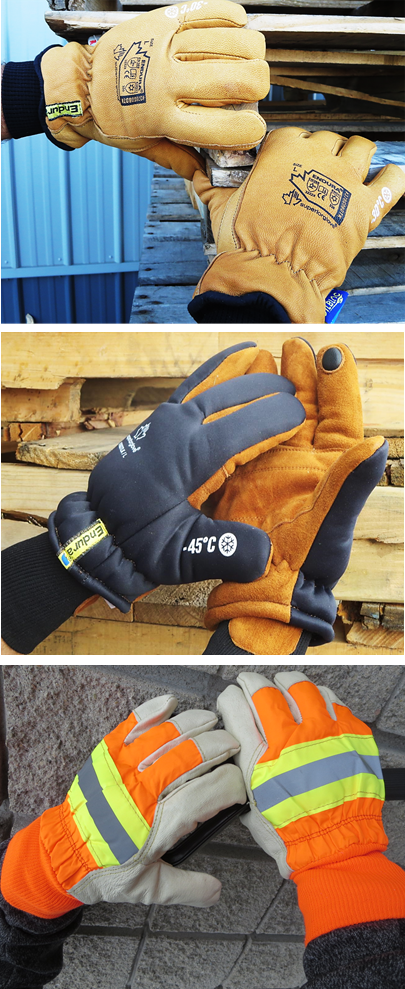 +shop for Snowforce™ Snow Gloves here
378GOBDTK Endura® Driver Gloves feature goat-grain leather construction lined with napped poly jersey and a double layer of 200 grams of Thinsulate™. The outer glove is treated with water and oil repelling Oilbloc™. Fingers are fully sock lined - the lining wraps 360 degrees around each finger, with no insulations gaps. Unique black heavy-weight knit turtleneck cuffs and elastic gathering helps lock in warmth. **Rated to -22°F.
+shop for Endura® Double Thinsulate™ Leather Gloves here
678GDTLK Endura® Freezer Gloves are designed for workers whose hands are more vulnerable to the cold due to less physical exertion in their everyday work. Fleece-lined with a double layer of 200 grams of Thinsulate™, the outer glove is treated with water and oil repelling Oilbloc™. Unique heavy-weight black knit turtleneck cuffs and elastic gathering helps lock in warmth. These gloves feature a waterproof membrane to keep hands dry in damp conditions and a touchscreen index fingertip. **Rated to -49°F.
+shop for this Endura® Freezer Gloves here
64057040 ValuBran Hi-Viz Reflective Leather Palm Gloves are lined with 100 grams of 3M Thinsulate™ and reinforced with premium grain pigskin leather. They feature a heavyweight hi-viz knit turtleneck wrist cuff and ANSI/ISEA 107 Level 2 compliant 3M™ Scotchlite™ retro-reflective fabric for visibility in low light conditions.
+shop for Hi-Viz Leather Palm Winter Gloves here
FOOTWEAR DEVICES
Stride Ice Cleats are made of proprietary Thermoplastic elastomer (TPE) that performs to -45 degrees and feature multi-directional traction plates that bite into the ice and snow. Deep toe and heel pockets are designed for steel toe footwear. Easy, fast and effective!
+shop for Stride Ice Cleats here.
If you are searching for a universal or one size fits all ice traction device for your fleet or staff, then consider MidCleat® Ice Cleats. Ideal for workers who frequently move from outdoors to indoors or from vehicles, the cleat can be quickly and easily flipped to the top of the boot to prevent slipping or marking floors. The high visibility and reflective strap provides enhanced visibility in low light conditions.
+shop for MidCleat® Ice Cleats here
INSTANT HEAT
Heat Pax™ Air Activated instant heat packs activate up to 8 hours of constant, safe heat. Heating can be suspended at any time by resealing the inserts in an airtight container. No chemicals, no batteries, no flame. Non Toxic and biodegradable. Available in:
BODY PROTECTION
Cold stress results from the body's inability to warm itself and it typically occurs when cold temperatures, high wind, dampness or exposure to cold water causes skin temperature to drop quickly. Quality made, Hi-Vis 300D rip stop polyester waterproof ANSI/ISEA 107-2015 compliant cold weather outerwear can make the difference and MDS has a winning combination for you.
Keep your staff warm, dry and protected in cold conditions. MDS offers the top of the line personal safety options to protect you from the harsh elements, and it all comes at a cost that won't break your wallet! Work longer, work faster, and feel better longer - all you need to do now is shop and compare!
Monday - Friday 8:30am - 4:30pm EST
Toll-Free +800-274-4637 | +716-668-4001 | [email protected]
Call or Click Today Questions. Samples. Special Requests.
"We Want You To Return Home Safely...Every Day!