HAND PROTECTION FOR FISHERIES
WATERPROOF FOOD SAFE GLOVES WITH HIGH LEVEL A6 CUT PROTECTION
Approximately 70% of the Earth's surface consists of water, both freshwater and saltwater bodies. Where there is water, there is marine life and the health of our ocean, inland waters and the livelihoods of billions of people all depend on well-managed fisheries and aquaculture.
Fisheries biologists, technicians and management teams are constantly working to make decisions on how best to manage fisheries for commercial purposes and recreational enjoyment. Making scientific, research-based decisions on rearing and stocking fish, regulations for fishing and how to manage invasive species are just some of the key elements of what fisheries do a daily basis.
Whether you are commercial fishing, recreational sport fishing, processing fish or conducting research wet and slimy hands are often part of the experience. So are sharp surfaces.
While you may not think that fishing gloves are a necessary piece of equipment for your fishing excursion, gloves are becoming increasingly popular for commercial fishing and aquaculture.
EVERYTHING FISHING
Quality fishing gloves not only allow you to handle slippery fish that escape netting or cages, they also prote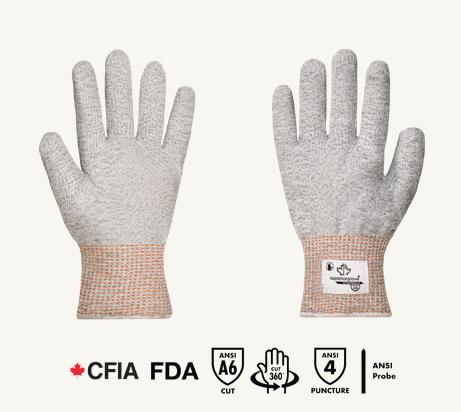 ct your hands from the water and other fishing apparatus on the boat. For instance, if you're responsible for pulling in nets or fishing lines, you'll need to protect yourself from the wet ropes or nylon that could cause lacerations in your hands if they suddenly slip.
Available exclusively from Superior Glove®, the waterproof Sure Knit™ S13SXBHZ industrial work safety glove was engineered for fisheries and food processing where high cut hazards are present and dry hands are preferred.
MULTI ANSI SAFETY RATINGS
Handle fishing nets, ropes and lines, fishing hooks, filet and boning knives and slippery fish with ease and confidence. The waterproof TenActiv™ 13-gauge seamless knitted shell provides wearers with 360® ANSI A6 cut protection, ANSI Level 4 abrasion resistance along with ANSI Level 4 puncture resistance.
FDA approved for food contact, the Sure Knit S13SXBHZ work glove is treated with an active agent to provide protection from bacterial growth as well as Size-Lock™ to prevent shrinkage when laundered.
Available in sizes 6 (XS) through size 12 (3XL) in left-handed (S13SXBHZLH) and right-handed (S13SXBHZRH) versions, this innovative glove is also highly recommended for blade handling, canning, meat processing, vegetable processing and pharmaceutical manufacturing.
These Sure Knit gloves protect fisheries that protect the environment, rebuild depleted fish stocks, and advance opportunities for fishing communities worldwide. Prevention is just a click away. All you need to do is tap the link and
Orders. Questions. Samples. Volume Discounts.
Monday - Friday 8:30am - 4:30pm EST
Free Shipping on Orders $499
Toll-Free +800-274-4637 | +716-668-4001 | [email protected]
'We Want You to Return Home Safely Every Day'