These

Chemstop™ Gloves

Can

Help Stop Food Processing Injuries
ANSI Rated Hand Protection for Industrial Cuts, Chemicals, Punctures, Impacts & Snags!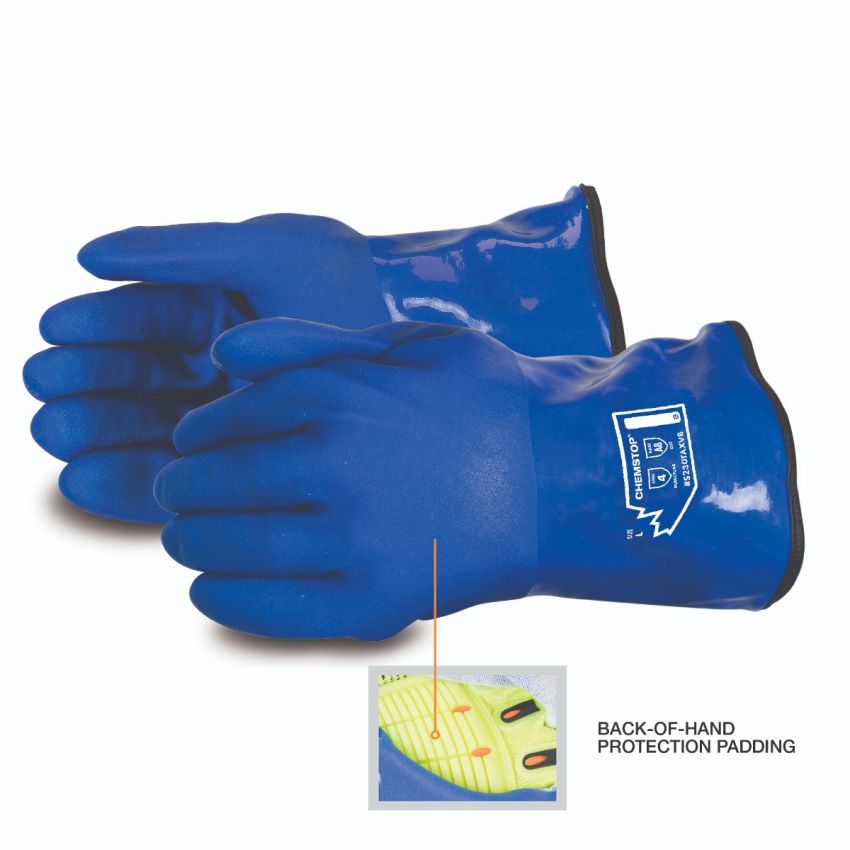 Fish and seafood processing and packaging is a valued industry in America. Without the processing sector, many Americans wouldn't have access to the seafood products they regularly enjoy such as salmon, lobster, halibut, tuna, shrimp, clams, crab, herring and oysters.
Highly perishable, processing is necessary to keep fish and shellfish fresh long enough to reach the shelves in grocery chains, restaurants and homes. Fish and seafood processing and preparation involves very intensive, highly skilled manual labor. Once harvested, it must undergo several steps before it's ready to be sold in the market for delivery to consumers. The process includes scaling, de-heading, fin-removal, gutting, slicing, filleting and packaging of the product. These processes require the use of powerful cutting devices and very sharp knives. It also involves pans full of ice!
2019 ISHN Award Winner
In order to manually process fish and seafood items efficiently and safely, specialized hand protection becomes vital to personal safety, comfort and productivity. These award winning S230TAXVB Chemstop™ Anti-Impact PVC-Coated Gloves are fast becoming popular among processing plants!
PERFORMANCE & COMFORT FEATURES
Engineered by Superior Glove®, the revolutionary design of the S230TAXVB Chemstop™ Anti-Impact PVC-Coated Gloves eliminate snag hazards by constructing back-of-hand protection seamlessly into the gloves or under the outer PVC layer. You won't see it, you won't feel it, but when you need it, back-of hand impact protection that meets the newest ANSI ISEA 138 Impact Standard (Level 2) is always there to safeguard your operators against moderate knocks and bumps without impeding flexibility or dexterity.
Other features of this Chemstop™ PVC-Coated Protection Glove include a texturized palm and fingers that improve grip in wet and oily conditions. Fully washable, an ergonomically designed seamless 13-gauge TenActiv™ blended liner provides ANSI Cut Level A8 rated protection and ANSI Level 4 puncture resistance. The 12-inch waterproof PVC coated shell remains flexible in frigid temperatures and resists a wide variety of chemicals and solvents. The gauntlet cuff style provides added coverage along the wrist and forearm region.
IDEAL FOR:
Mining

Commercial Fishing

Fish and Seafood Processing

Meat and Poultry Processing

Oil and Gas

Oil Refineries

Petrochemical

Sheet Metal
SAFETY RATINGS:
ASTM ANSI Puncture Resistance Level 4

ANSI/ISEA 138 Impact Resistant Level 2

ASTM ANSI Cut Level A8
Wearing an award winning work glove should be an easy sell to your Safety Director and crew! These Chemstop™ PVC-Coated Gloves are truly innovative and provides hand protection you can rely on. Now all you have to do is tap the link and ...
Orders. Questions. Samples. Volume Discounts.
Monday - Friday 8:30am - 4:30pm EST
Free Shipping on Orders $499
Toll-Free +800-274-4637 | +716-668-4001 |

[email protected]
'We Want You to Return Home Safely Every Day'