Stop Snags with These Award Winning Chemstop™ PVC-Coated Gloves
ANSI Rated Hand Protection for Industrial Cuts, Chemicals, Punctures, Impacts &
Snags!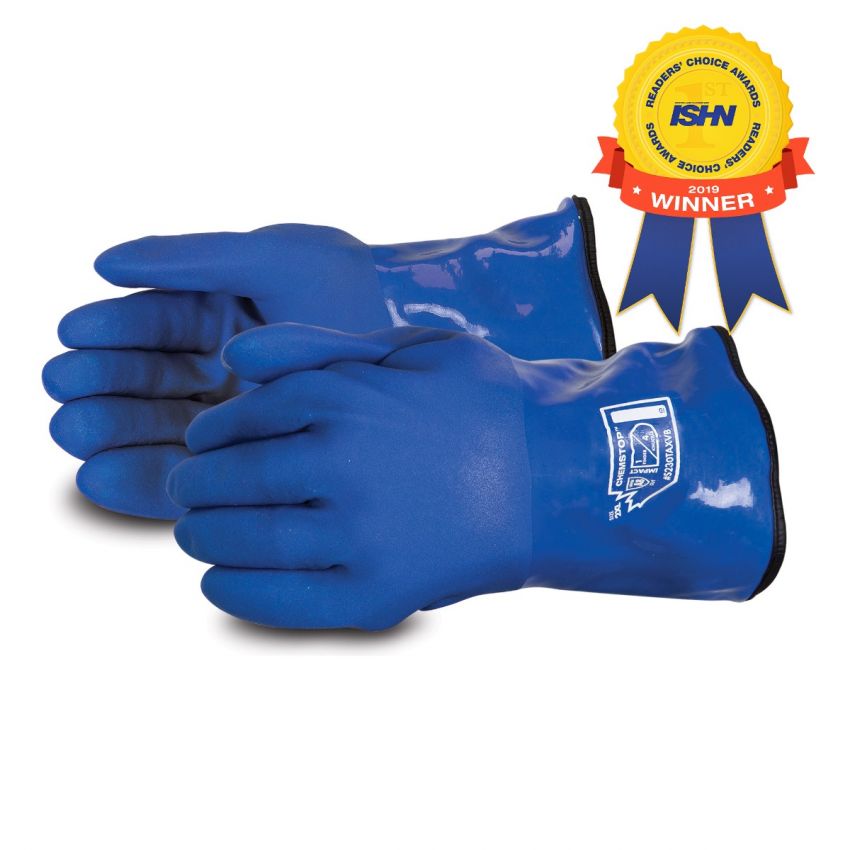 If you work in the mining, petrochemical, oil refinery or in the oil and gas industry, you'll agree that there is little tolerance for mistakes or accidents. The last thing any operator needs to fret over is whether or not their industrial work gloves will tolerate the working conditions, especially if multiple hazards exist.
One slip, one rip, one cut or one puncture can mean the difference between returning home safely versus a trip to the emergency room.
Cuts, chemical burns and punctures aren't the only types of hand injuries. Sprains, fractures, and breaks resulting from objects dropping, and equipment crushing bones and skin are also of great concern. Very often, impact resistant hand protection is implemented.
Anti-impact work gloves have some type of thermoplastic rubber (TPR) protectors attached to the back side of the glove to guard the knuckles and bones against impact related injuries. Unfortunately, TPR protectors have a raised profile and are prone to snagging.
It is not uncommon for tank personnel to reach into recessed areas to clean. As they attempt to back out their hands, their gloves can become lodged forcing them to slide out or drop their glove. Snag hazards not only slow you down, but they can be very dangerous and leave you vulnerable to impact hazards.
Shop Now
MULTI-DIMENSIONAL WORK GLOVES
Not all tasks are created equal and neither is hand protection. If you are searching for an industrial work safety glove that protects against virtually every occupational hand hazard, then look no further.
Superior Glove® boasts a whole bunch of industrial safety & hand protection awards and it isn't by fluke. Now you can add their S230TAXVB ChemStop™ Impact-Resistant PVC-Coated Gloves to their portfolio! These 2019 ISHN Award Winning Chemstop™ PVC-Coated Gloves are loaded with safety and comfort features.
The revolutionary design of the S230TAXVB eliminates snag hazards by constructing back-of-hand protection seamlessly into the gloves or under the outer PVC layer. You won't see it, you won't feel it, but when you need it, back-of hand impact protection is always there to safeguard against moderate knocks and bumps without impeding flexibility or dexterity
PERFORMANCE & COMFORT FEATURES
Other features of this Chemstop™ Cut, Puncture and Impact-Resistant PVC-Coated Chemical Protection Glove include a texturized palm and fingers that improve grip in wet and oily conditions. An ergonomically designed seamless 13-gauge TenActiv™ blended liner provides ANSI Cut Level A8 rated protection and ANSI Level 4 puncture resistance. The 12-inch waterproof PVC coated shell remains flexible in frigid temperatures and resists a wide variety of chemicals and solvents. The gauntlet cuff style provides added coverage along the wrist and forearm region. The S230TAXVB Chemstop™ Gloves meet the ANSI ISEA 138 Impact Standard (Level 2).
Wearing an award winning work glove should be an easy sell to your Safety Director and crew! These Chemstop™ PVC-Coated Gloves are truly innovative and provides hand protection you can rely on... Now all you have to do is tap the link and try these today...
Monday - Friday 8:30am - 4:30pm EST
Free Shipping on Orders $499
Toll-Free +800-274-4637 | +716-668-4001 | [email protected]
'We Want You to Go Home Safely Everyday'