Stop Spooling Your Fingertips!
Innovative Industrial Leather Driver Gloves Prevent Pinch Point Injuries During Spool Change-Outs
The manufacturing processes of automobile tires are highly automated and are more complex to design and build than one might think. There are many different parts that go into the making of a tire and they all play an important role in making sure our vehicles perform at its best and keeps us safe.
Many tires are custom-designed to meet the stresses and performance needs specified by the maker of a particular model vehicle. To keep tires in shape and to enhance durability, steel tire cords are used as reinforcing materials. Steel cord is made of high-grade steel and it is a popular core among passenger cars featuring radial tires, but if you're an operator in charge of changing spools of steel cord, you most likely have a different opinion of it!
Reloading new spools of steel cord can cause crushing and impact related hand injuries, particularly to the fingertips. Recognizing this, the engineers at the Superior Glove® company have created an innovative hand protection solution to offset the severity of these injuries. Wearing (the right) work gloves can significantly reduce your chance of injury and new impact safety standards such as ANSI/ISEA 138 are ensuring more and better protection for sensitive areas like fingers.
What about the fingertips? Without a doubt, the most sensitive area of your hands, yet there exists very little in the way of protection specifically for fingertips…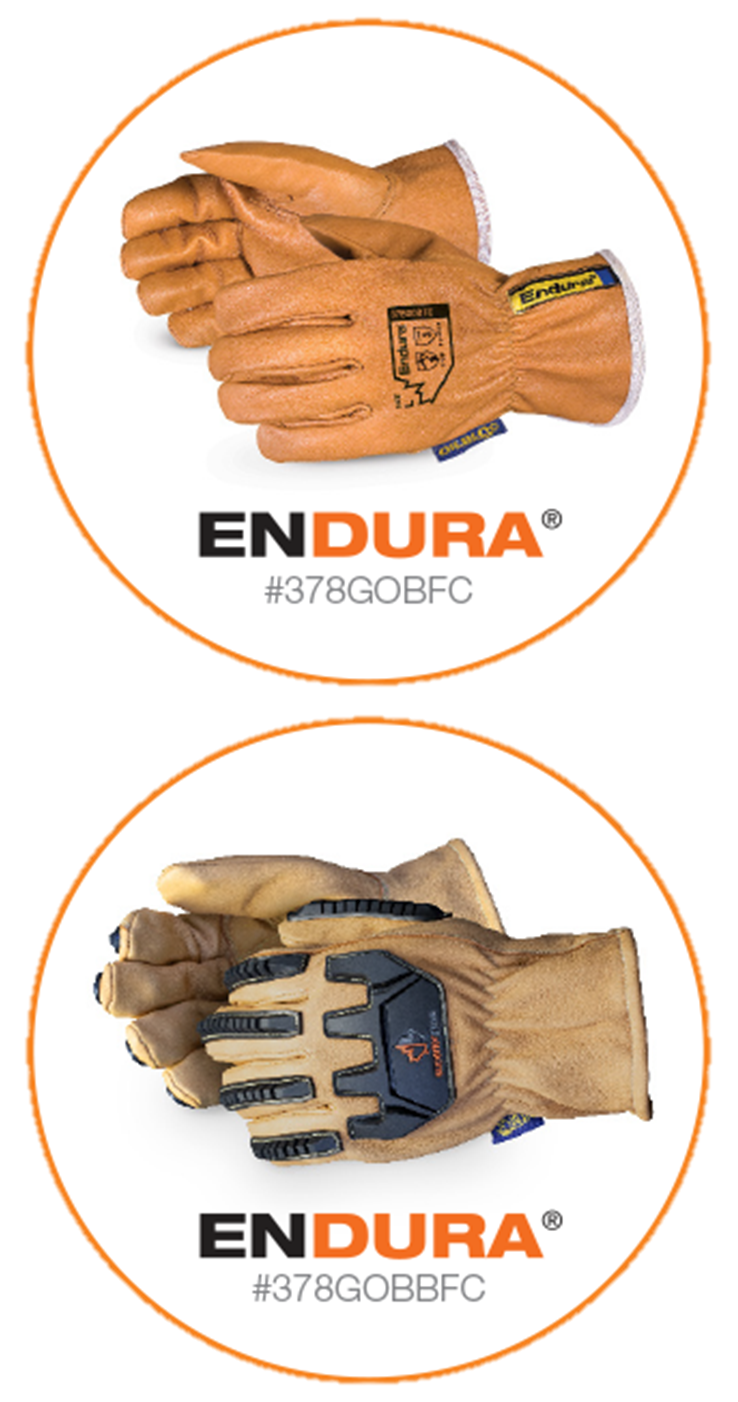 that is, until now!
INTRODUCING PINCHGUARD: CRUSH PROTECTION FOR THE FINGERTIPS
Years of research plus many more years of field trials have cumulated into PinchGuard technology, the first work gloves in North America designed specifically with fingertip protection built right into your work safety gloves. Much like steel-toed boots and hard hats, PinchGuard is a protective shield that wraps around your fingertips to absorb the force from impacts, crushes and pinches making it ideal for spooling, oil and gas, auto manufacturing, mining, cereal manufacturing, construction, plastic cup manufacturing, brick layers and more!
MEET THE PINCHGUARD FAMILY
From the hot selling Endura® brand gloves, these styles feature crush-resistant Finger Caps and are constructed using abrasion-resistant goatskin leather treated with Oilbloc™ which prevents fluids such as water and oil from saturating into the hide making it ideal when working with machinery.
Classic-Style
The classic-style 378GOBFC Endura® Oilbloc™ Driver Gloves are perfect for general use not requiring back of hand impact-resistance. They feature a sweat-wicking liner and provide all-day comfort. These Endura® Driver Gloves are durable enough for the demands of even the toughest job sites.
Elevated Safety
The +378GOBBFC Endura® Oilbloc™ Anti-Impact Driver Gloves are for those needing that extra impact-resistance. These hand protectors offer all the benefits of the 378GOBFC Endura® Driver Gloves with the addition of back-of-hand protection offering ANSI/ISEA 138 Impact Level 2 protection as well as ANSI Level A4 cut resistance and ANSI Level 3 puncture resistance. These gloves also feature padded palm inserts for minor vibration dampening when working with power tools.
Whether you're handling heavy objects like concrete blocks, spooling, working around pipes and chains that may fall, or working with mechanical equipment, your fingertips are at risk to be pinched or crushed. From the construction site to the oil rig to the mine shaft – workers everywhere are putting their hands – and fingertips – on the line.
Crush and pinch injuries can impact more than your ability to work and aren't something you need to accept as "part of the job" – you can protect yourself. With Superior Glove's new PinchGuard technology, you can work confidently knowing your fingertips are protected. Say 'Goodbye' to fingertip injuries and 'Hello' to PinchGuard. Try PinchGuard for yourself today!
Monday - Friday 8:30am - 4:30pm East Coast Time
Orders. Questions. Samples. Volume Discounts.
+(800) 274-4637 | +(716)668-4001 | [email protected]
"We Want You to Return Home Safely Everyday™"