Protect Your Hands & Knuckles with Impact-Resistant Industrial Work Gloves
Does Your Impact-Resistant Work Glove Meet the New ANSI/ISEA 138 Standard?
Injuries on the job are common, and the kind of work gloves needed to protect workers are highly specific. Crushing, pinching, and cut and puncture hazards make up most of the serious injuries sustained by workers. Those who work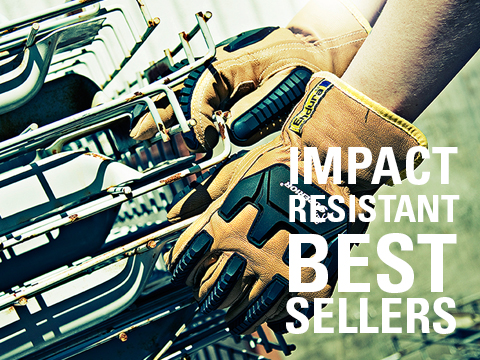 in industries where knuckle knocks and bruising can happen - such as demolition, construction, automotive, landscaping or oil/gas drilling - will highly benefit from the type of hand protection that these gloves offer. But with all the different options available, it can be a bit overwhelming to correctly choose a safety glove.
The safety and productivity of workers and the company's wallet are all counting on the right hand protection, so it is extremely important that you put in enough research before making your decision. Luckily, Superior® Glove has you covered. Their vast collection of industrial work gloves has a perfect fit for nearly every job imaginable.
Superior's® line of Impact Resistant or Anti-Impact Work Gloves are among their top sellers. These industrial work safety gloves feature flexible Thermoplastic Rubber protectors (TPR) that are sewn or welded along the digits and knuckles to diffuse and transfer impact energy. Impact-resistant work gloves provide the ultimate hand protection, while still allowing workers to complete job tasks with dexterity and quickness.
You can find great gloves at great prices in any of Superior's® categories, but what if you need a glove that has multiple of these features? One thing that sets Superior® Glove apart from its competitors is that almost all of their gloves are multi-purpose-they perform many different functions and are an entirely one stop shop. And, Superior Glove is crazy about quality control - Click here to read about our plant tour.
The gloves are available in these styles:
1. Leather : Endura® Goatskin Drivers Gloves
2. Mechanics : Clutch Gear® Mechanic's Oilfield Gloves
3. Cotton/String Knit : Dexterity® Seamless Knit Gloves

Many of their gloves also have one or more of these features, in addition to being impact resistant:
---
Best-Selling Impact-Resistant Gloves
Endura® Oilbloc™ Drivers Glove (PDF

)

is a fantastic choice for those working in the oil and gas industries. This drivers-style, goat-grain leather glove is fully lined with a blend of Kevlar® and composite filament fiber, offering ASTM cut-level 4 protection as well as ASTM level 4 Puncture Resistance. The back of hand and fingers feature impact protection that is also comfortably flexible and supremely durable. The gloves are treated with

Oilbloc™

technology so it is a top-choice for oil and gas use.

< +buy or request a sample!>

Tenactiv™ Hi-Viz Gloves (PDF)

are another must have. This glove's Black Micropore Grip design utilizes the latest developments in 'micropore' technology - these pores displace oils and liquids when pressed against smooth surfaces, and create a kind of suction that further increases grip. Its hi-viz composite seamless-knit shell provides wearer with unsurpassed comfort and dexterity, while thermo plastic rubber (TPR) backing helps reduce back-of-hand injuries. Overall, great comfort, dexterity and grip, and perfect choice for work around sharp or jagged metal or handling oily parts.

<+buy or request a sample!>

Dexterity® String-Knit Glove (PDF) is one of Superior Glove's® most popular gloves. Its cut-resistant 13-gauge knit shell is rated ASTM level-4 in cut protection, enduring 2110 grams of cut force during testing, and is ergonomically-designed with a curved hand and finger shape for unsurpassed comfort and dexterity. The glove features a thermo plastic rubber (TPR) backing to reduce back-of-hand injuries and offers impact protection. The nitrile palm coating adds puncture resistance, abrasion resistance and a good grip in wet or oily conditions.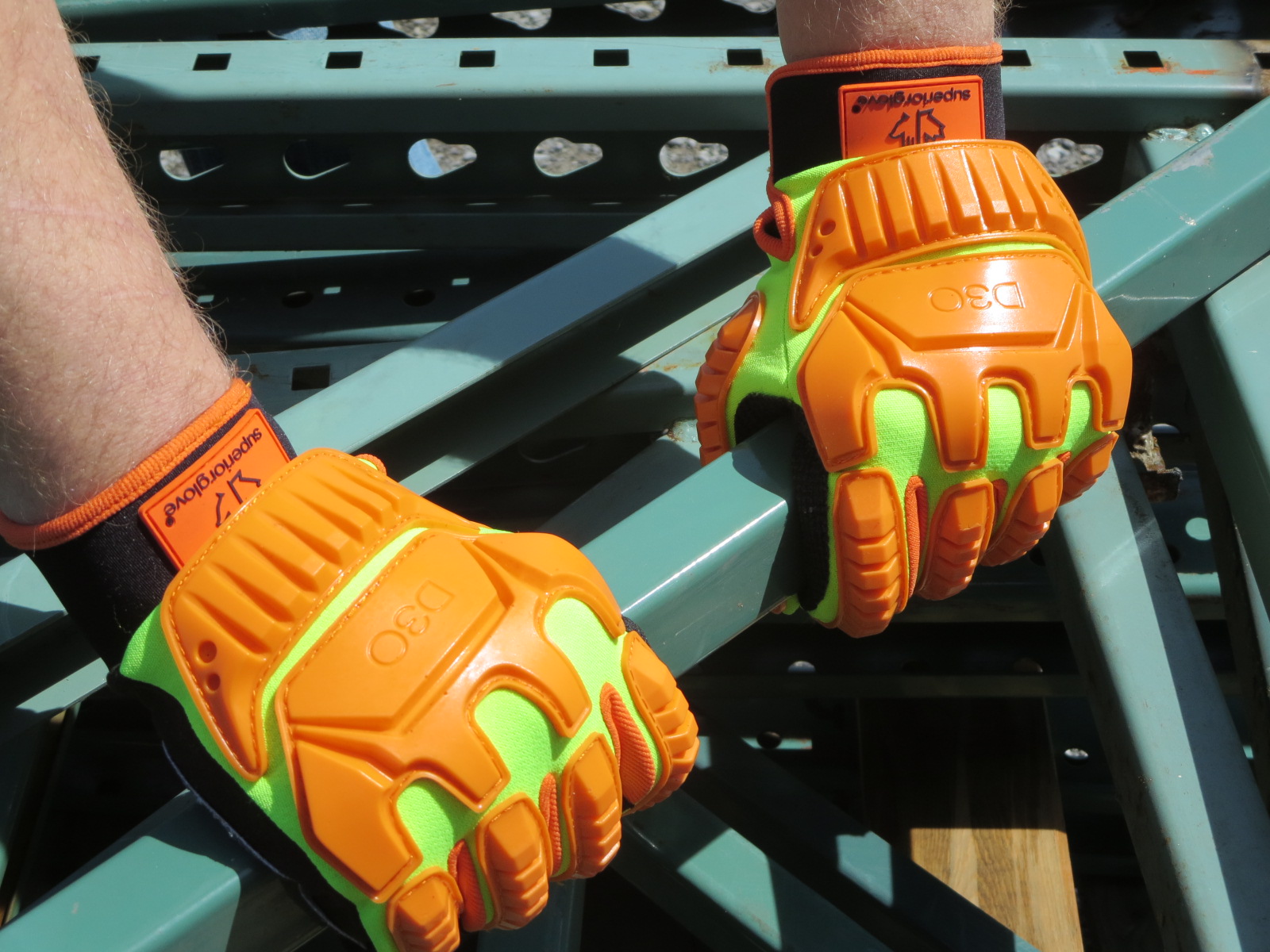 Available are two NEW impact style gloves made with D3o® bright orange knuckle guards. D3o is an elastomer that's so advanced that when compared to the competition, it offers an amazing 54% improvement in Protection Value at 10 Joules impact. Its' designed to absorb impact energy and transfer it away from the 27 bones located throughout your hand to prevent bruising and crushed bones ...and boy it is effective! View Superior Glove® D3o® anti-impact work safety gloves on-line here.
A new trend in workplace safety is the Industrial Camo Field Glove. Even though it is camo for the outdoors, workers enjoy the look indoors too, adding a personal touch to their work day.
---
Have you heard the news? A new hand protection standard has arrived!
In case you haven't heard, the American National Standard for Performance and Classification for Impact-Resistant Work Gloves (ANSI/ISEA 138-2019) was officially released. You can learn more about this standard here.