SUFFERING

FROM

GLOVE DISPOSAL GUILT?
We Can't Change Earth's Past, But We Can Change Its Future
---
Single-use gloves are critical contamination control PPE (Personal Protection Equipment) in many lines of work. An estimated 100 billion pairs of disposable gloves are tossed in the garbage each year resulting in piles of hand protection in landfill.
While we appreciate the protection they provide, it can feel very wasteful disposing several pair per day, or tossing after very short uses. This "Glove Guilt" is actually founded in science; disposable gloves can take up to 100 years to break down, greatly contributing to landfill.
Many workplaces, especially labs and medical facilities, struggle with the disposal of hard to recycle glov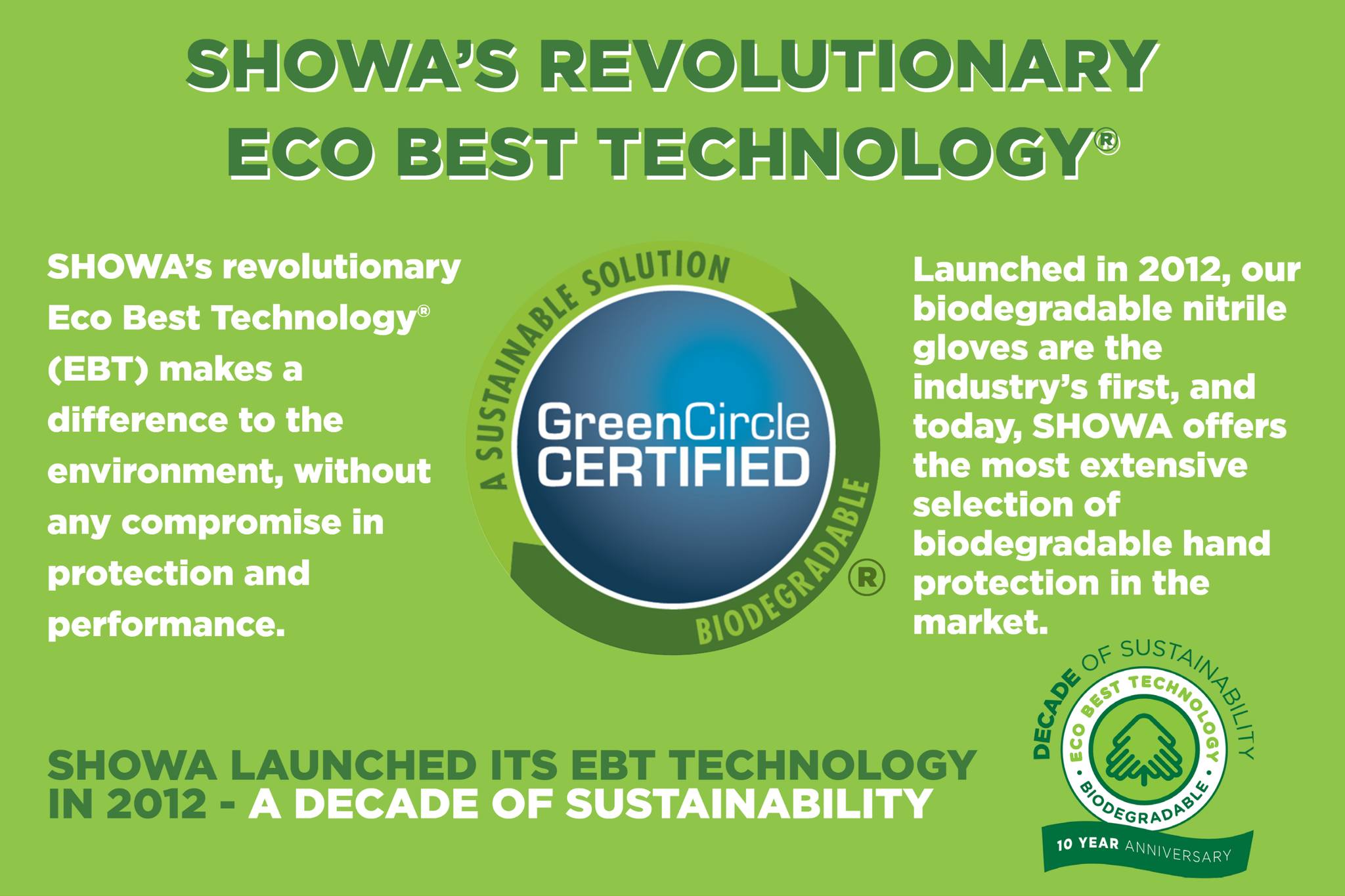 es as part of their Corporate Social Responsibility environmental sustainability initiatives. What if there was a better way? What if there was a biodegradable line of disposable gloves made with special additives that begins to break down in just a few months in landfill?
If you wear disposable gloves and feel guilty every time you toss yours into the garbage, then you need to consider our GreenCircle® Certified biodegradable single-use hand protection products featuring Eco Best Technology®.
Eliminate the "Glove Guilt" associated with glove disposal! Our latex-free gloves with EBT offer the same protection, performance and grip as their regular glove counterparts, but are better for the planet! EBT offers the solution that makes a difference to the environment, without any compromise on protection and performance for the user.
SHOWA® THE ORIGINAL INVENTOR OF NITRILE GLOVES
Taking the next step in sustainability, SHOWA® brand of single-use nitrile gloves have achieved the GreenCircle® certification for single-use gloves that meet all the necessary qualifications to be certified for biodegradable claims. The ASTM D5526 certification demonstrated that SHOWA® EBT gloves achieved 82% biodegradation in only 386 days, while gloves without EBT achieved only 1.9% biodegradation over the same period of time.
SHOWA® biodegradable gloves are manufactured with a unique low-modulus formulation that utilizes hand heat to soften the compound so that it molds to the hand and fingers as it is worn. Many SHOWA® EBT Gloves also comply with Federal regulations for food contact 21CFR, 177.2600.
100% nitrile to avoid latex allergy risks whatever the user's task may be

Chlorination for more comfort, grip and increased chemical resistance

Silicone free for safer skin

Powder free to avoid workplace contamination

Low modulus: molds to your hand for greater fit

Accelerator-free version for sensitive skin

Chemical resistance

Heavy exposure chemical permeation testing

Inspection and quality control requirements AQL 0.65 to 1.5

FDA food compliant

Biodegradable Eco-Best Technology (EBT)
+SHOWA® 6110PF: This green biodegradable 4-mil single-use nitrile glove delivers unmatched comfort, dexterity and performance across a range of applications. Approved for food handling and contact, the SHOWA® 6110PF protects against abrasive solvents while avoiding type I latex allergies.
+SHOWA® 6112PF: This black biodegradable 4-mil single-use nitrile glove fits like a second skin, for lasting comfort and dexterity while performing delicate tasks. FDA Approved for food handling and contact, the SHOWA® 6112PF is certified to resist fatal toxins.
+SHOWA® 7500PF: The blue biodegradable 4-mil single-use nitrile gloves are designed for all applications that frequently require changes in hand protection, thus creating the most waste. FDA Approved for food handling and contact, the SHOWA® 7500PF leaves no silicone trace contamination.
+SHOWA® 7502PF: With its accelerator-free formulation, this blue biodegradable 2.5 mil single-use nitrile glove protects even the most sensitive skin. The SHOWA® 7500PF is extremely lightweight, durable, tactile yet effectively protects against chemicals and skin irritation such as contact dermatitis. FDA Approved for food handling and contact.
AMERICAN MADE | TAA COMPLIANT
Protect Amercians with American-made single-use nitrile gloves made and 100% sourced in Alabama USA.
+SHOWA 7005PF: These TAA compliant biodegradable blue 4-mil latex-free gloves are the first ever domestically made sustainable glove! FDA Approved for food handling and contact
+SHOWA M7005PF: These TAA compliant biodegradable blue 4-mil latex-free gloves are the first ever domestically made sustainable FDA Class 1 medical examination glove! FDA Approved hand protection for patient exams, bodily fluids, pathogens and more.
+SHOWA 8005PF: These TAA complainat biodegradable heavy-duty blue 8-mil latex-free gloves provide increased barrier protection and strength against abrasion. FDA Approved for food handling and contact.
Lose the negative emotions associated with glove waste. The future of disposable hand protection has arrived! Choose SHOWA® biodegradable gloves featuring Eco-Best Technology® to be more eco-friendly and reduce the amount of waste sent to landfill. Your customers will be impressed by your sense of sustainability and your competitors will be green with envy.
What are waiting for? Make a positive impact on the environment without sacrificing protection or performance. All you need to do now is....
SHOWA® is synonymous with the highest degree of hand protection and innovation
Questions. Samples. Special Requests. Volume Discounts.
Call or Click Today
Toll-Free +800-274-4637 | +716-668-4001 | [email protected]
Monday - Friday 8:30am - 4:30pm EST
"We Want You to Return Home Safely Every Day™