WORRIED YOU MAY
BREACH

YOUR GLOVE'S PROTECTIVE BARRIER?
These Innovative Single-Use Nitrile Exam Gloves Feature Visual Breach Detection Technology That Allow Wearers To Identify Potential Damage To The Glove's Outer Protective Barrier Layer!
Affordable, lightweight and versatile, single-use nitrile exam gloves are critical to personal safety. They're often worn for its tactile protective barrier and ability to prevent infection, contamination and the cross-contamination of germs and bacteria in a multiple of work environments. If there's an universal fear when wearing these gloves, it's a breach in the protective barrier layer. Exposure from a tear, a puncture or chemical degradation of the protective barrier defeats the main purpose of the glove and put one's health at grave risk!
According to CDC, there were over 81,000 cases of drug overdose in 2020. Half are due to synthetic opioids primarily fentanyl. The Drug Enforcement Administration (DEA) also reported increased exposure of law enforcement encounters testing positive for deadly fentanyl. Is your team properly protected?
Accidents Happen
The trade-off to wearing disposable type gloves is they are prone to tearing and punctures especially when working among rough surfaces, sharp objects or during chaotic events such as EMS, E.R. first response where breaches can sometimes go unnoticed. Also, the breakthrough or hold-out times (the amount of time it takes a chemical to penetrate the protective barrier) vary from glove to glove.
The last thing any emergency medical technician needs is exposure resulting from a breach in their protective glove's barrier layer. A torn, punctured or shredded glove can not only put one's life at risk to infection, it can halt emergency services. This is where Breach Alert™ and Quick Check® visual identification technology can help. This technology provides wearer's with a durable dual-layer construction and contrasting inner color that allow the wearer to identify potential breaches in the protective barrier providing extra durability, safety and confidence.
SW® Sustainable Solutions | Breach Alert™ Detection Technology
Certified To Withstand Toxic Substances. Biodegradable & Moisturizing Technologies.
The white interior lining of this dual layer glove provides an immediate visual detection of any compromise to the barrier layer. + PowerForm® PF-95GW Nitrile Exam Gloves are FDA approved barrier protection for patient exam use, the handling of bodily fluids or pathogens and are proven to resist chemotherapy drugs, dangerous fentanyl and gastric acid for over 4 hours.
In addition, this glove features EnerGel® moisturizing technology that soothes the skin as the glove is worn leaving no residue. EnerGel® technology is designed to rejuvenate the hands, provide better hand hygiene and promote long-term hand health making it ideal for wearers with irritated, dry or cracked hands,
Lastly, this glove is fully biodegradable. Better for the plant, EcoTek® technology is a GreenCircle® Certified proprietary SW® nitrile formula that is making a difference and positive impact on the environment. This special additive enables nitrile gloves to break down (or biodegrade) in landfills over a much shorter time than untreated gloves breaking down by 92.6% in only 2.5 years under test method ASTM D5526-12 and without any glove performance loss!
+PF-95GW PowerForm® Biodegradable EcoTek® EnerGel® Moisturizing Nitrile Exam Gloves (tap to shop here)
Amazing Gripping Power. Extended Wrist Coverage.
Work with confidence in rugged, wet and oily environments with +PF-11GY PowerForm® Nitrile Gloves with TracTek® Textured Grip and Breach Alert™ protection. The 11-inch extended cuff provides added splash protection while the yellow interior of this dual layer glove provides an immediate sign of any puncture or compromise. In addition, TracTek® Grip technology is engineered to maximize surface contact and channel away liquids providing enhanced grip. These PF-11GY PowerForm® Latex-Free Gloves are FDA approved barrier protection for patient exam use, the handling of bodily fluids or pathogens.
Halyard® Health | Black-Fire® Quick Check® Detection Technology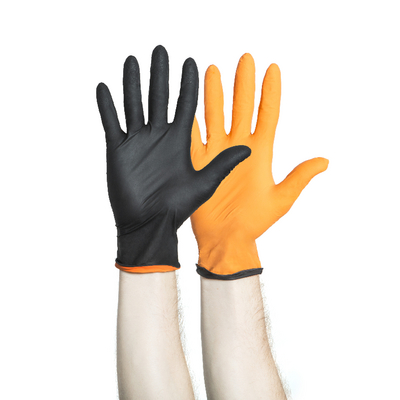 Certified To Withstand Toxic Substances.
Reversible Orange/Black Colors.
Now emergency personnel and law enforcement can use one latex-free glove for the job saving time, storage and increased protection against dangerous fentanyl, pathogens and bodily fluids.T hese reversible +Black-Fire® Nitrile Exam Gloves from Halyard® Health were originally designed for emergency response situations and offer flexibility and protection when treating traumatic accidents. Innovative Quick Check® offers the ability to detect a dangerous barrier breach in the glove surface such as a cut, rip or tear. and allows the wearer to select from either a black color or turn it inside out for a high-visibility orange that's ideal when directing traffic or working in low-visibility situations.
Patented BLACK-FIRE® Powder-Free Nitrile Exam Gloves are latex-free and at 5.5-mil thickness, they're designed to handle the hazards many First Responders face – including exposure to bloodborne pathogens and dangerous drugs like fentanyl yet thin enough to feel veins to start an I.V.
MORE CONFIDENCE, FOCUS & PROTECTION.
Work with more confidence. SW® Sustainable Solutions and O&M Halyard® brands of Nitrile Exam Gloves with breach detection protect you when working with patients, patting down detainees or treating overdose patients — it can even alert you when there's a dangerous rip or tear putting you at risk to infection. Perfect for first responders, tattoo, mechanics, nail technicians, lab researchers, crime laboratories, special operations, decontamination, EMS, corrections and more. And because the opposite color is revealed when removed, it can help reduce the risk of cross contamination and infection.
Breach detection is just a click away. All you need to do is tap the link below to shop now.
Monday - Friday 8:30am - 4:30pm Eastern Time
Orders. Questions. Samples. Volume Discounts.
+(800) 274-4637 | +(716) 668-4001 |

[email protected]
""We Want You to Return Home Safely Every Day"