Prevent Acetone Exposure

with

EcoTek

®

Gloves

Featuring

Breach Alert

™
These Sustainable Single-Use EcoTek® PowerForm® Nitrile Exam Gloves Feature Visual Breach Detection Technology That Allow Wearers To Identify Potential Damage To The Glove's Outer Protective Barrier Layer!
If your establishment offers a variety of cosmetic treatments or services for men and women that include professional manicures, pedicures and nail enhancement then you most likely use some type of professional nail polish remover such as acetone. Acetone-based removers are faster at removing nail polish, nail glue, glitter polish, artificial nails and are critical for removing gels or acrylics with ease saving professional nail technicians time and energy. But exposure to acetone has a downside as technicians can suffer damage to the nails, cuticles and the skin.
Acetone is a volatile, flammable and colorless liquid that is miscible with water. When acetone gets on the skin, it can cause it to become red, flaky dry, inflamed and cracked. Long-term exposure can lead to a condition such as dermatitis. It also causes nail dryness or brittleness. To offset long-term exposure damage, many nail technicians will opt to wear thin disposable nitrile gloves for barrier protection and the ability to perform delicate, precise tasks. However, nitrile material used for gloves will eventually degrade in the presence of acetone.
Breach Alert™ Technology Signals That It's Time to Change The Gloves Being Worn!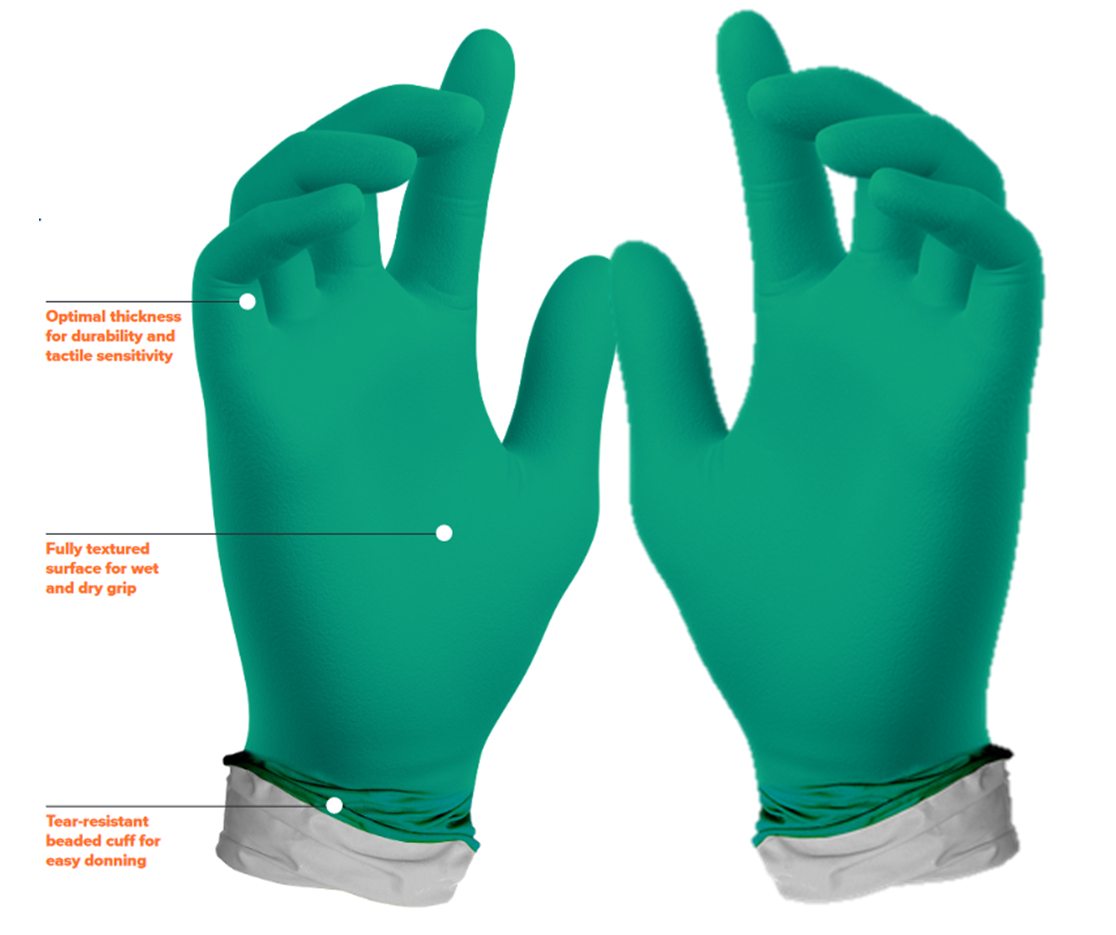 Made for those environments where, if there is a glove breach, you need to know now, these SW® Sustainable Solutions PF-95GW PowerForm® Disposable Nitrile Exam Gloves feature Breach Alert™ Visual Detection Technology. Breach Alert™ provides a durable 2-layer construction with a contrasting inner white color that allows the wearer to immediately identify potential punctures or tearing that compromises the outer protective barrier providing the wearer with extra durability, safety and confidence.
EnerGel® Moisturizing Technology Supports Healthy Skin
Prevention is crucial for healthy skin and consistent daily moisturizing helps protect the skin and fights dry, brittle skin but a daily regiment can sometimes be difficult to upkeep when wearing gloves all-day. These PowerForm® Single-Use Latex-Free Gloves also feature innovative EnerGel® moisturizing technology that's designed to hydrate and rejuvenate the hands for long-term hand health benefits with no residue.
EcoTek® Accelerated Biodegradation Is Better For the Planet
As an added bonus, these disposable gloves are GreenCircle® Certified biodegradable. Made with EcoTek® sustainable technology that features special additives that accelerates the glove's ability to breakdown in landfill making them a healthier solution for the planet without sacrificing performance, texture or protection for the wearer!
PF-95GW PowerForm® Disposable Nitrile Exam Glove Features and Benefits:
EnerGel® Hand Conditioning Technology hydrates and soothes skin

EcoTek® Biodegradability Technology accelerates landfill breakdown without any performance loss

Breach Alert™ Visual Detection Technology provides durable 2-ply construction and contrasting inner color

Tested for use with chemotherapy drugs

Proven resistance to fentanyl and gastric acid for over 4 hours to replicate hazardous settings and overdose conditions

Fully textured for secure grip wet or dry

Silicone-free for critical environments

1.5 AQL
These Nitrile Exam Gloves with Breach Alert™ offers professionals the ability to detect a barrier breach in the glove surface such as a cut, rip or tear making these perfect for nail salons, nail bars, specialty beauty salon establishments as well as EMS, law enforcement, chemical handling, pharma, hydroponics, agriculture and labs. But don't take out word for it, just tap the link and ...
Monday - Friday 8:30am - 4:30pm Eastern Standard Time
Click or Call
Orders. Questions. Samples. Volume Discounts.
+(800) 274-4637 | +(716) 668-4001 |

[email protected]
""We Want You to Return Home Safely Every Day"