WEAR IT. TRASH IT. FORGET IT.
EcoTek

®

Technology

Revolutionizes Single-Use Nitrile Exam Gloves!
BIODEGRADABLE IN LANDFILL & BETTER FOR THE PLANET
Versatile, tactile and affordable, single-use gloves are worn practically everywhere nowadays. The most popular single-use gloves being used today are latex-free nitrile examination gloves. Mass consumed in healthcare, food processing, laboratory, law enforcement, tattoo, spas/salons and dentistry, they are worn and changed out several times a day.
Disposable gloves provide important barrier protection against infection, contamination and minimize potential cross-contamination of germs and bacteria. Unfortunately there's a dark side to using single-use gloves.
Worn and disposed several times a day every day, an estimated 180 billion pairs (or 1 million tons) of gloves are tossed in the garbage each year resulting in hand protection waste buried in landfill. Sadly studies have shown it can take 200+ years for nitrile and vinyl gloves to biodegrade and these numbers are expected to increase vastly with a growing, aging population and a looming global pandemic.
SW® Sustainable Solutions (formerly SW® Safety Solutions) specializes in manufacturing, R&D and hand health technologies to provide premium hand protection products that enhance worker performance. SW® brings a different approach to the category. An approach that involves applying industry insight and an investment in manufacturing innovation to find better ways to advance worker safety, improve hand health, sustainability and increase job performance.
We have a better solution for our planet and it's revolutionizing disposable hand protection!
Sustainable Single-Use Nitrile Exam Gloves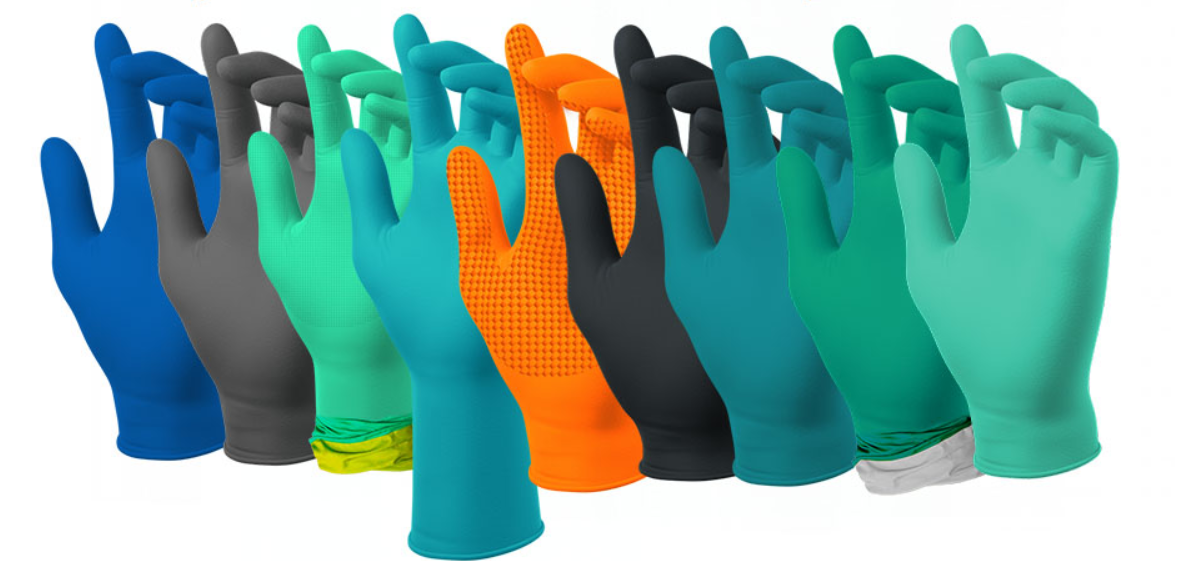 BETTER FOR THE PLANET
EcoTek® is a GreenCircle® Certified proprietary SW® biodegradable nitrile formula that is making a difference and positive impact on the environment. This special additive enables nitrile gloves to break down or biodegrade in landfills over a much shorter time than conventional gloves breaking down by 92.6% in only 2.5 years under test method ASTM D5526-12 and without any glove performance loss!
+Shop Now
Eco-Tek® is featured on these SW® Latex-Free Nitrile Exam Gloves:
+PF-95BL PowerForm® EcoTek® Dry Core® Blue Nitrile Exam Gloves
+PF-95GY PowerForm® Ecotek® Gray Nitrile Exam Gloves w/ DriTek®
+PF-95TL PowerForm® EcoTek® Teal Nitrile Exam Gloves
+PF-90BK PowerForm® EcoTek® Black Nitrile Exam Gloves
+PF-95GW PowerForm® EcoTek® Green Nitrile Exam Gloves w/ EnerGel® & Breach Alert™
+MM-11BK MegaMan® EcoTek® DriTek® Black HD Nitrile Exam Gloves
+PF-95LG PowerForm® EcoTek® Green Nitrile Examination Gloves w/ EnerGel®
+PF-12TL PowerForm® EcoTek® 12-inch Nitrile Exam Gloves w/ Extended Cuffs
+TF-95LG TruForm® EcoTek® EnerGel® Green Nitrile Exam Gloves
+TF-95RB TruForm® EcoTek® Blue Nitrile Exam Gloves
+PF-11GY PowerForm® TracTek® Nitrile Exam Gloves w/ Breach Alert™ (coming soon)
These innovative biodegradable disposable powder-free nitrile gloves deliver unmatched comfort, dexterity, and will perform, fit and feel the same as conventional nitrile type disposable gloves except they're much better for Earth!
The future of disposable hand protection has arrived! If you're seeking single-use nitrile examination gloves, you can make a positive impact on our planet! Now is the time to cover your team, protect our planet and switch to one of these sustainable styles today! What are you waiting for? All you need to do is tap the link and …
Questions. Samples. Special Requests. Volume Discounts.
Call or Click Today
Toll-Free +800-274-4637 | +716-668-4001 | [email protected]
Monday - Friday 8:30am - 4:30pm EST
"We Want You to Return Home Safely Every Day™