Get

the

Beauty
of
Graham Spa Essentials
®
Graham Beauty® is the Premier Provider of Single-Use Spa Essentials® for Spas!
Graham Beauty® is a FDA Registered Facility and ISO 9001: 2015 Certified subsidiary of Little Rapids Corporation located in Green Bay, Wisconsin and is your single source for products that spa professionals trust.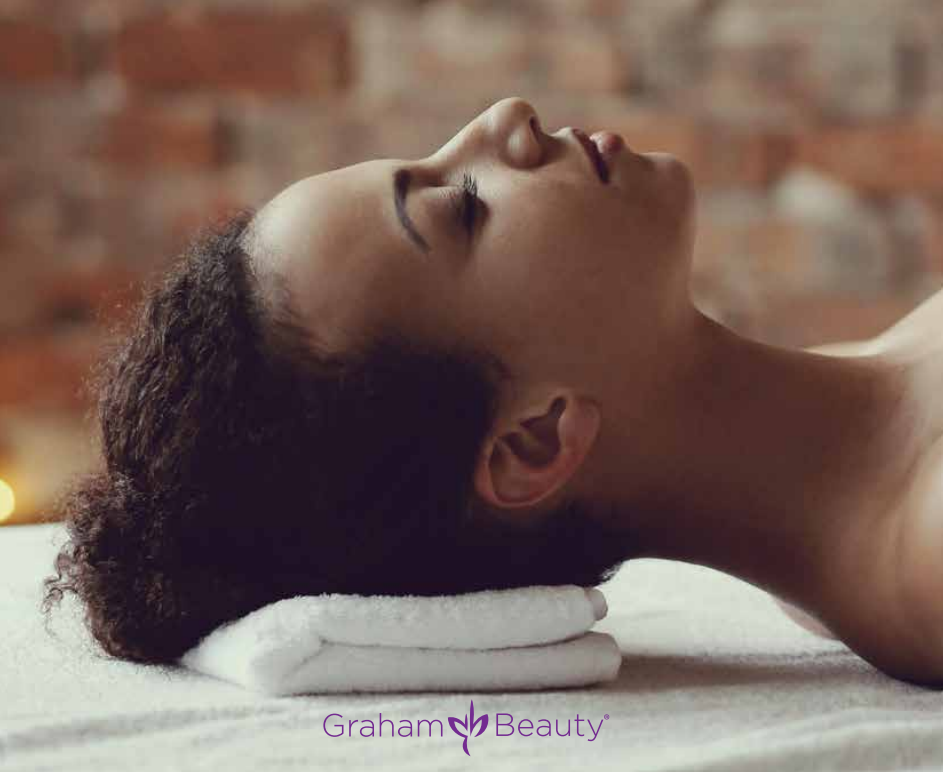 Graham Beauty® is the leading provider of sundry products for salon, spa, nail, and barber professionals.
Now Distributing
Popular is everything from SANEK® neck strips to Barbee® disposable gloves, PST® professional towels to See-Thru™ foil, CelluCotton® beauty coil to TrueWave® end papers and HandsDown® nail products to Spa Essentials® spa products.
Professionally Trusted
With Graham Beauty® in your station, you've got the right tools to save time and money while making clients' look great! Their line of disposable product innovations is designed to make a professional's job easier and give clients a comfortable, enjoyable experience.
If your spa establishment offers a variety of treatments for men and women that include services such as massage therapy, hydrotherapy, facials, manicures, foot therapy and pedicures, body wraps, aromatherapy and acupuncture then you need to consider incorporating these high performing Spa Essentials® from Graham Beauty®.
SPA COTTON WIPERS
Spa Essentials® +cotton rounds and +cotton ovals are made from soft, absorbent spunlace cotton and are perfect for a variety of facial services that include applying and removing beauty products or as eye covers during facial treatments. Spa Essentials® +Lash & Brow Pads will protect the skin during lash and brow tinting.
SPA WAXING
Spa Essentials® +waxing strip rolls, waxing strips and waxing applicators offer a safe and sanitary experience for every type of waxing service. Soft against the skin, the +waxing strips won't separate during use or leave behind messy threads like other wax strips. Made of natural Birchwood, +wax applicators are perfect for applying wax during hair removal services.
SPA HEADBANDS
+Spa Essentials® disposable black headbands keep hair comfortably off clients' faces during spa treatments, and are wide enough to fully cover the ears. A Velcro® closure and latex-free elastic Lycra® material ensures a comfortable and secure fit. +They're also available in white color.
SPA WASHCLOTHS & WIPES
Spa Essentials® washcloths and wipes offer skin care professionals the convenience of disposable with strength and softness that rivals cloth. +Esthetic lint-free 4-in x 4-in wipes are made from a soft, non-woven blend and perfect for a variety of facial services. +SoftCloth™ Disposable Washcloths are perfect for facials, make-up application or removal, and with lotions, creams and facials. SoftCloths are particularly great for removing crystals left behind during microderm treatments.
DISPOSABLE SPA BEDDING
Spa Essential® disposable bedding products, drape sheets and +mylar foil blankets make cleanup fast and easy and keep clients covered and comfortable.
SINGLE-USE SPA GLOVES
Protect your hands from chemicals and sense changes in water temperatures quickly with Graham Beauty's line of disposable gloves. +BARBEE® Beauty Gard® powdered, +BARBEE® SalonFit® and +Spa Essentials® Nitralon® latex-free gloves allow for optimal sensitivity and freedom of movement combined with the strength to handle the most demanding tasks.
Graham Beauty's innovative disposable salon supplies offers the convenience professionals need while creating a comfortable experience for their clients. If you're in the beauty and health services and provide Botox injections, laser hair removal, facial treatments, microdermabrasion, chemical peels, waxing or provide massage, then be sure to use Graham Beauty® Essential Spa Solutions® at yours! All you need to do is tap the link and …
Monday - Friday 8:30am - 4:30pm EST
Toll-Free +800-274-4637 | +716-668-4001 | [email protected]
Call or Click Today Questions. Samples. Special Requests.