Delicate Tasks

Require

Delicate Wipers, Reach

for

Kimtech™ Science Kimwipes

®
Regulated and controlled environments despise contaminates. Kimtech™ Science Kimwipes® are engineered for abrasion sensitive surfaces and delicate tasks. When you need to effectively clean your equipment, materials and work environment from contaminates, Kimtech™ Science Kimwipes® by Kimberly Clark° are an obvious choice.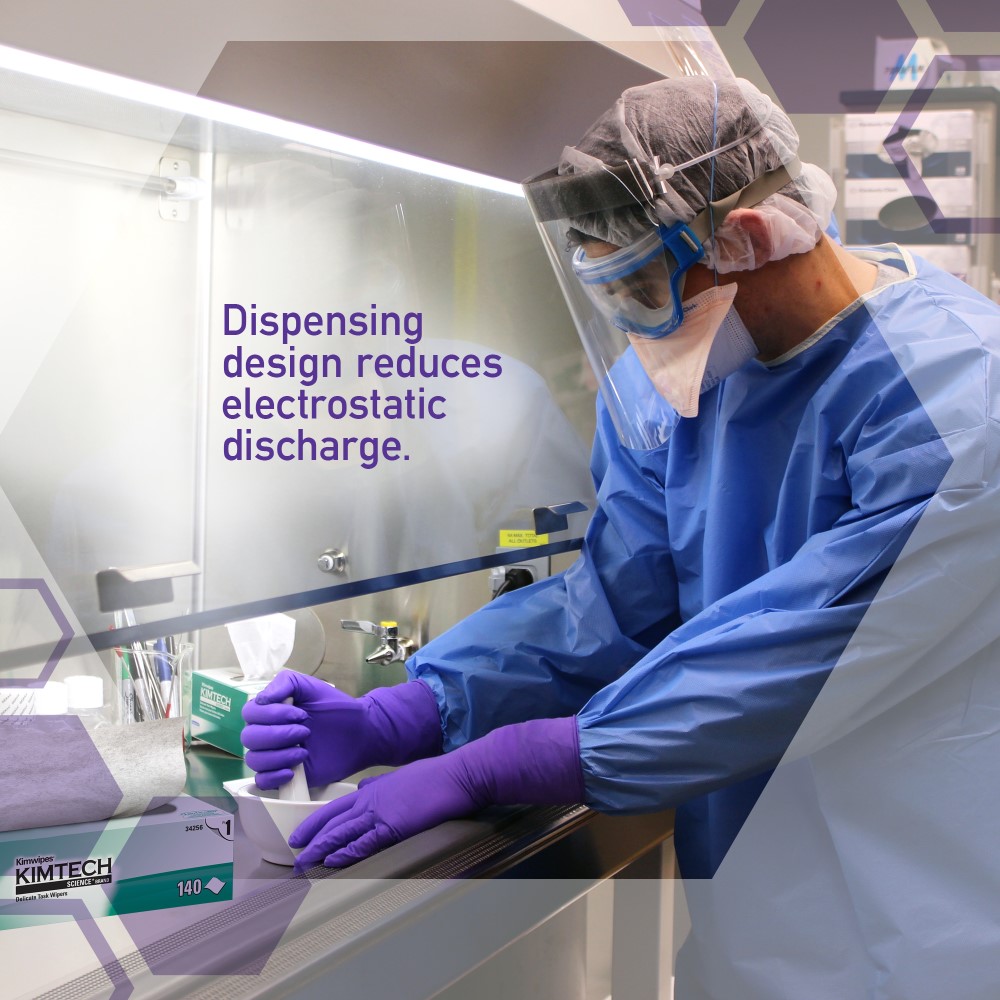 Scientific laboratories can be found as research room and learning spaces in schools, private research facilities, corporate research, universities, industry, government, or military facilities, and even aboard ships and spacecraft. Many of these involve the use of complex laboratory equipment such as glassware, electrical devices, instrumentation, tools and equipment when performing an experiment, taking measurements or gathering data.
Specific and complex, laboratory equipment and supplies are often very delicate and expensive and it's important to protect them against damage from contaminates and abrasion. Having the right products in place for your controlled, regulated or clean room environment can mean the difference between a successful experiment and a contamination nightmare.
TRUSTED
From students to lab professionals, Kimtech™ Science Kimwipes® have been trusted for almost 70 years to ensure the accuracy, stability and longevity of glassware, lenses and instrumentation in controlled or regulated conditions.
These delicate task wipers are specifically engineered to reduce lint and low extractables so you can use them with full confidence without scratching or leaving residue. Composed of 100% pure fiber for softness and purity, Kimwipes® absorb 18% more water 24% faster than a leading competitor, according to an independent study. The white colored wipes are chemically inert allowing use with solvents and chemicals.
ANTI-STATIC
The Kimtech™ Science Wipes are dispensed from a flexible pop-up box that features the waste-reducing, one-at-a-time dispensing that ensures clean and fast dispensing, even when on the move. Suitable for use within laboratories in in manufacturing and healthcare, as well as industry sectors including optical, laser and electronics, the wipes feature low-lint tissue softness making them ideal for delicate cleaning applications. They are also equipped with anti-static poly shield dispensing that reduces lint and electrostatic discharge.
Kimtech™ Science Kimwipes® Delicate Task Tissue Wipers are ideal for polishing lab glassware, cleaning surfaces, microscopes, slides, instrumentation, optical lenses, laboratory tools, computer monitors, electronic equipment, precision parts, eye glasses and medical devices. Use these lab tissue wipers to gently clean liquid, dust, lint and other small particles on glass, metal, plastic, and stainless steel.
When you work in challenging environments with no margin for error, count on Kimtech™ products to protect your critical processes, equipment and supplies. Kimtech™ products are designed for precision tasks and exacting performance suitable for ISO Class 4 or higher laboratory environments. All you need to do is tap the link below and ...
Monday - Friday 8:30am - 4:30pm Eastern Standard Time
Click or Call
Orders. Questions. Samples. Volume Discounts.
+(800) 274-4637 | +(716) 668-4001 |

[email protected]