MEGAComfort® | MEGASole™ Anti-Fatigue Industrial Orthotic Insoles
Recommended for use in Casual and Dress Footwear
If you are searching for an ergonomic solution for active office employees or production operators, then MEGAComfort® MEGASole™ industrial anti-fatigue insoles are the ideal solution. Perfect for busy professionals who share desk duties along with supervisory roles where the job requires individuals to walk or stand often. MEGASoles™ feature a patented dual layered memory foam insole along with MEGAGel™ Visco Technology.
Walking Never Felt so Good!
MEGAGel™ Visco Technology is a ground-breaking support surface that provides optimized pressure redistribution, rapid heat dissipation, vibration reduction, added heel and arch cushioning. As individuals walk, the MEGAgel™ technology produces a massaging effect for the feet while the patented dual layer memory foam technology provides greater heel and arch support, comfort and superior shock absorption. The result: a clinically designed and scientifically proven insole that reduces pain and fatigue.
Designed by a Podiatrist, MEGASole™ insoles are an effective alternative to costly and hazardous anti-fatigue matting or for areas that cannot have floor mats, where procurement costs of anti-fatigue matting has become too high or where risk of workplace injuries from trips and falls has become too great. MEGASoles™ are in constant contact with the feet and travel with the worker everywhere they go.
MEGAComfort® MEGASole™ Insole Features: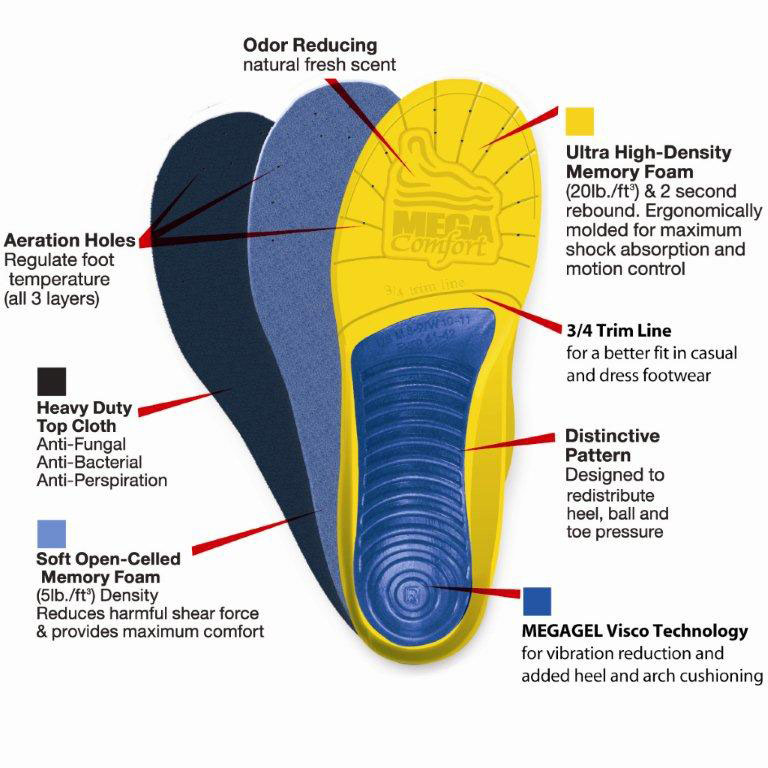 Gel Enhanced Shock Absorption

Streamlined Design for Better Fit in all Footwear

Maximum Comfort

Machine Washable

Available in 6 Unique Sizes with 3/4 Trim Line

Memory Foam Compresses for Safe Clearance in Steel Toe Footwear

Anti-Fungal, Anti-Bacterial, Anti-Perspiration, Odor Reducing Scent

Heavy duty top cloth with Silver Ion Technology

Soft Contoured Arch Support

Extra Deep Semi-Hexagonal Heel Cup
Reduce Costs, Lower Workplace Liabilities and Increase Productivity.Contact us for volume or corporate discounts, to place an order or to answer questions.
+800-274-4637 | +716-668-4001 | info @MDSassociates.com | MDS Associates Authorized Wholesale Distributor