About MEGAComfort®
MEGAComfort® Inc. is a leading-edge company which offers a complete range of patented dual layer memory foam Anti-Fatigue industrial safety insoles and orthotics, ergonomically designed by Podiatrist, Dr. Kevan Orvitz. As a practicing Podiatrist with almost two decades of experience in various parts of the world, he has studied all aspects of biomechanics, and the human body, as it relates to the lower extremities and the feet.
MEGAComfort®, an innovative work-life wellness solutions company for the workplace, was formed in 2002 as a result of the tremendous need to provide ergonomic products to industrial and healthcare workers. It was his through his own personal experience of working at a GM automotive assembly plant during a summer recess from Podiatry College that lead to the fruition of the company.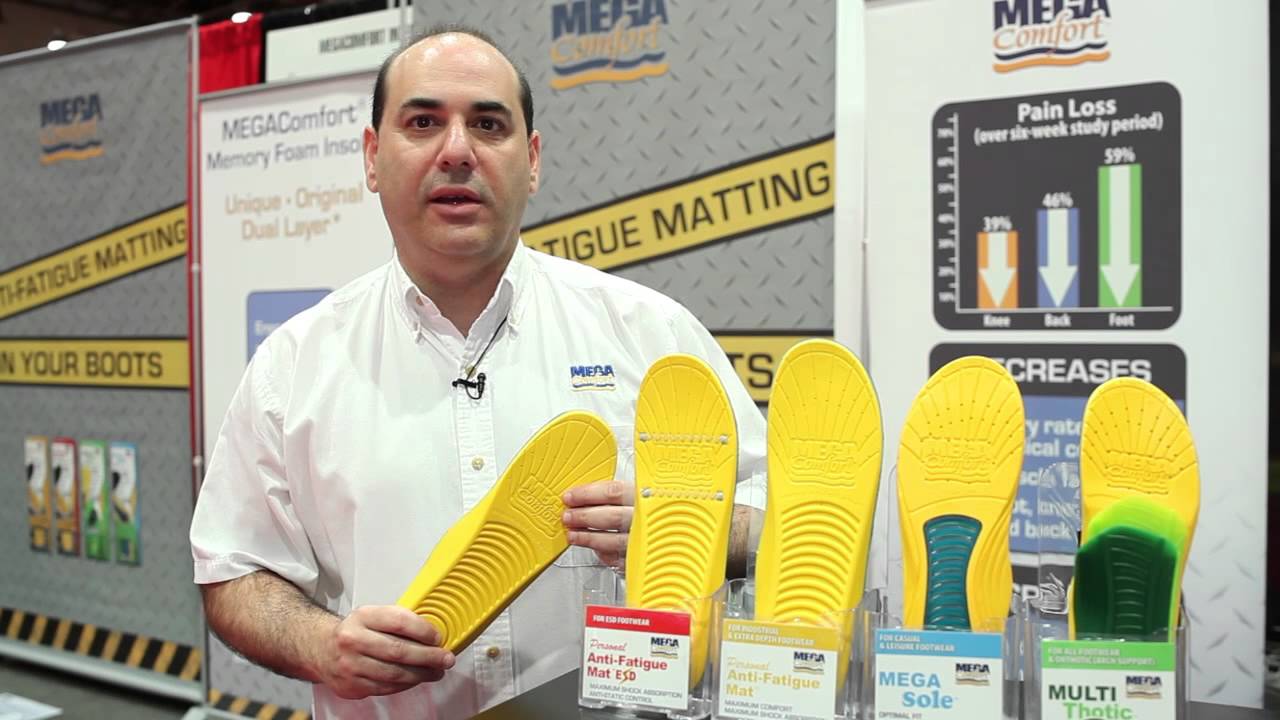 Dr. Orvitz spent four summers on the V8 assembly line, with one of those working on the hard concrete surfaces of an automobile assembly plant. He recalls they had anti-fatigue floor matting at his workstation, sometimes stacked three or four layers high in order to get some sort of relief. Even though he had a stationary job, he was required to move around his workstation, on and off the floor matting. Over time, these occupational stresses became destructive to his body and this was despite wearing expensinve top of the line industrial footwear.
It was then that Dr. Orvitz first realized there must be a better way. When he was in Podiatry School at the time, ideas started to conceptualize and it wasn't until years later that the opportunity arose for Dr. Orvitz to put these ideas into practice as he was asked to develop a shock absorbing insole for military use. Soldiers found themselves being deployed to mountain terrain or urban centers and there was a concern about the lack of shock absorption in these boots and the resulting lack of comfort and increased injury rates.
At the same time some early investigation into the use of anti-fatigue shock absorbing insoles with the US Post Office was being conducted. Dr. Orvitz then set about to develop and design an ergonomic anti-fatigue shock absorbing insole for use in both military and industrial footwear. As a result, the MEGAComfort® flagship product, the Personal Anti-Fatigue Mat® Insole was born.
Ergonomically designed to increase workplace health and safety, MEGAComfort® patented Anti-Fatigue Products have been clinically proven to reduce muscle fatigue and pain while increasing balance reactions, circulation and comfort in multiple field tests and are a cost effective alternative to hazardous anti-fatigue floor matting. In addition to their Anti-Fatigue Product line, MEGAComfort® offers an extensive Protection Line of essential products that increase workplace health and safety.
Contact us for large volume discounts or to learn more about these industrial insoles and how they can benefit your company and workforce today.
+800.274.4637 | +716.668.4001 | info @MDSassociates.com | MDS Associates Authorized Wholesale Distributor