Patented Dual Layer 100% Memory Foam Industrial Insoles
US Patent # 8,832,969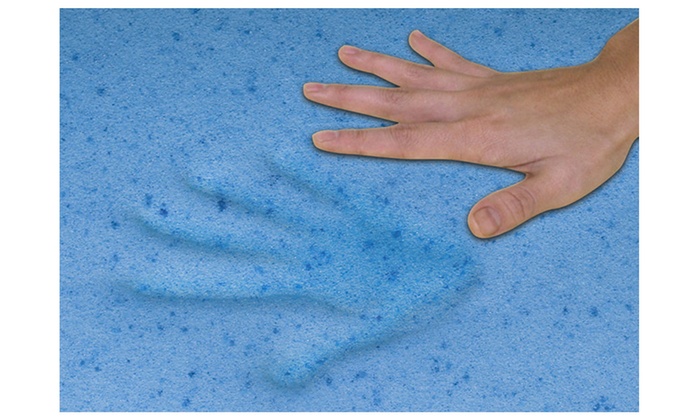 Memory foam has been around since 1966. It was first developed under a contract by NASA's Ames Research Center to improve the safety and comfort of pilot cushions and year's later it was commercialized in medical and sports equipment. Today it can be found in mattresses, floor mats, pillows, footwear, furniture and blankets.
Memory Foam has medical uses, such as wheelchair seat cushions and padding for people suffering long-term pain, postural problems or for immobilized patients who are at risk for pressure sores or ulcers. Recognizing the many benefits, MEGAComfort® took 15 years of research and development and created their patented dual layer memory foam to create an amazing line of industrial insoles and arch supports.
MEGAComfort's memory foam is a unique cellular structure different from regular foam in that it's made up of billions of high-density memory cells and contains no cheap fillers or additives. Temperature and pressure sensitive, it softens up with heat and firms up with cold. It absorbs flow evenly to follow the body's natural curve and the result is MAXIMUM comfort and shock absorption.
All MEGAComfort® products are ergonomically designed by a Podiatrist using a patented combination of high density DUAL LAYER memory foam. The dual layers (a layer of soft open-celled memory foam and a layer of ultra-high-density memory foam) compress together and gently rebound with every step while reducing harmful shear forces and stresses.
MEGAComfort® Ergonomic Industrial Insoles | Product Line
MEGAComfort® insoles are specially designed to maximize the level of comfort for any type of foot, in any type of shoe, within any type of environment. Due to the multitude of foot types, footwear, and environmental conditions, each insole has been designed with specific features that ensure the highest level of support and comfort for almost every situation.
Personal Anti-Fatigue Mat®:

:

For Maximum Shock Absorption and Maximum Comfort - Recommended for use in Industrial and Extra-Depth Footwear
Personal Anti-Fatigue ESD Mat®:

:

For Maximum Shock Absorption, Maximum Comfort and Anti-Static Control - Recommended for use in Industrial and Extra-Depth Footwear
MEGASoles®: For Maximum Shock, Vibration Reduction, Optimal Fit and Everyday Comfort: - Recommended for use in Casual, Athletic and Dress Footwear
PAM® Puncture-Resistant Insole: For Maximum Shock Absorption, Maximum Comfort and Puncture Protection - Recommended for use in Industrial and Extra-Depth Footwear
MULTI-Thotic®: A Cost Effective Initial Alternative to Custom Made Foot Orthotics - For Extra Support and Enhanced Performance in All Footwear
MEGAComfort® Anti-Fatigue Products are scientifically proven more effective than standard anti-fatigue floor mats at reducing muscle strain, improving balance reactions and increasing blood circulation.
MEGAComfort® Product Features
MEGAComfort® insoles increase balance, comfort, productivity and well-being. Some key features include:
Ergonomically Designed by a Podiatrist

Machine Washable

Deep Heel Cup

Soft Contoured Arch Support

Aeration Holes Regulate Temperatures

Anti-Fungal, Anti-Bacterial, Anti-Perspiration

Reduce Odor and Leaves Feet Smelling Fresh

Heavy Duty Top Cloth with Silver Ion Anti-Microbial Technology

Clinically Proven and Tested to Reduce Pain and Fatigue by 35%
---
We can help your company make the transition away from anti-fatigue floor mats to this safer, employee responsive, cost effective solution. Based on proven research methods, a Pilot Test Program can be established for your company to help calculate the responses and benefits for the Personalized Anti-Fatigue Mat® (PAM®) Insoles inside your employees' footwear.
Reduce Costs, Lower Liabilities, Increase Productivity and Long-Term Wellness! Shop for these MegaComfort® Anti-Fatigue Products today! Contact us for volume or corporate discounts, to place an order or to answer questions.
+800-274-4637 | +716-668-4001 | [email protected] | MDS Associates Authorized Wholesale Distributor