Portwest®

Planet Industrial Work Gloves with

Eco-Technology
BIO-BASED FIBER TECHNOLOGIES IN INDUSTRIAL HAND PROTECTION IS REDUCING STOCKPILES OF RECYCLED P.E.T WATER BOTTLES & REDUCING RELIANCE ON FOSSIL FUEL!
Americans buy 50 billion water bottles a year or 100 million plastic water bottles per day. Unfortunat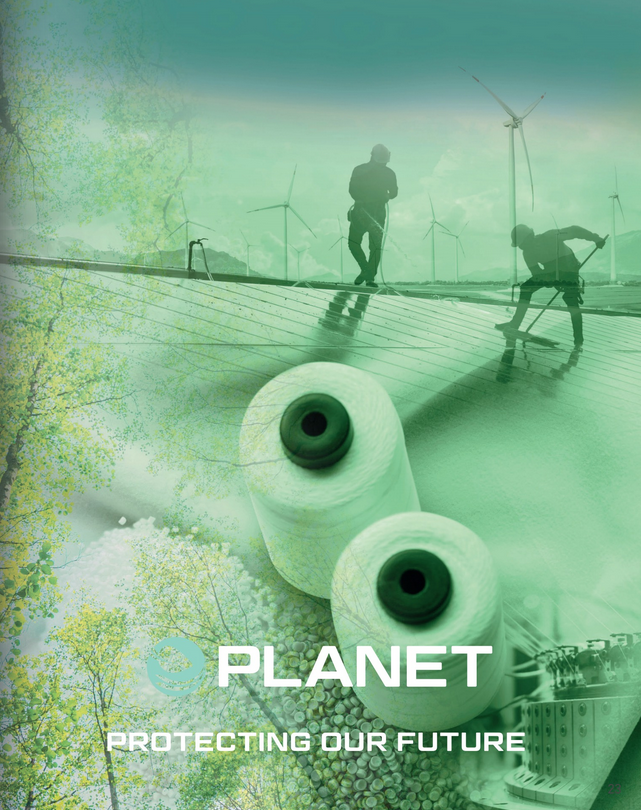 ely 86% of plastic water bottles end up in landfill and it takes at least 1000 years to decompose, leaching pollutants and micro-plastic into our soil and waterways. As a result, U.S. landfills are overflowing with 2 million tons of discarded water bottles.
There's one corporation listening and doing their part to reduce their carbon footprint and reliance on fossil fuel based resources ...AND reducing stockpiles of useless P.E.T. water bottles!
In an attempt to rid single use plastic from our supply chains and as a way of "protecting our planet", Portwest®, a 120 year old global manufacturer of workwear, safety gear and PPE (Personal Protection Equipment) new to U.S.A.) has recently introduced a new range of Eco-conscious products referred to as Portwest® Planet'.
Portwest's main aim is to minimize the impact that their operations have on the environment and the natural resources they consume and are dedicated to decreasing plastics from global supply chains but increasing the use of sustainable and recycled materials in the manufacturing and packaging of their products.
SUSTAINABLE GLOVE SHELL
Portwest® has proudly created a line of sustainable industrial hand protection. The Portwest® Planet portfolio of work gloves feature bio-based fibers created from 100% P.E.T. consumer plastic waste or bamboo viscose that's blended with recycled polyester to create a comfortable, long-lasting glove shell.
BAMBOO FABRIC: Bamboo viscose is a natural textile made from the pulp of bamboo grass. Bamboo used to produce fabrics is a sustainable crop and easily replenished and capable of self-regeneration that requires no fertilizer to grow. Bamboo grows in depleted soil and helps return vital nutrients to the soil and most importantly, is biodegradable.
+Portwest® Planet AP10 Bamboo Foam Nitrile Coated Bio-Based Work Glove
P.E.T. PLASTIC: The use of recycled polyester produced from P.E.T. bottles, requires fewer resources than that of new fibers and generates fewer CO2 emissions. And it can be recycled again closing the loop. In addition, diverting P.E.T. bottles from landfill reduces soil contamination, air and water pollution from toxic micro-plastic.
+Portwest® Planet AP12 Microfoam Nitrile Coated A1 Bio-Based Safety Glove
+Portwest® Planet AP15 Eco-Friendly Microfoam Nitrile Coated A2 Bio-Based Safety Glove
+Portwest® Planet AP18 Eco-Friendly Microfoam Nitrile Coated A3 Bio-Based Safety Glove
+Portwest® Planet A150 Classic Hi-Vis Latex Coated A1 Bio-Based Safety Glove
These Eco-conscious work safety glove products are made from certified recycled fabrics with sustainably sourced packaging and labels. Using Global Recycled Standard certified fabrics provides enhanced visibility on responsible social, environmental and chemical practices in the production of fabric using recycled materials.
Portwest® Planet products are packed in recyclable packaging and use FSC (The Forest Stewardship Council) cartons to promote environmentally sound, socially beneficial and economical management of the world's forest. FSC provides credibility as an independent member-led group of environmental protection; they set strict standards on water quality, habitats, growth rotation and chemical usage.
ISO CERTIFIED
Portwest® complies with ISO 14001 which means they have worked hard to set up fully integrated and proactive environmental management systems. This system enables Portwest® to drastically reduce their carbon footprint and better manage the impact of operational activities on the environment. Portwest has achieved the ISO 9001 certification which is the world's foremost Quality Management Standard. It sets out the essential requirements for an effective quality management system. In addition, it is chemically compliant by Okeo-Tex® Standard 100 and quality management assured by ISO 9001.
Monday - Friday 8:30am - 4:30pm Eastern Standard Time
Click or Call
Orders. Questions. Samples. Volume Discounts.
+(800) 274-4637 | +(716) 668-4001 | [email protected]
""We Want You to Return Home Safely Every Day"