100% Biodegradable Gloves
Improve Sustainability! New Technology Reduces Landfill Waste without Busting PPE Budgets!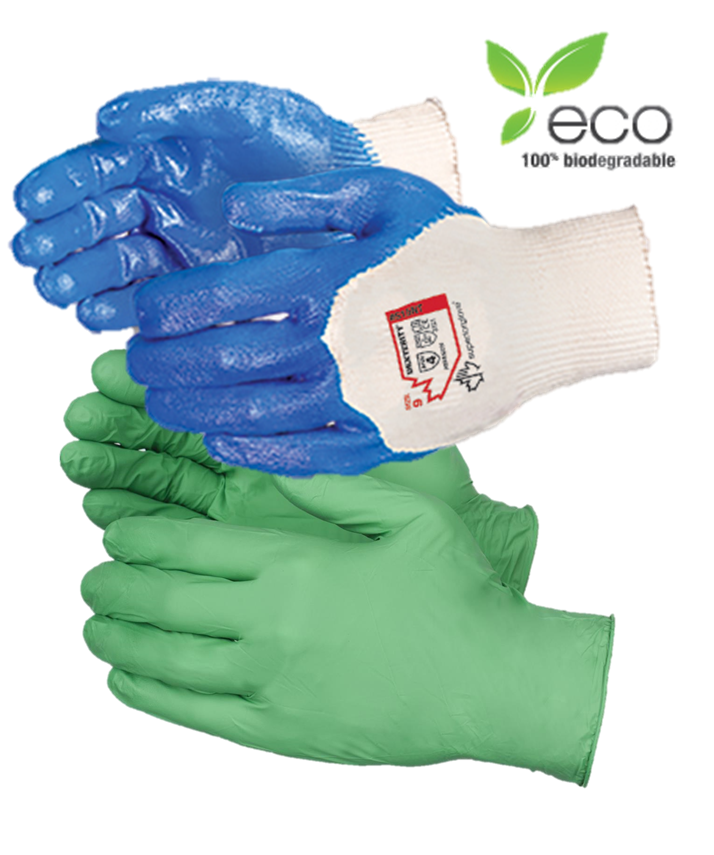 Millions of work gloves will end up in landfills each year and the disposal of solid waste from manufacturing operations poses considerable challenges for businesses and society. Landfill options are becoming more limited as waste disposal and recycling costs continue to rise.
The industry has made great strides in meeting the challenges of becoming more environmentally responsible and developments in manufacturing technology are going a long way towards providing other methods for environmentally conscious glove manufacturers to "go green".
In recent years, the waste disposal problem has spurred mounting interest in the biodegradability of polymers and in an attempt to eliminate landfill waste, Showa® and Superior Glove® have introduced the first of its kind 100% biodegradable industrial work safety gloves. These gloves require a biologically-active landfill for decomposition to begin and addresses the ever increasing demand synthetic rubber (nitrile) waste puts on the environment!
Every 1000 Pounds of Used Gloves Could Power a Home for Two Years or Fuel a Vehicle for One Year!
After much hard work and research, a special additive was discovered to create a biodegradable polymer that when disposed in landfills, microorganisms consume and metabolize the glove materials into three natural compounds — organic soil, methane and carbon dioxide. This creates fertilizer and leaves zero waste behind. And here's the best news, the glove's phyiscal and protective properties are not altered in any way.
Shop Now
Showa® Gloves
Did you know that disposable gloves take 200+ years to breakdown? Well that's about to change! Made with innovative Eco Best Technology® (EBT), SHOWA's 6110PF green colored (formerly GREEN-DEX™) and 6112PF black colored (formerly N-DEX®) 4-mil disposable latex-free nitrile gloves deliver barrier protection, unmatched comfort, dexterity, performance and are GreenCircle Certified 100% biodegradable with biodegradation occuring within 1-5 years. Highly tactile, they are free of natural rubber latex proteins and decrease the risk of allergies. Ideal for Petrochemical, Public Utilities, Landscaping, Janitorial, Growers, Harvesters, Organic Foods, Health Care, Pharmaceutical, Food Processing, Automotive, Agriculture, Mueseums, Spas and more.
(#4552 discontinued)
Complimenting their disposable nitrile gloves, SHOWA® has also introduced its line of biodegradable 4552 gardening gloves and they are being well received by environmentally conscience businesses! This planet friendly glove is ideal for multi-use applications across a range of industries such as gardening, landscaping, horticulture, professional trades, agricultural and more. Made with a spongey, high-tack grip coating, they are comfortable and cool to wear!
Superior Glove®
Reformulated with a special additive, Superior Glove's S15NT Dexterity® NT Grip Gloves are made with a seamless cotton string knit glove that features a 100% biodegradable nitrile palm coating. ANSI Puncture-Resistant Level 2 Rated and ANSI Level 4 Abrasion Resistant Rated, these industrial work gloves are ideal for automotive, maintenance, metal stamping, material handling, construction, landscaping and perfect for gardening!
---
Monday - Friday 8:30am - 4:30pm Eastern Time
Orders. Questions. Volume Discounts.
+(800) 274-4637 | +(716)668-4001 | [email protected]
"We Want You to return Home Safely Everyday"