Biodegradable
Palm Coated Seamless Knit
General-Duty Work Gloves
For large corporations such as Coca Cola®, General Motors, NASA and Tesla utilizing landfill energy is an important topic. Many production and maintenance employees at these plants are required to wear personal protective equipment (PPE) to protect them from their processes and/or from cross contamination and this comes at an expense-landfill.
The most heavily consumed personal safety item is work gloves. Used in mass, most gloves are tossed into the plant's garbage when their life cycle is complete. Many plants inquire about a recycling program but when you factor in any chemical residues on a glove's surface, industrial work gloves are not a good candidate for recycling.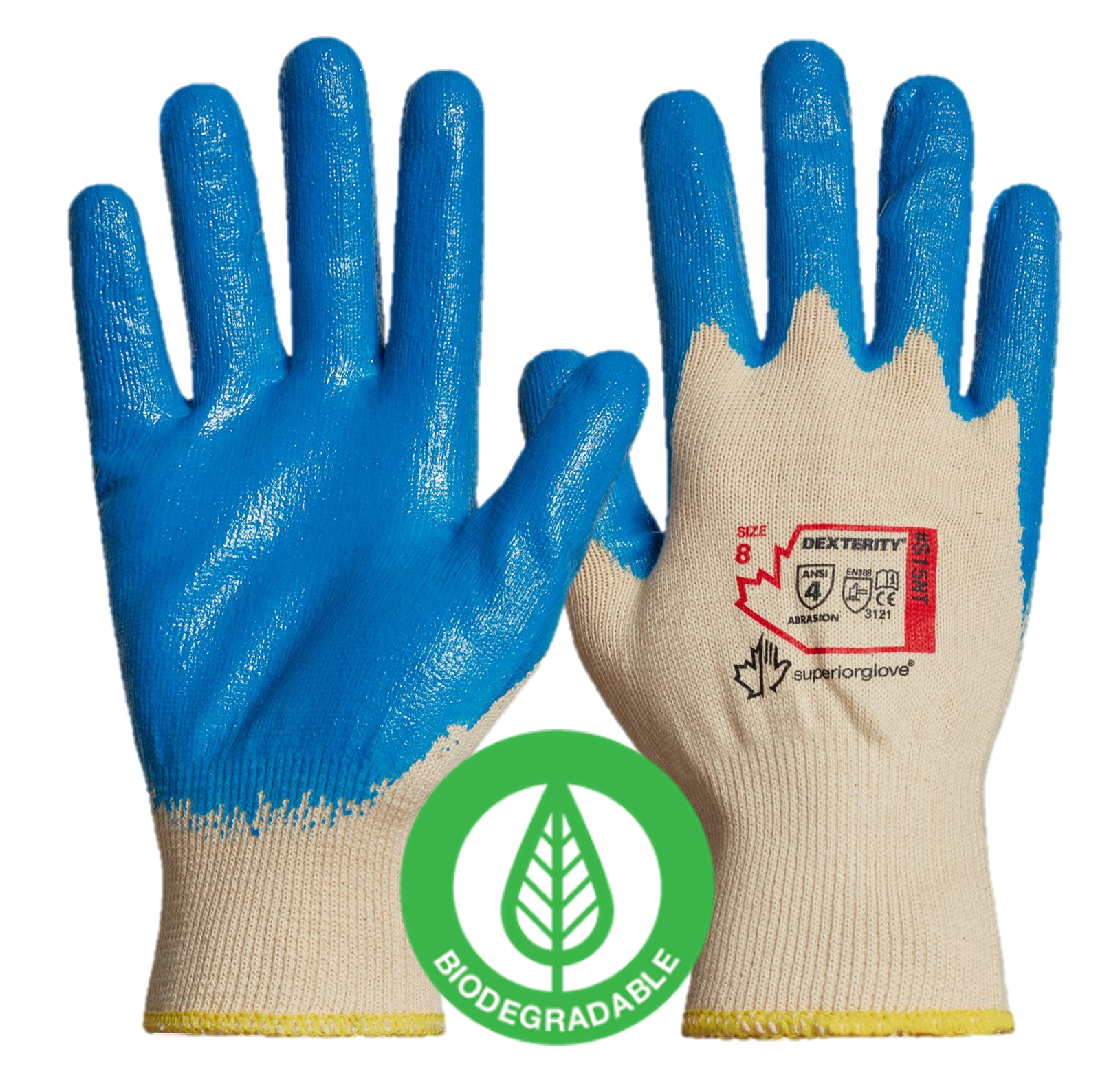 REDUCE ENVIRONMENTAL IMPACT
Superior Glove® is joining the many environmentally conscience corporations by utilizing landfill creation of clean 'green' energy with the first of its kind 100% biodegradable work safety gloves. The Dexterity® S15NT 15-gauge seamless knit cotton gloves with nitrile coated palms do not contribute to landfill and will contribute to landfill creation of clean, 'green' energy!
This Dexterity® S15NT is made up of two parts:
A 100% cotton seamless knit cotton shell
A nitrile palm coating with special additives
Cotton is one of the most biodegradable materials available and will break down in five months or less so this shell was always biodegradable but the nitrile palm coating was not. The engineers over at Superior Glove® worked hard and with much research and innovation they discovered an additive to create a biodegradable nitrile coating that won't alter the glove's physical properties.
How it Works...
The Dexterity® S15NT gloves require a biologically-active landfill for decomposition to begin. When disposed in landfills, microorganisms consume and metabolize the glove materials into three natural compounds — organic soil, methane and carbon dioxide. This creates fertilizer and leaves zero waste behind. Every 1000 pounds of used gloves could power a home for two years or fuel a vehicle for one year!
Features
These 100% biodegradable nitrile palm coated cotton string knit gloves are ANSI Puncture-Resistant Level 2 Rated and ANSI Level 4 Abrasion Resistant Rated. A seamless knit construction eliminates internal seams that can cause irritation. Available in sizes XX-Small through X-Large, they are ideal for Automotive, Small Parts Handling, Maintenance, Construction, Landscaping and Gardening.
---
Contact MDS for sample, volume discounts or to place an order Monday - Friday 8:30-4:30 EST.
+800.274.4637 | +716-668-4001 | [email protected] | MDSassociates.com