Get a Grip on Landfill with Dexterity®

S15OFNT Work Gloves
We Can't Change Earth's Past, But We Can Change Its Future.
Sustainable Work Gloves That Biodegrade in Landfill
---
When industrial work gloves are no longer useful, most workers simply toss these gloves into the garbage where it is destined to be buried in landfill. Unfortunately studies have shown conventional work gloves require more than 100 years to fully break down. Adding to this is the growing problem of micro-plastic pollution that threatens the health of humans and animals.
Because conventional gloves are dipped or coated with a synthetic rubber compound (polymer synthesized from petroleum byproduct) it's very resistant to microbial attack which delays degradation for 100-200 years. Unfortunately, millions of work gloves are buried into landfill every year and this waste disposal problem has spurred mounting interest in the biodegradability of polymers used in glove coatings.
SUSTAINABLE HAND PROTECTION
In an attempt to become more environmentally responsible, Superior Glove® has added to its portfilio of sustainable hand protection and introduces a new sustainable work glove that decomposes into natural soil with within 1-5 years.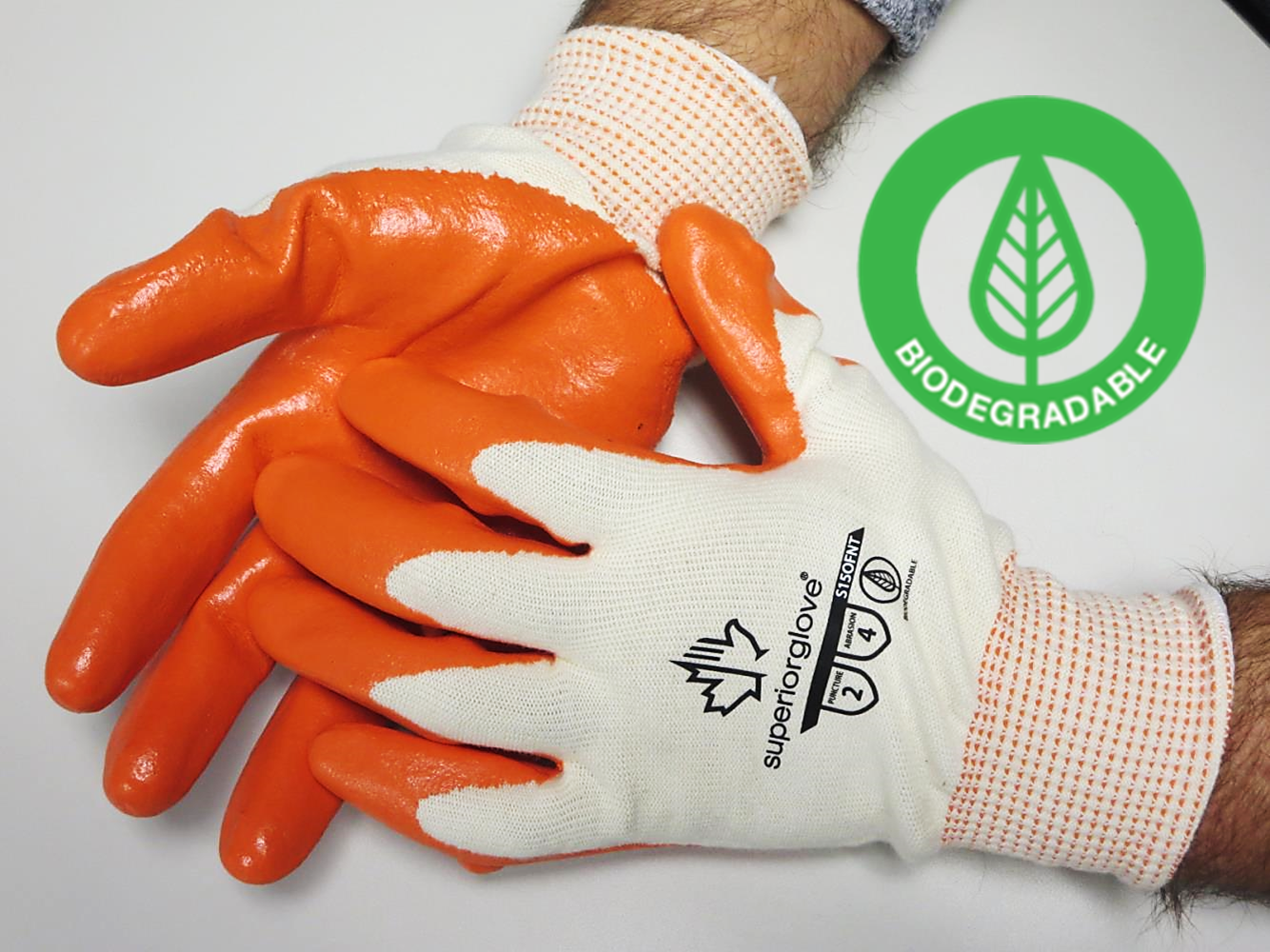 HOW IT WORKS
After much hard work and research, a special additive was discovered to create a biodegradable polymer that when disposed in biologically-active landfill, microorganisms consume and metabolize the glove materials into three natural compounds — organic soil, methane and carbon dioxide. This creates healthy fertilizer and leaves zero waste behind. And here's the best news, the glove's physical and protective properties are not altered in any way – the performance, fit and appearance remains exactly the same as its competitive counterpart.
DIVERT LANDFILL
Do you have a green initiative or looking to earn LEED credits? A new era in hand protection is here and it allows facilities to protect their workforce and preserve the planet. The glove engineers at Superior Glove® have elevated the bar on general-duty work gloves and created the biodegradable Dexterity® S15OFNT seamless knit palm coated glove.
The Dexterity® S15OFNT Sustainable Work Gloves are sewn with a 15-gauge seamless knit 100% virgin cotton and feature a special additive in the foam nitrile palm coating that make them completely biodegradable in landfill.
Ideal for general purpose use and parts handling, the seamless knit shell is soft and comfortable against the skin while the high-visibility orange textured foam nitrile palm coating provides a steady grip when handling wet or lightly oiled parts. These Dexterity® S15OFNT gloves also provide ANSI level 4 abrasion resistance and ANSI level 2 puncture resistance.
Perfect for eco-conscious facilities and businesses interested in boosting green initiatives, these sustainable work gloves are ideal for zoos, ground and maintenance, assembly, material handling, site clean-up, landscaping, gardening, farming and more.
Many workplaces struggle with the disposal of hard to recycle gloves as part of their Corporate Social Responsibility environmental sustainability initiatives. Not anymore! The future of industrial hand protection has arrived! Simply toss these biodegradable work gloves into the garbage and let the planet do the rest!
Stop Contributing to the Problem and Be Part Of The Solution. While We Can't Change the Earth's Past, We Can Its Future and It Starts With You Clicking The Link To ….
● Orders ● Volume Discounts ● Questions ● Samples ● Special Requests
FREE SHIPPING ON ORDERS OVER $499
Monday – Friday 8:30am – 4:30pm EST
Call or Click Today
Toll-Free +800-274-4637 | +716-668-4001 | [email protected]
"We Want You To Return Home Safely...Every Day! ™