SUSTAINABLE

ZOOLOGY PRODUCT TRENDS
BIODEGRADABLE
SINGLE-USE

NITRILE GLOVES
Don't Fret Over Glove Disposal Anymore!
Zoological parks and aquariums are a fun and educational place to spend time. On display are aquatic creatures and endangered species native to all parts of the Earth. Zoos are not only committed to improving the welfare of captive wild animals, but are equally committed to the role of environmental stewardship that includes conservation, sustainability, recycling, composting and waste reduction for a better, healthier planet.
Obviously, the well being and overall health of each captive wild animal is critical to success. Zoos provide science-based husbandry, medical care, population management of all animals and utilize animal care staffs, veterinarians and researchers. Their objective is to lead and participate in initiatives focusing on population, sustainability, wildlife health and emerging diseases, nutrition, animal behavior, cognition, management, and exhibitry.
SINGLE-USE GLOVES ARE ESSENTIAL IN ZOOLOGY
Because some animals have a history of being more susceptible to human diseases, single-use gloves are critical contamination control PPE (Personal Protection Equipment) that prevents cross-contamination in zoo keeper animal handling, animal food preparation and veterinary oral hygiene care.
While single-use hand protection is essential for the safety of animals and employees alike, there's an unfortunate drawback to wearing disposable gloves. With an estimated 180 billion pairs of disposable gloves being tossed in the garbage each year, these items can take 200+ years to decompose. This means the very first nitrile gloves produced are still out there somewhere.
If your zoologist, veterinary dentist or doctor is using single-use latex gloves, latex-free vinyl gloves or nitrile style gloves, we have sustainable glove options that you may want to consider!
ELIMINATE PETROLEUM PLASTIC POLLUTION
Single-Use

GreenCircle Certified

Latex-Free Nitrile Gloves
The future of disposable hand protection has arrived! If your facility hasn't converted to biodegradable hand protection, now is the time.
Taking the next step in sustainability, SHOWA® Glove and SW® Safety brand of single-use latex-free powder-free nitrile gloves have achieved GreenCircle® certification for single-use gloves that meet ASTM certifications for biodegradable claims!
Our biodegradable single-use nitrile gloves utilize special additives designed to speed up the biodegradation or breakdown processes in landfill ultimately reducing the piles of hand protection waste in landfill.
Growing in popularity are these highly affordable single-use nitrile glove products that provide a positive impact on facilities, our planet and one that will leave a lasting, positive impression with your guests and team! They perform, fit and protect like their counterparts but are much better for the planet! You won't have to fret over disposal anymore!
Shop Now
SHOWA®
BIODEGRADABLE

LATEX-FREE POWDER-FREE EBT NITRILE GLOVES

Featuring Eco-Best Technology® (EBT), SHOWA® Single-Use EBT Nitrile Gloves achieved 82% biodegradation in only 386 days, while gloves without EBT achieved only 1.9% biodegradation over the same period of time. SHOWA® biodegradable nitrile gloves are manufactured with a unique low-modulus formulation that utilizes hand heat to soften the compound so that it molds to the hand and fingers as it is worn.

These sustainable disposable gloves also comply with Federal regulations for food contact 21CFR, 177.2600. They are available in popular green, black (fentanyl certified) and blue colors. Also available is an accelerator-free version in color blue formulated for sensitive-skin wearers.

+SHOWA® 6110PF GREEN EBT NITRILE GLOVES

+SHOWA® 6112PF BLACK EBT NITRILE GLOVES

+SHOWA® 7500PF BLUE EBT NITRILE GLOVES

+SHOWA® 7502PF BLUE SENSITIVE-SKIN EBT NITRILE GLOVES

AMERICAN MADE | TAA COMPLIANT
---
SW® SAFETY
BIODEGRADABLE

LATEX-FREE POWDER-FREE NITRILE GLOVES

SW® Safety's EcoTek® proprietary nitrile formula enables their nitrile gloves to break down in landfill 92.6% in only 2.5 years and without any glove performance loss. Their innovative line-up of single-use latex-free gloves includes a growing number of glove styles offered in different colors, thickness and innovative glove technologies such as Breach Alert™ visual detection and Energel® patented moisturizer technologies.

+PF-95BL POWERFORM® ECOTEK® DRY CORE® BLUE NITRILE EXAM GLOVES

+PF-95GY POWERFORM® ECOTEK® GRAY NITRILE EXAM GLOVES W/ DRITEK®

+PF-95TL POWERFORM® ECOTEK® TEAL NITRILE EXAM GLOVES

+PF-90BK POWERFORM® ECOTEK® BLACK NITRILE EXAM GLOVES

+PF-95GW POWERFORM® ECOTEK® GREEN NITRILE EXAM GLOVES W/ ENERGEL® & BREACH ALERT™

+MM-11BK MEGAMAN® ECOTEK® DRITEK® BLACK HD NITRILE EXAM GLOVES

+PF-95LG POWERFORM® ECOTEK® GREEN NITRILE EXAM GLOVES W/ ENERGEL®

+PF-12TL POWERFORM® ECOTEK® TEAL NITRILE EXAM GLOVES W/EXTENDED CUFFS

+TF-95LG TRUFORM® ECOTEK® ENERGEL® GREEN NITRILE EXAM GLOVES

+TF-95RB TRUFORM® ECOTEK® BLUE NITRILE EXAM GLOVES

+PF-11GY POWERFORM® TRACTEK® NITRILE EXAM GLOVES W/ BREACH ALERT™ (EcoTek coming soon)
---
VEGWARE™
COMPOSTABLE

FOOD PREP/HANDLER GLOVES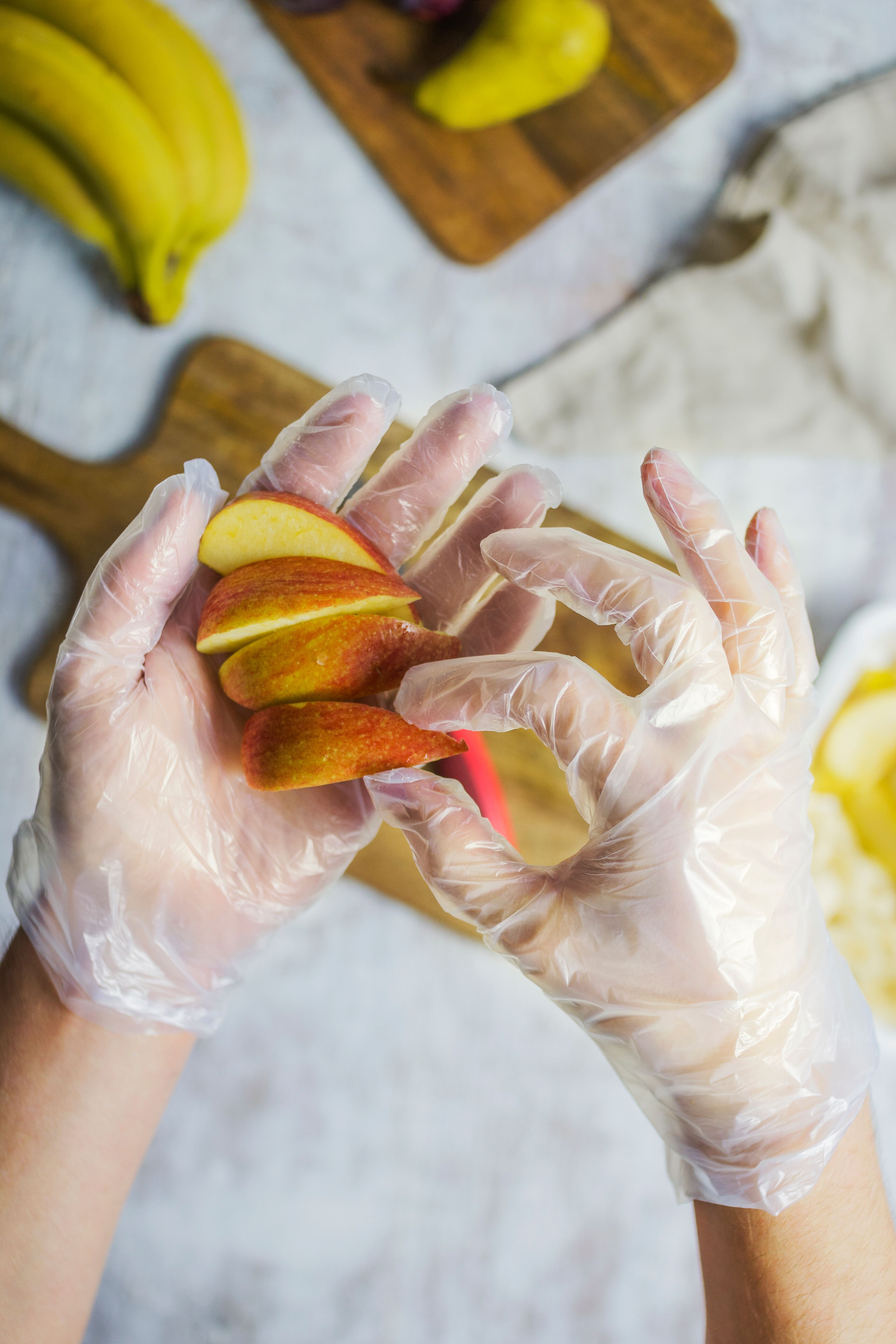 Independently certified to decompose in only 12 weeks, these plant-based disposable Food Prep Gloves or Food Handler Gloves from Vegware™ are often the choice of hand protection when handling or preparing food items.
Used for light duty tasks that require frequent glove changes, this loose-fitting and lightweight glove provides plenty of tactility and strength. Vegware's Food Prep Gloves are made with polyactic acid (PLA) which is a plastic substrate made from fermented plant starch (usually corn) and it is fast becoming a popular alternative to traditional petroleum based plastics such as polyethylene which eventually breakdown into toxic microplastic. Shop here for +VEGWARE™ #VGL FOOD HANDLER GLOVES
Together We Can Make A Difference
As conservation organizations, Zoos believe they have a heightened obligation to operate in the most environmentally sound ways as possible and engage visitors in environmental conservation and education. Now you can model green leadership, raise the bar of environmental performance and become the community's most hands-on living showcases of sustainability simply by converting to biodegradable hand protection today!
Our sustainable single-use nitrile gloves are competitvely priced, perform like their counterparts and better for the planet! Provide a new way to care for the environment, your animals and zoology team. All you need to do is tap the link and ...
Monday – Friday 8:30am – 4:30pm EST
Call or Click Today
Samples. Non-Published Volume Discounts. Questions.
Toll-Free +800-274-4637 | +716-668-4001 |

[email protected]
"We Want You To Return Home Safely...Every Day! ™