AWARD WINNING
COMPOSTABLE PRODUCTS
A New ERA Has Arrived! Practical Sustainable Solutions in Food Packaging & Waste Recycling.
•Sleek •Sturdy •Strong
MDS Associates is proud to announce to its line-up, a new line of award winning compostabl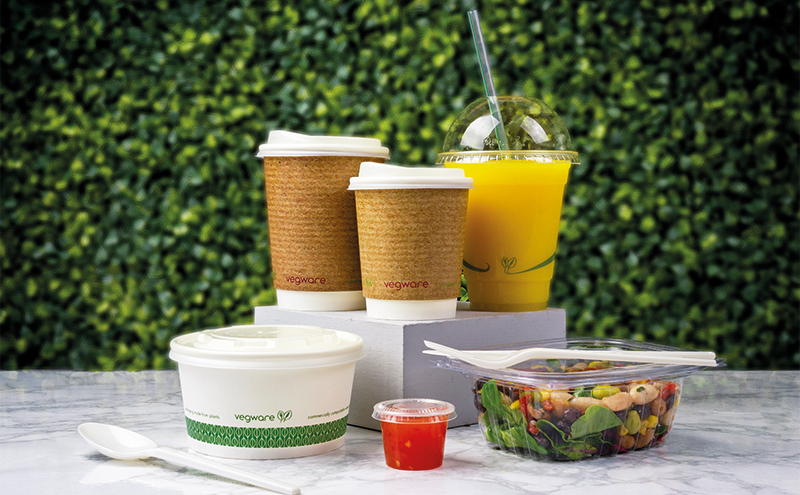 e products. Vegware™, a global specialist in high quality plant-based compostable foodservice packaging, and the 2019 "Best Closed Loop Project" waste2zero Award Winner, manufactures a range of more than 150 plant-based catering disposables, all designed to be commercially composted along with food waste.
Established in 2006, Vegware™ has operational facilities based in the UK, USA, Australia and Hong Kong. This hot-line of compostable products are loved by foodies and are growing in popularity. And, you can combine Vegware's award-winning eco catering disposables with your corporate color, message or logo!
Vegware™ cutlery, tableware, food prep gloves, hot cups, cold cups, food containers, deli paper and takeaway packaging are all made from plants using renewable, lower carbon, recycled or reclaimed materials. Vegware™ products feature an award-winning Green Leaf band design so consumers know they're using an eco-friendly product.
ECO-FRIENDLY PRODUCTS ARE IN THE SPOTLIGHT
Serious Foodies Are Conscious of Food Packaging
People love the look and feel of these premium eco materials and we're confident Vegware™ products will exceed your highest expectations! Designed to divert landfill and prevent toxic microplastic polution, Vegware's high-performing, high-quality, plant-based foodservice disposables can be commercially composted along with food waste. Once taken to composting, products are certified to break down in less than 12 weeks. +Read more about Vegware's Quality Policy here
BE PART OF A SUSTAINABLE, CIRCULAR ECONOMY
Better for Our Environment
Vegware™ is serious about environmental health! They are constantly working closely with experts in the waste sector to create innovative composting solutions. Committed to supplying genuine compostable packaging and disposables, their active program ensures their products are compliant with these standards. As well as holding this certification, they also run trials to ensure that their products break down successfully and can be included in commercial food waste recycling.
They hold the deepest set of compostability in the industry including Biodegradable Products Institute (BPI) and Cedar Grove/Composting Manufacturing Alliance (CMA). +Read more of Vegware's Environmental Policy here

MADE FROM PLANTS
Are You Still Using Those Unhealthy Petroleum Based or Foam Food/Beverage Containers?
You can't recycle food with plastic in it, and you can't recycle plastic with food on it. Vegware™ plant-based catering disposables are made from renewable, lower carbon, recycled or reclaimed material and can be sommerically composted with food waste!.
Paper and Card: Sustainably sourced kraft board using recycled content
PLA & CPLA: Strong and light. Plant based. Clear PLA for cold use, CPLA for hot.
NatureFlex: Clear film made from wood pulp. Anti-grease, heat sealable
Bagasse: Reclaimed sugarcane. Sturdy and practical, used for hot and cold use
Sheets: Sustainably-sourced unbleached paper. Wax coated for grease resistance
Inks: Vegetable or water-based, with a great print finish
+View above materials in PDF format here
Vegware™ is not niche but rather a premier and practical sustainable solution. They are the top choice by government offices, health boards, tourist attractions, education, food retailers, event organizers, artisan delis, independent coffee houses, organic foods, cannabis dispensaries, vegan restaurants and more!
Feel the difference and ask for a sample today!
Good for You, Good for Our Planet
Monday - Friday 8:30am - 4:30pm Eastern Time
Orders. Questions. Samples. Volume Discounts.
+(800) 274-4637 | +(716)668-4001 | [email protected]
*We Can Ship to Canada*