Certified

Compostable Foodservice Packaging
An

Eco-Friendly

Choice
PLA Foodservice Packaging Made from Plants Not Plastics- Good for Plant Earth and for Humans!
Consider how many foam and plastic type food and beverage containers have been disposed in our landfills over the decades. Now combine that thought with the realization they're still used in restaurants and grocery stores across our country, the numbers continue to grow everyday.
Used to protect, serve or transport foods and beverages to homes and businesses, catering disposables are eventually are tossed into the garbage and along into our landfill where studies show, it can take 100+ years to decompose.
Petroleum Based Plastics are Bad for Humans and for the Planet. There Are No More Excuses.
For years, businesses complained there were no other options available for their food packaging. Yet, when eco-friendly products were finally introduced, very few businesses switched. The typical excuse, "it's ludicris to pay more for an item that's ultimately thrown out". Well folks, a new dawn has arrived, and if your favorite food establishment hasn't converted to plant based foodservice disposables, you should demand they switch or eat, drink or shop somewhere else!
MDS is excited to announce a new line of competitive, high performing and certified compostable food packaging items that consumers and our planet really appreciate!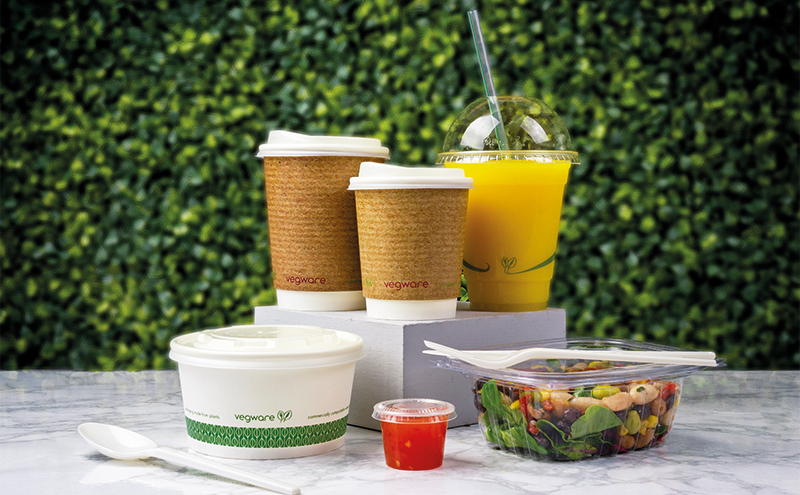 Made from Plant-Based PLA, Not Petroleum Based Plastics
Boost Green Credentials | Improve Sustainability | Reduce Recycling Costs & Landfill Waste
There is a new technology available for foodservice establishments and it's called Polyactic Acid (PLA). PLA is a plastic substrate made from fermented plant starch (usually corn) and it is fast becoming a popular alternative to traditional petroleum based plastics such as polyethylene. For PLA to compost, you must break up the polymer by adding water to it (a process known as hydrolyzing) and for hydrolyzing to occur, heat and moisture are required.
Dispose These Supplies Along with the Food Scraps!
Vegware™ provides a new way to care for the environment while securing food safety. Attractive and durable, these eco-friendly products are a quality tool for completing foodservice tasks. Use for salads, soups, hot beverages, fruits, pastries, pasta, candy, sandwiches, ice cream and more. Plant Based Foodservice Packaging Supplies can be given a new life as compost, since they're made of material certified to degrade in a commercial composting facilities. Simply toss them in with food scrap waste - no need to sort!
International Standards Defining Compostability

The most widely used compostability standards are the American ASTM D6400 and the European EN13432. The following bodies have independently certified that Vegware™ Award Winning products can break down in under 12 weeks: They are largely equivalent, and include the following elements:
1. Biodegradation - materials turn to soil through microbial action at the same rate as cellulose (paper).
2. Disintegration - the materials fall into small pieces.
3. Eco-toxicity - seeds can germinate in the resulting compost - i.e. it is useful for plant growth.
4. Heavy metals - the compost is safe to go onto land.
Disposable foodservice containers are used for such a short time it makes sense to switch to renewable materials, reserving conventional plastics for applications where they can't be easily replaced. Lots of people enjoy using plant-based products and love the look and feel of these premium eco materials. And here's the best part,you can combine Vegware's award-winning eco catering disposables with your corporate color, message or logo! Be a part of a sustainable, circular economy today.
---
Add your finger-print to conservation today.
Good for You, Good for the Environment
Monday - Friday 8:30am - 4:30pm Eastern Time
Orders. Questions. Samples. Volume Discounts.
+(800) 274-4637 | +(716)668-4001 | [email protected]
*We Can Ship to Canada*
MDS also offer 100% certified compostable food handlers gloves and certified biodegradable latex-free disposable nitrile gloves and general-duty work gloves. Check out the green colored GREEN-DEX™ or black colored N-DEX® gloves for heavier duty tasks and a water-proof barrier. Convert to plant-based compostable or biodegradable products and make Planet Earth a better place for you and I.