Protect Our Environment with

Compostable Food Service Containers
New York State Department of Environmental Conservation Announces Polystyrene Foam Ban.
Foam packaging is one of the top contributors of environmental litter. Walk along any creek, lake or pond and you'll unfortunately notice foam or plastic containers (and lids) polluting the shorelines and waterways. Sadly, this litter will be there forever. Bad for planet Earth, polystyrene and polyethylene containers are causing negative impacts to wildlife and waterways, ruining scenic views and upsetting both land owners and nature lovers.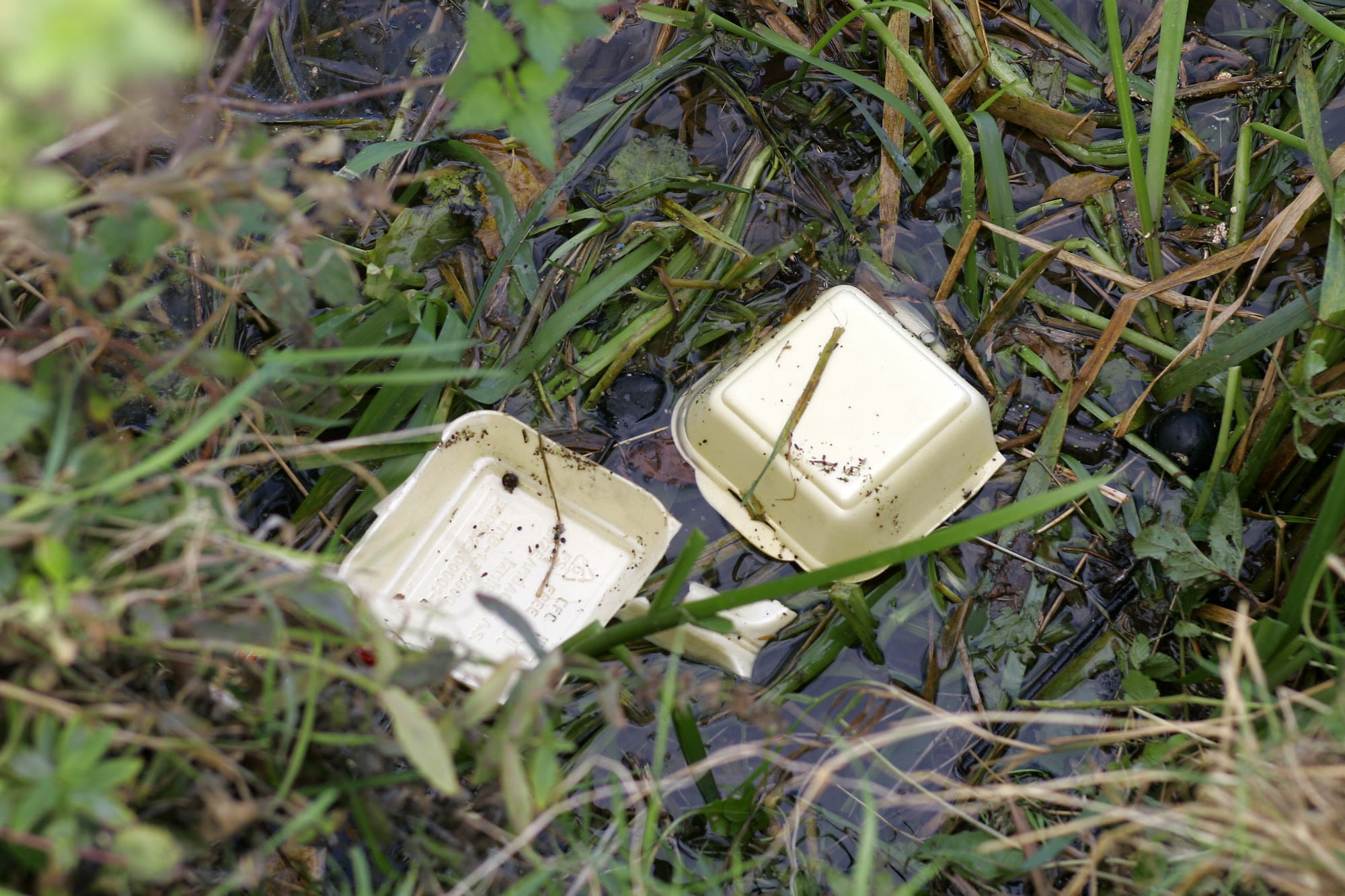 Foam Ban
In 2020, New York State adopted the nation's strongest statewide ban of expanded polystyrene, single-use foam food and beverage containers, and polystyrene loose fill packaging materials, commonly known as packing peanuts.
Polystyrene foam is a concern for people, wildlife and the environment. It is lightweight, breaks apart easily, and does not readily biodegrade. When polystyrene foam ends up as litter in the environment, it can persist for a long time and may also become microplastic pollution. In addition, foam containers and loose fill packaging, such as packing peanuts, are not accepted in most recycling programs in New York State because the foam is difficult to recycle and has a low value. For these reasons, certain expanded polystyrene foam products will be banned in New York to protect the environment, communities and to support sustainable materials management.
Effective Date
January 1, 2022.
Under the Expanded Polystyrene Foam Container and Polystyrene Loose Fill Packaging Ban, effective January 1, 2022, no covered food service provider or store (retail or wholesale) will be allowed to sell, offer for sale, or distribute disposable food service containers that contain expanded polystyrene foam in New York. In addition, no manufacturer or store will be allowed to sell, offer for sale, or distribute polystyrene loose fill packaging (commonly referred to as packing peanuts) in the state.
Containers and Packaging Affected Under the Ban
Disposable food service containers made of expanded polystyrene that will be banned under the law include bowls, cartons, hinged "clamshell" containers, cups, lids, plates, trays, or any other product designed or used to temporarily store or transport prepared foods or beverages, and includes any container generally recognized as designed for single use. Polystyrene loose fill packaging (commonly referred to as packing peanuts) will also be banned under the law.
Alternatives
Under the Expanded Polystyrene Foam Container and Loose Fill Packaging Ban, disposable food service containers and loose fill packaging that contain expanded polystyrene foam will be banned. Any alternative may be used, as long as the alternative food/ beverage container or packaging product does not contain expanded polystyrene foam. DEC encourages the use of reusable, recyclable, and compostable items, source reduction and items made using recycled content where possible and MDS has just the solution!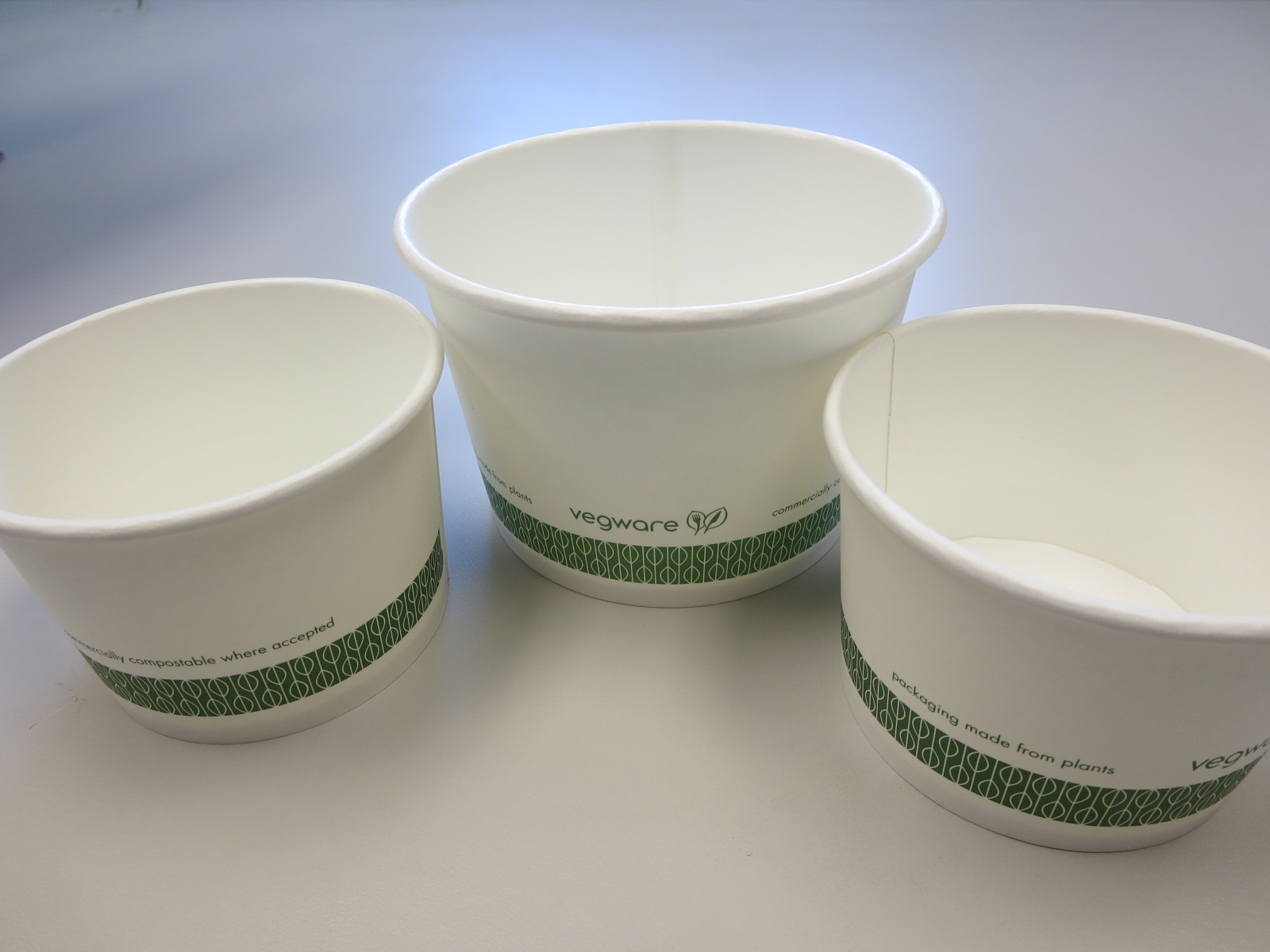 Compostable Containers Certified to Decompose within 12 Weeks
MDS has eco-friendly containers for our planet and waterways. Made from PLA, a compostable plant-based material, polyactic acid is a plastic substrate made from fermented plant starch (corn). PLA based products are fast becoming a popular alternative to polystyrene and polyethylene containers.
These sturdy, strong and PLA-lined paper containers and PLA-based lids from Vegware™ are ideal replacements for bait and tackle shops, food service operations and can be given a new life as compost, since they are certified to degrade within 12 weeks! These custom printable compostable containers are available with an optional compostable lid in the following sizes:
VegWare™ crisp white plant-based constructed containers can withstand the heat and cold and won't turn soggy. They're nestable and feature an award winning Green Leaf band design that showcases sustainability. If these Vegware™ containers are left along along our waterways, they will naturally break down making them a better solution for fisherman, hunters, restaurants, schools and our planet. Replace those nasty food containers and convert to ours! Vegware conatiners are used for pasta, ice cream sundaes, yogurt, pastas, soups, salads, stews, cereal, hot oatmeal and they make awesome bait containers!
Over 100 North American, European and Asian cities have banned polystyrene food packaging altogether as a result of the negative impacts to humans and the environment. Even McDonald's saw the pitfalls of polystyrene and switched containers years ago. What are you waiting for?
Orders. Questions. Samples. Volume Discounts.
Click or Call Today
Monday - Friday 8:30am - 4:30pm EST
Toll-Free +800-274-4637 | +716-668-4001 | [email protected]
*We Can Ship to Canada*